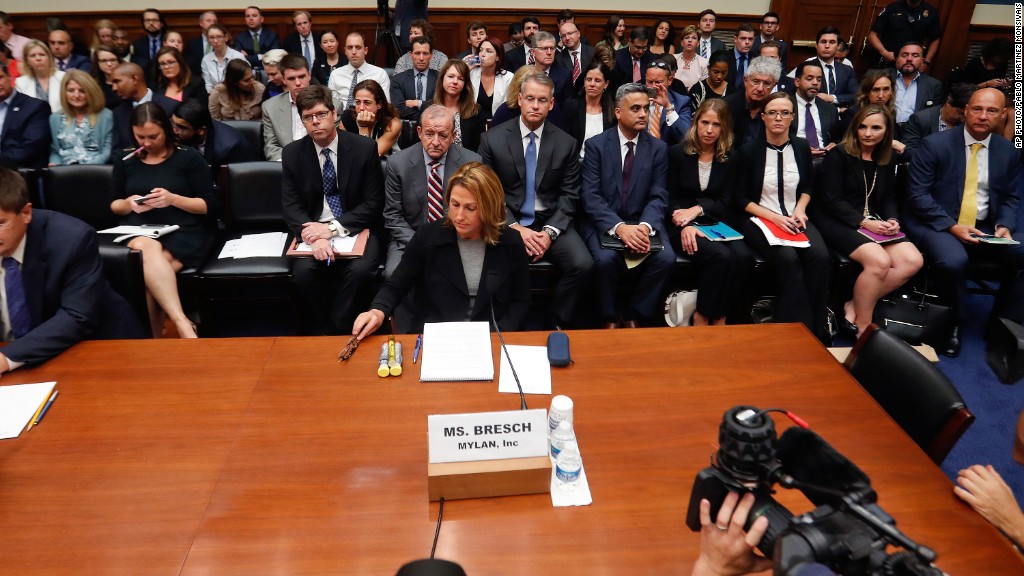 EpiPen maker Mylan got a rare scolding from shareholders who are fuming over a $98 million pay package for its former CEO.
A majority of Mylan shareholders on Thursday rejected the drug company's 2016 plan for paying its executives. Critics have blasted the plan as outrageous given the controversy over EpiPen price hikes.
It's highly unusual for investors to vote down "say-on-pay" proposals. The Mylan vote signals deep dissension over the $98 million in compensation awarded to former CEO Robert Coury, who is now the drug maker's executive chairman. Mylan CEO Heather Bresch was also awarded $13.8 million in total compensation and a larger equity award in 2016.
The shareholder vote was nonbinding. Mylan said its board of directors and compensation committee "will carefully consider these results" as it speaks to investors and designs its "compensation programs going forward."
The company declined to tell CNNMoney whether the vote will trigger an adjustment to the 2016 pay awards that shareholders disapproved of.
The thumbs-down vote was a "rare and resounding" rebuke, said Eleanor Bloxham, the CEO of the The Value Alliance, which advises boards on corporate governance.
Bloxham said that just 2% or 3% of say-on-pay proposals fail to receive a majority of shareholder support. One high-profile rejection occurred in 2012 when Citigroup (C) shareholders rejected a $15 million raise for then-CEO Vikram Pandit.
Even though Mylan isn't required to change its compensation plans, Bloxham strongly urged it to do so anyway.
"You can legally go through a yellow light, but is that the best way to drive? No. That's exactly what got Mylan in the position it's in today," Bloxham said.
Related: EpiPen maker faces revolt over exec's $98M pay package
Mylan raised eyebrows earlier this year by awarding Coury $98 million despite the bitter public criticism the company got for jacking up the price on a two-pack of EpiPens by 400% over seven years. Mylan's stock also plunged 29% last year.
Mylan has defended Coury's compensation, saying most of it was earned during his 15-year tenure as a senior exec when he engineered the company's "strong financial performance."
A coalition of pension funds launched a campaign to oust Mylan's directors, citing the compensation practices and a failure to provide adequate oversight in the EpiPen scandal. That campaign was backed by Institutional Shareholder Services, an advisory firm that recommended investors vote against all Mylan directors.
Despite the opposition, Mylan said the board of directors was re-elected. Mylan did not release vote totals yet so it's not clear what level of support directors received.
It's possible Mylan's directors received less than a majority of the votes cast. That's because the company's bylaws require two-thirds of the votes cast at a meeting to unseat a director.
"It's simply untenable for directors who received substantial opposition to remain in the boardroom. Doing so would further erode confidence in this company," New York City Comptroller Scott Stringer said in a statement.
Stringer and New York State Comptroller Thomas DiNapoli led the campaign against Mylan's board, citing "public relations debacles" and costly oversight failures.