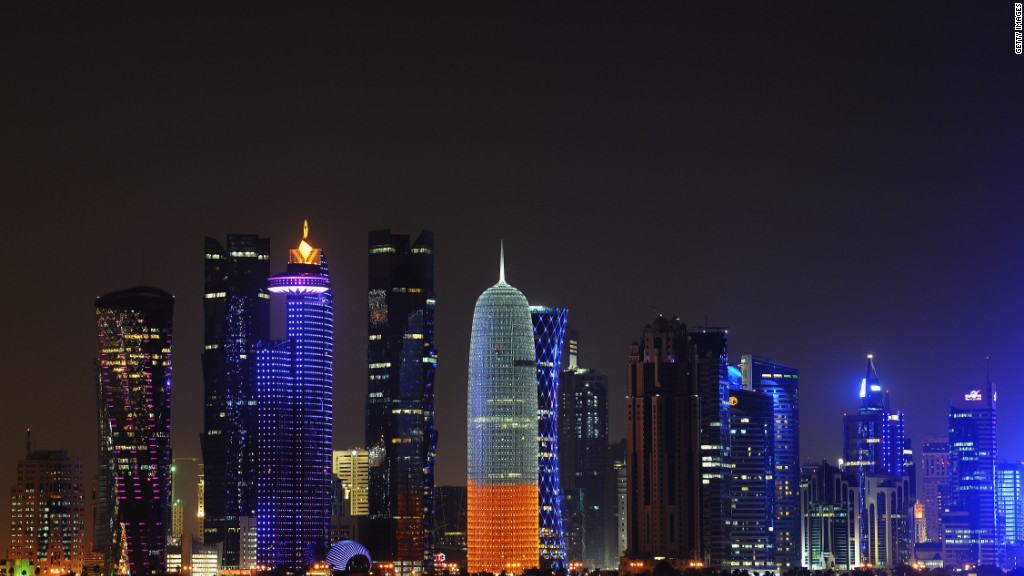 Qatar says its economy is strong enough to cope with what it calls a "blockade" by neighboring Arab states.
In remarks emailed to CNNMoney, Qatar finance minister Ali Shareef Al Emadi said inflation could tick higher this year because of the disruption to trade, but the state could rely on its ample reserves and stable banking system.
"We have the assets and the security we need to ensure economic stability," he said.
Saudi Arabia, the United Arab Emirates and Bahrain severed diplomatic ties earlier this month, and cut off all transport links. The Gulf states gave Qatari citizens 14 days to leave, and advised their citizens to leave Qatar.
Qatar's neighbors accuse it of funding terrorism and destabilizing the Middle East, claims the tiny gas-rich state has denied.
Here's the complete interview with Al Emadi, edited only to fit with CNNMoney style.
How is the economy coping?
Qatar is demonstrating its economic strength, diversity and resilience to weather this blockade.
We have the assets and the security we need to ensure economic stability. Our foreign assets and our foreign investment is more than 250% of our GDP. We can defend our currency and the economy.
Trade with Saudi Arabia, the UAE and Bahrain accounts for less than 8% of total exports. This includes gas exports to the UAE, which we continue to honor to prevent hardship on its citizens and residents who require our energy to power their economy.
Less than 15% of imports are sent from these countries. While we have previously imported numerous food items, consumer and manufactured goods from the blockading countries, we maintain strong economic ties with other countries who are able to replenish these goods.
We have one of the biggest ports in the region that can handle five to seven million containers a year. Goods that previously went to the UAE have been diverted to Oman, and we have announced a direct shipping line from cities in Oman to Hamad Port [south of Doha]. We also have the biggest airport in the region, if not in the world. We have every measure in place to support economic growth.
Furthermore, measures have been swiftly put in place to secure the delivery of building materials so that Qatar's ambitious infrastructure projects continue without delay or interruption.
Related: How Qatar is shrugging off partial Arab embargo... for now
Are you worried about money being pulled out?
No, I am not at all worried. Qatar has the 18th most competitive economy in the world, and the second in microeconomic efficiency.
Qatari banks are well capitalized and have sufficient liquidity. We have also taken measures to support the availability of [foreign exchange]. Qatari banks operate in various regions around the world and thus have a geographically diversified funding base that includes Asia, Europe and the Middle East North Africa region.
Despite banking activities being curtailed with some neighboring countries, banks are still witnessing a normal level of activity with customers in different parts of the world.
There is close coordination between the Ministry of Finance and the Qatar Central Bank on monetary and financial policies. Even without the resources of the Qatar Investment Authority, the Ministry of Finance and the Central Bank have ample resources to ensure the continuation of Qatar's stable banking system.
It remains business as usual, and we intend to keep it that way.
Related: Qatar must stop changing the subject -- and start changing its behavior
Replacing imports will cost Qatar more. Is that a problem?
No, I do not see this as an issue. As I have said previously, our reserves and our foreign investments are more than 250% of GDP. We are in a comfortable position.
This has been reinforced by our swift action to secure the import of goods that traditionally came from Saudi Arabia and the UAE from alternative sources.
I also expect the impact on the inflation rate to be limited.
In 2016, the inflation rate was 2.7%. We anticipate a small increase in 2018 at a range of 2.8 to 3%.