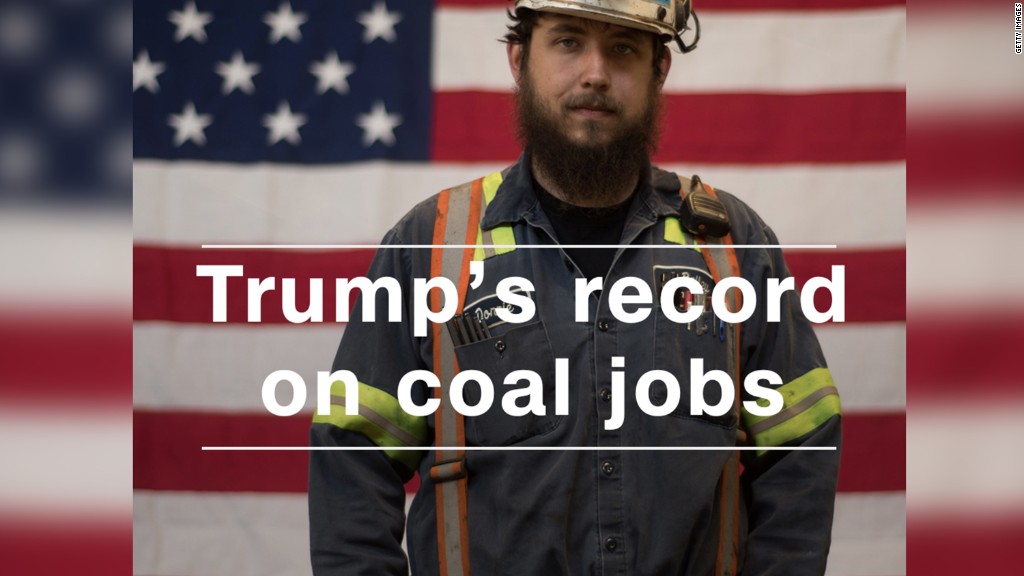 President Trump is heralding a boom in coal jobs that just isn't there.
He took credit for thousands of new coal jobs on Wednesday at a rally in Cedar Rapids.
"We've ended the war on clean beautiful coal. And we're putting our miners back to work," he said. "Last week a brand new coal mine just opened in the state of Pennsylvania. First time in decades. Decades. We've reversed it. And 33,000 mining jobs have been added since my inauguration."
A coal mine did open in Pennsylvania, but it added 70 jobs.
And it is true that Labor Department data shows an increase of 32,600 jobs in the "mining" category so far this year. But that category includes a variety of types of jobs, including many in oil and gas extraction. Coal mining added 1,000 jobs.
And it's not just coal jobs.
Since his election, Trump has frequently used broad claims to take credit for jobs, especially those for blue collar workers, that the numbers don't bear out.
Jobs at Carrier
Soon after the election, weeks before he took office, Trump got a lot of attention for claiming he saved 1,100 jobs at a Carrier furnace plant in Indiana that were headed Mexico. In fact, 300 of those jobs were always slated to stay in Indianapolis, so it was 800 jobs that stayed in the U.S.
And Carrier has said publicly that some of those 800 saved jobs would eventually be eliminated by automation. But well before that happens, another 600 Carrier jobs are still moving to Mexico. About half of those layoffs will be in July, while the rest will come by Christmas.
Related: The Trump jobs tracker
Auto jobs
In January, before he was inaugurated, Trump took credit for bringing automaker jobs back to the United States from Mexico after Ford (F) announced it was scrapping plans for a new plant in Mexico to build small cars.
But Ford is still moving all of its small car production outside the United States. Why? To save money, and to free up U.S. factory space to build more expensive, more popular vehicles. And just this week, Ford said it would move production of the Ford Focus, which had been slated to move to Mexico, to a plant in China to save even more money.
U.S employment
Trump has regularly claimed that the United States has added more jobs during his tenure than it actually has.
On June 1 he claimed that there had been "more than 1 million private sector jobs" created since he took office. His chief economic adviser Gary Cohn explained he was using an estimate from payroll service ADP, which said 1.2 million jobs were added from January through May.
But that figure is questionable for a couple of reasons. First, it includes January, when President Obama was in office for most of the month. Without January the number of jobs added slips to under 1 million.
In addition, the ADP report is markedly different from the official numbers issued by Trump's own Labor Department. The department's latest data, reported June 2, shows that about 600,000 jobs were added from February through May. Trump had taken credit for 600,000 new jobs back in April -- so that claim finally came true.
-- CNNMoney's Richa Naik contributed to this report.