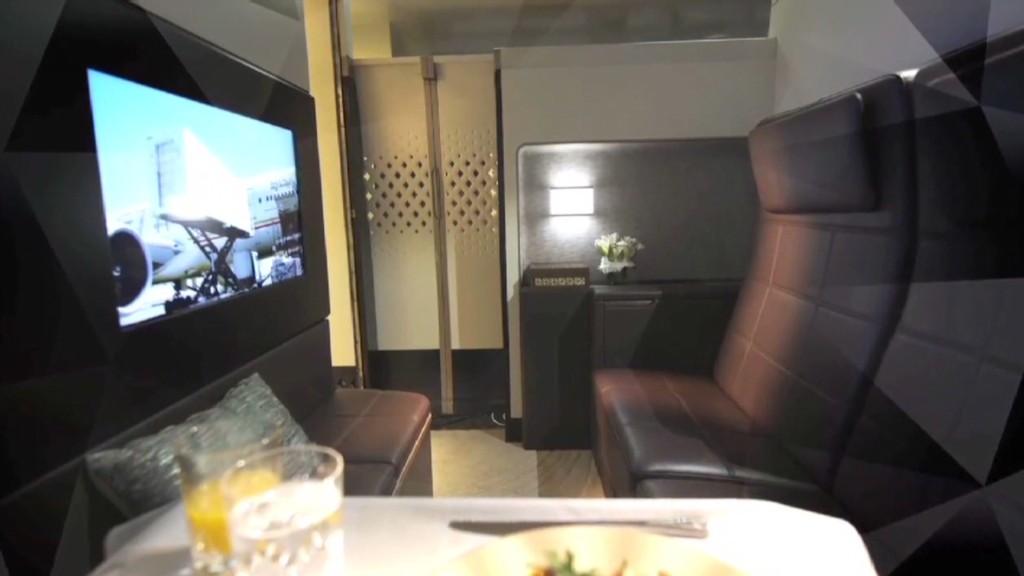 It's the ultimate travel perk: Walking onto a plane and discovering the other seats in your aisle are empty.
Now, it's a feature you can pay for.
Etihad Airways has announced plans to sell "neighbor-free seats" in economy class, giving passengers the option to buy up to three seats situated next to their assigned space.
The airline, based in the United Arab Emirates, said in a statement that customers would be able to "bid" for the seats at the time of booking, with successful offers being confirmed 30 hours prior to departure. The service, which starts July 3, is subject to availability and cabin configuration.
The airline appears to have considered at least one potential problem with the new policy: opportunistic fliers crashing the party. Purchased seats will be marked out with different headrests from others in the cabin.
Related: Qatar wants to buy 10% of American Airlines
"This gives guests the opportunity for increased space, comfort and privacy, at a price that is affordable," Etihad said.
The airline didn't say whether it was attempting to open a new revenue stream by selling seats that would otherwise remain empty, or if it was hoping some fliers would be willing to pay more than the typical price of a single seat.
Etihad announced in January that group CEO James Hogan would step down this year as the company conducts a strategic review of the growth model he pioneered.
Related: What's next for Etihad?
Hogan fueled the airline's expansion by purchasing stakes in seven carriers including Air Berlin and Italy's Alitalia.
But not all the investments paid off. Etihad has also struggled with industry-wide problems, including lower profits per passenger and fierce competition from low-cost carriers.