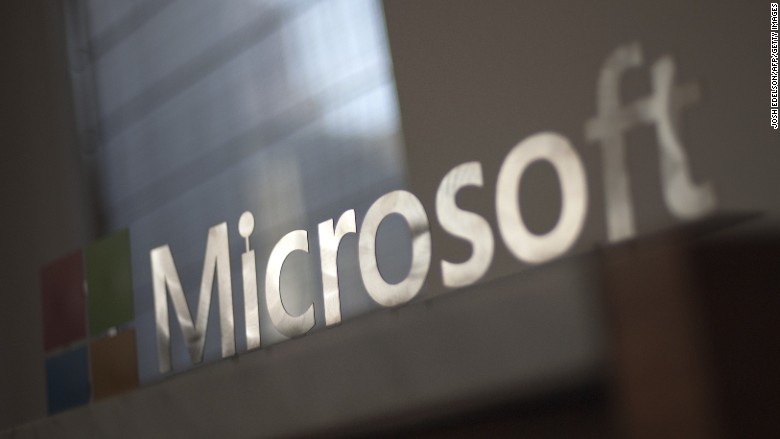 The U.S. Justice Department wants the Supreme Court to take up a years-long court fight with Microsoft.
The case tests the reach of government warrants for private emails.
At issue is a 2016 court ruling that determined that Microsoft didn't have to hand over customer data that was stored on computers in another country.
On Friday, the Justice Department filed a petition asking the Supreme Court to review the lower court opinion, insisting the Second Circuit federal appeals court had "seriously misinterpreted" the law.
The Justice Department argues that it should not matter where the information is stored -- if it can be accessed "domestically with the click of a computer mouse," the DOJ wrote in its petition.
Related: Google will no longer read your emails to tailor ads
The court ultimately decides which cases it will hear. This case has been closely followed by the tech industry, law enforcement agencies and civil liberties groups.
Microsoft's top lawyer, Brad Smith, pushed back strongly against the government's argument in a blog post Friday.
"The [Justice Department's] position would put businesses in impossible conflict-of-law situations and hurt the security, jobs, and personal rights of Americans," Smith wrote.
He added that hearings held in House and Senate committees earlier this month showed lawmakers have "strong support" for updating the 31-year-old privacy law at issue in this case.
"It seems backward to keep arguing in court when there is positive momentum in Congress toward better law for everyone," he said.
This case began when federal agents investigating drug traffickers wanted to read emails stored in Microsoft computer servers in Ireland -- and Microsoft (MSFT) fought back.
The investigators got a warrant to search the servers in 2013.
But Microsoft handed over only some "non-content" information -- which could be anything ranging from customer names to email addresses -- stored on Microsoft servers in the U.S. And the company refused to hand over the content of the emails, which were stored in Ireland.
Related: Facebook, Amazon, Google call for government surveillance reform
American law enforcement has the ability to access data abroad through "mutual legal assistance requests" to foreign governments. But investigators argue these diplomatic deals slow probes -- and force the U.S. to rely on the other governments' willingness to help.
The first ruling in the case came from a federal judge in New York who sided with the government.
Microsoft appealed and drew support from other businesses.
In December 2014, a group of 28 tech and media companies -- including CNN, Apple, Amazon, Salesforce, HP, eBay and AT&T -- signed court briefs voicing their support for Microsoft.
Then, in July 2016, a three-judge appeals court panel sided with Microsoft in its ruling, saying that "warrants traditionally carry territorial limitations."