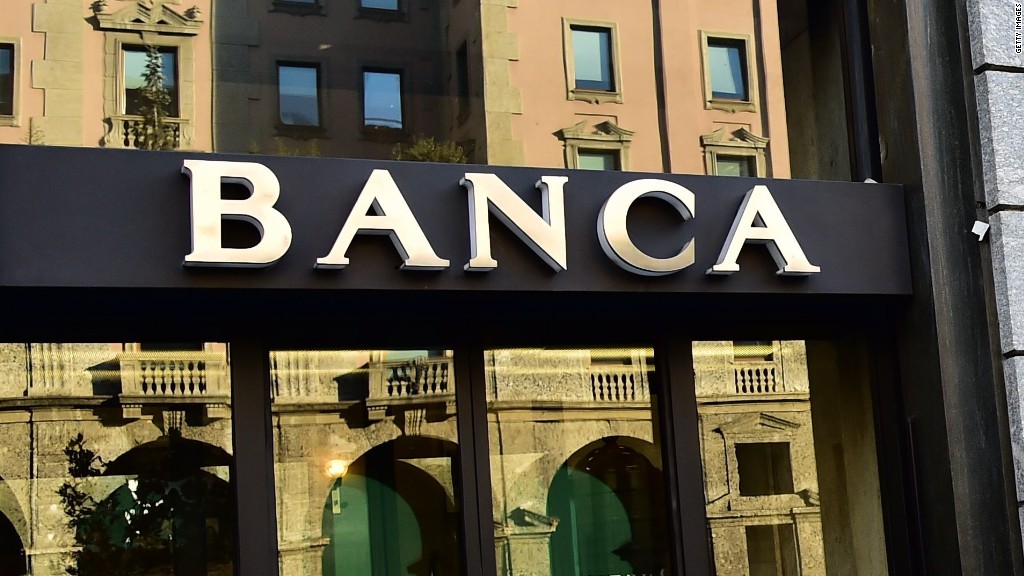 Italy is putting up €17 billion ($19 billion) to avert a fresh crisis in its beleaguered banking system.
The move over the weekend came after a warning from European authorities that two struggling Italian regional banks -- Banca Popolare di Vicenza and Veneto Banca -- were facing collapse.
It's just the latest move by Italy to plug a hole in its fragile financial sector. At the end of last year, it had to promise billions of euros to rescue Monte dei Paschi, the world's oldest operating bank.
Under the plan announced Sunday, the Italian government will pay €4.8 billion ($5.4 billion) in cash and provide as much as €12 billion ($13.4 billion) in guarantees so that Intesa Sanpaolo (IITSF), one of the country's biggest banks, can take over the healthier parts of the two regional banks. The remaining activities will be wound down.
Related: Santander buys 'failing' Spanish bank for €1
Hemorrhaging money and crippled by bad loans, Banca Popolare di Vicenza and Veneto Banca had already burned through €3.5 billion they received from a government-backed fund last year. The European Central Bank, which supervises the eurozone's lenders, said Friday that the two Italian lenders didn't have enough cash to survive.
Intesa said on Monday that it was paying a "token" price of €1 for the regional banks' businesses. Its shares gained around 3.5% in early trade, suggesting investors think it got a good deal.
Italy's banks have been struggling with high costs and low returns for years. Billions of euros in loans have soured due to economic stagnation. The country's economy has barely grown for a decade.
Italian lenders are saddled with roughly €360 billion ($400 billion) in bad loans, roughly a third of the eurozone total.
Related: Europe's central bank is done cutting rates
EU bank bailout rules require investors (shareholders and bondholders) -- rather than taxpayers -- to shoulder the burden of any rescue. But the European Commission, the executive arm of the European Union, gave the green light to Italy's intervention, despite its use of public money.
The Commission said in a statement that state funds can be used as long as shareholders and junior bondholders bear the brunt of the costs and the plan doesn't skew industry competition too much.
The Italian government said its approach aims to protect businesses, jobs and savers that rely on the two banks, which are based in the northeastern part of the country surrounding Venice.