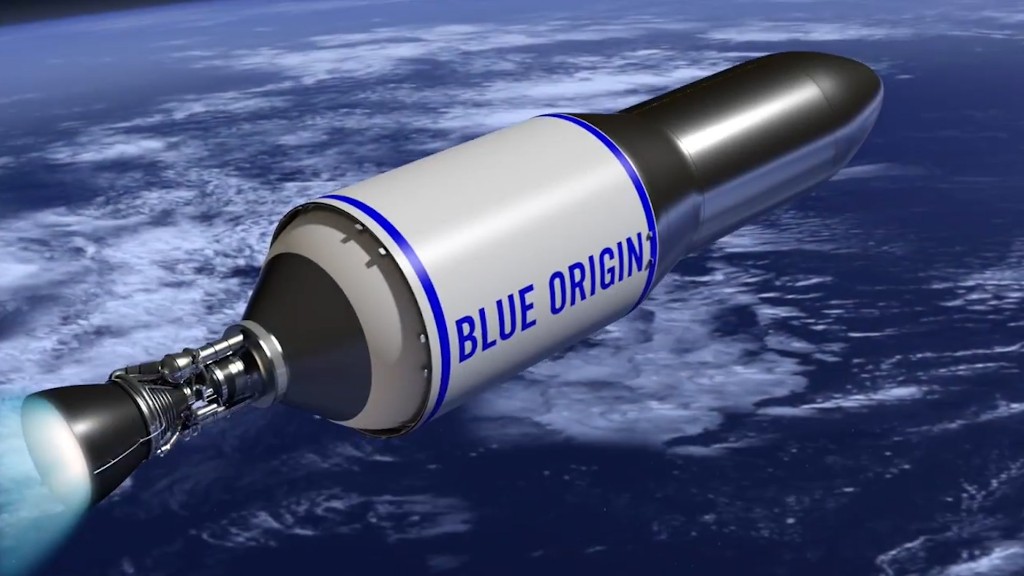 Jeff Bezos is going to build rockets in Alabama.
Governor Kay Ivey said on Monday that Blue Origin, Bezos' private spaceflight company, plans to build a facility in Huntsville to manufacture BE-4 rocket engines.
The decision "helps cement Alabama as the preferred destination for the aerospace industry," Ivey said.
The 200,000 square foot plant will create up to 342 new manufacturing jobs. Blue Origin will make about $200 million in capital investments in Alabama, according to the Huntsville/Madison County Chamber. Ivey said the new hires will make an average salary of $75,000 a year, plus benefits.
Related: Jeff Bezos' new rocket has its first customer
Huntsville Mayor Tommy Battle said the plant will hire engineers, designers, and advanced manufacturers among others, and that he expects the facility to generate approximately 700 other jobs at restaurants and stores near the facility.
Huntsville has been nicknamed "Rocket City," because of its robust aerospace industry. It is home to NASA's Marshall Space Flight Center, as well as to 300 aerospace and defense contractors. Blue Origin President Robert Meyerson said his company picked Huntsville because of its "skilled workforce and leading role in rocket propulsion development."
Construction on the facility will begin if Blue Origin receives a production contract from United Launch Alliance, a joint venture between Lockheed Martin (LMT) and Boeing (BA) that has partnered with Blue Origin to make the BE-4 engines. Another private space outfit, Aerojet Rocketdyne, is also in the running to land that contract. The deal also needs final government approval.
Related: Blue Origin unveils space capsule with 'largest windows in space'
Blue Origin's move to Alabama would prove lucrative for the state. The Alabama Department of Commerce estimates that over 20 years, the project could generate $633 million in wages and a profit of $43 million to the state. Under the Alabama Jobs Act, which provides incentives to attract business, Blue Origin will receive a series of reimbursements and tax credits, including $8.7 million for job creation and a $30 million credit for investment in the state over ten years.
The BE-4 rocket engines are being developed for use in two different launch vehicles: ULA's Vulcan rocket and Blue Origin's New Glenn.
It's unclear if Blue Origin will still build its factory in Alabama if the company is not awarded the ULA production contract. The company declined to comment when contacted by CNNMoney.
The New Glenn will be the company's most powerful rocket. It is expected to reach beyond low Earth orbit. Flights are scheduled to start by 2020.