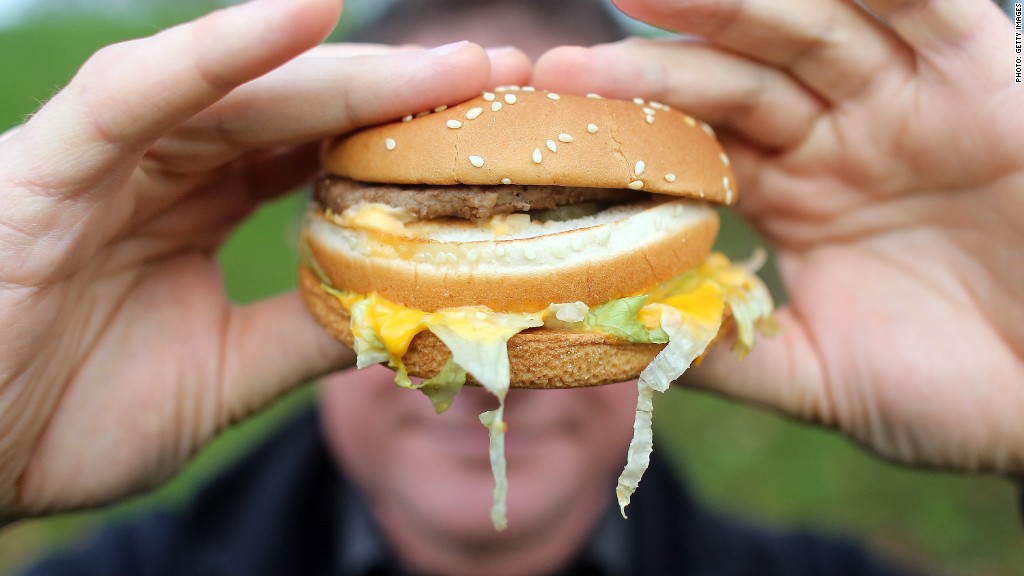 "Mangia! Mangia!" It's something my Italian grandmother used to say when I was a kid. It means "Eat!" And apparently, that's just what pasta-loving diners are doing a lot of at Olive Garden lately.
Darden Restaurants, the owner of the popular Italian restaurant chain, reported a healthy jump in sales in its most recent quarter. Earnings topped forecasts, too. Shares of Darden (DRI) rose more than 5% to an all-time high.
Darden also owns LongHorn Steakhouse, Bahama Breeze and several other casual dining chains. But it's Olive Garden -- home to those unlimited breadsticks and never ending pasta bowls -- that has made Darden famous.
Olive Garden accounts for more than half of Darden's overall sales. The company sold the Red Lobster chain a few years ago in order to focus more on the Italian eateries.
That move has clearly paid off. Same-store sales, which measure how well stores open at least a year are doing, rose 4.4% in the latest quarter. The increase came with a big, 2% jump in traffic -- i.e. the number of customers going to the restaurants.
Olive Garden has enjoyed an amazing comeback since activist investor Starboard took a big stake in Darden in 2014 and pushed for significant changes at the restaurant chain. This included doing away with a series of culinary sins such as too much sauce on pasta, wasted food and a menu that was straying from its Italian roots.
Related: Olive Garden's sales are booming
Starboard eventually took control of Darden, and in 2015 replaced CEO Clarence Otis with former chief operating officer Gene Lee.
It took some time to see improvement. Traffic was stagnant, a sign that Olive Garden was catering to a loyal, but not a growing, group of customers.
That is no longer the case. More diners are flocking to the restaurant and Olive Garden is testing out new ways to reach a broader group of customers.
During a conference call with analysts, Lee said a large number of Olive Garden customers are Millennials. Yes, the group of 20-somethings that many people believe will only order takeout or delivery food on their phones instead of going to a restaurant.
"Guests still want to come to restaurants," Lee said. "Believe it or not, Millennials still want to come to restaurants. I know you don't think Millennials go to casual dining restaurants, but 30% of all of our guests are Millennials."
Lee also said he wasn't worried about Amazon (AMZN) becoming a bigger player in the food business after its decision to buy grocer Whole Foods (WFM). In fact, Olive Garden is testing a delivery partnership with Amazon Prime, he said.
The strong results for Darden come at a time when many well-known restaurant chains are experiencing a resurgence.
Shares of McDonald's (MCD) are near an all-time high. Ditto for Restaurant Brands (QSR), the parent company of Burger King and Popeyes Louisiana Kitchen.
Even Chipotle (CMG) has recovered from the worst of its E.coli nightmare. Though the company recently warned that profits may take a hit due to higher marketing costs, sales have rebounded over the past year and are growing as customers return to the Mexican food chain.