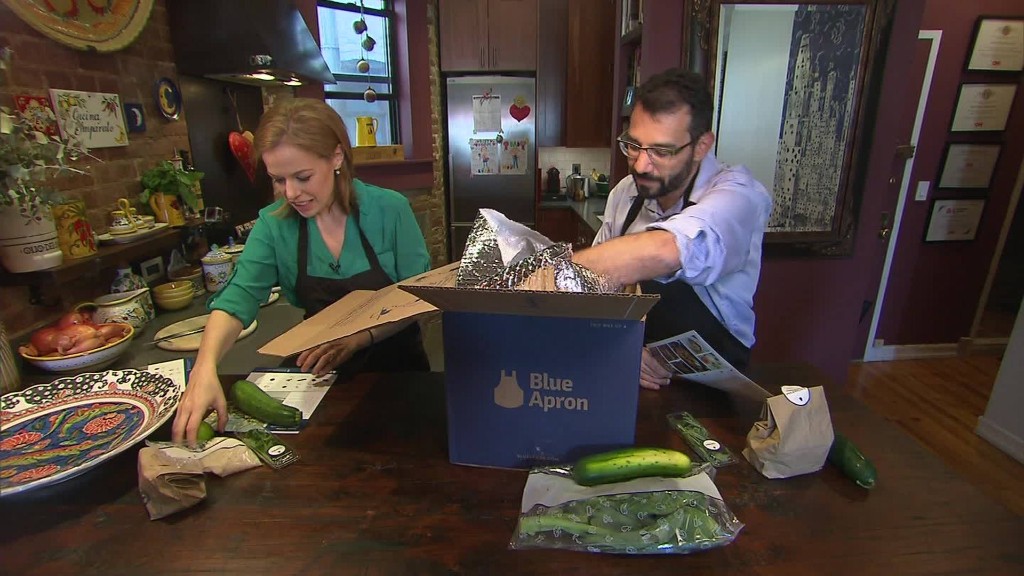 It seems that Wall Street may not have much of an appetite for Blue Apron after all.
The meal kit delivery service, which is set to debut on the New York Stock Exchange Thursday, slashed the price range for its stock offering. That's potentially a sign of weak demand and could spell trouble for other so-called unicorn startups looking to go public.
Blue Apron said in a filing with the Securities and Exchange Commission Wednesday that it now plans to sell its shares at a price between $10 to $11. It had previously expected to price the offering in a range of $15 to $17 a share.
At the $10.50 midpoint of the new range, Blue Apron would be worth about $2 billion -- in line with the valuation it fetched the last time it raised money from private investors. But it's down from the $3 billion that Blue Apron originally hoped to be worth in its IPO.
Related: Tech industry food fight heats up
The company would raise about $362 million from the stock sale. It had previously been expected to raise $480 million.
Blue Apron is arguably the most well-known food delivery company, but it faces tough competition from the likes of Hello Fresh, Plated, Sun Basket and Purple Carrot.
Blue Apron also has to deal with traditional supermarkets and the looming threat from Amazon (AMZN), which is buying organic grocery chain Whole Foods (WFM) for nearly $14 billion.
The biggest problem for Blue Apron may be convincing investors that it can actually turn a profit anytime soon. While revenues have grown sharply over the past few years, Blue Apron continues to lose money as it invests heavily in marketing and building out its network of suppliers.
Blue Apron is one of nine companies set to go public this week, as firms scramble to sell their stock before the July 4th holiday and typical summer slowdown on Wall Street. It will list its shares under the ticker symbol APRN (APRN).