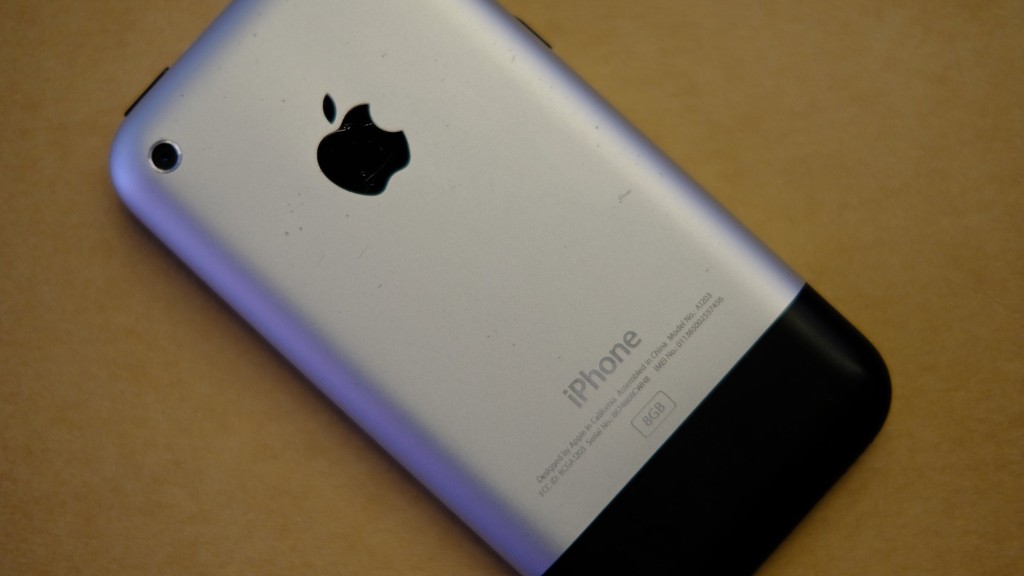 Ten years ago this week, Apple's first iPhone went on sale and redefined the industry.
Fifteen months after that, Google (GOOGL) crashed the party.
Google's first Android phone was unveiled on September 23, 2008, in partnership with T-Mobile (TMUS). The smartphone, called the G1, looks like an oddity now. It had a bulky frame, slide-out keyboard and a BlackBerry-style trackball in addition to the touch screen.
Yet, this device officially kicked off the fiercest tech rivalry of the century. By early 2011, Android's operating system had become the most popular smartphone platform in the U.S. -- and Apple (AAPL) CEO Steve Jobs had declared "thermonuclear war" against Android.
Apple created the modern smartphone as we know it, but Android went on to dominate the market through numerous partnerships with carriers and lower prices. In the first quarter of this year, a staggering 86% of smartphones sold worldwide ran on Android, according to data from Gartner.
Android's dominance is all the more striking considering the team was caught off guard by the iPhone launch.
"Google and Apple were working on developing the smartphone very much at the same time," says Fred Vogelstein, author of Dogfight: How Apple and Google Went to War and Started a Revolution.
Google had acquired Android, then a small startup, in 2005 to gain a stronger footing on mobile devices. In 2006, Google's Android team worked on designing its own software and a phone that looked like a BlackBerry.
Then Jobs unveiled a radically different device on stage in January 2007. The head of Android, Andy Rubin, was in a car when the presentation kicked off. He asked the driver to pull over to watch it online, according to Dogfight.
Related: The iPhone turns 10: Insiders look back
"Holy crap," Rubin said in the car, according to the book. "I guess we're not going to ship that phone."
The team had to go back to the drawing board. "The Android guys actually did scrap it... and redesigned the first Android device," Vogelstein tells CNN Tech.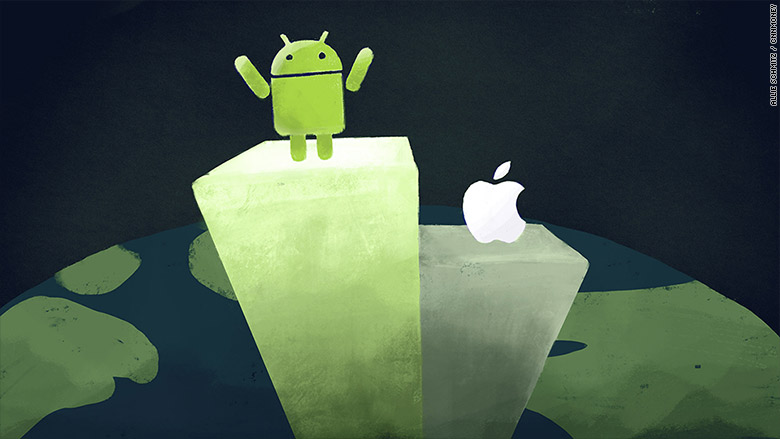 The Android phone released in 2008 did have a larger touch screen like the iPhone, but the device was less of a threat to Apple than the strategy behind it.
Unlike Apple, Google made Android an open platform. That meant manufacturers could use and adapt Android's operating system for their devices. By 2010, the smartphone market was flooded with compelling Android phones from Motorola, Samsung and HTC with a range of price points.
Only a couple Android devices were actually produced by Google. Those included the Nexus phone line and the more recent Pixel phone.
"It has an army of vendors behind it creating different types of Android-based products," says Tuong Nguyen, an analyst with Gartner. "You have a lot of different people trying different things to make it interesting and differentiated."
For Jobs, that sounded like heresy. The CEO believed in carefully controlling the user experience. But the experience of using an Android could vary wildly from one device to the next.
"Android is very fragmented," Jobs said on an earnings call in 2010. "The users will have to figure it all out."
Behind the scenes, however, Jobs may have felt threatened. Microsoft previously overtook Apple by making its software available to computer manufacturers.
"I think Steve Jobs was in fact terribly worried that Google was going to do to him the same thing that Microsoft did," Vogelstein says.
Related: iPhone 10 Years Later: The phone that almost wasn't
In a biography of Jobs published shortly after his death in 2011, he is quoted as declaring war against Android, which he called a "stolen product." Jobs pledged to "spend every penny" of Apple's billions to "right this wrong."
It was more than rhetoric. Apple spent years fighting patent lawsuits with Android manufacturers like Samsung and Motorola.
None of that seemed to deter Google cofounder and CEO Larry Page. When asked about Jobs' declaration of war in 2013, Page responded: "How well is that working?"
The real answer: The smartphone war has worked out pretty well for both.
Google recently hit two billion monthly active Android devices. That helps ensure Google's moneymaking products like Gmail, Google Search and Google Maps dominate on smartphones just as they have on desktops.
Apple, meanwhile, continues to capture nearly all of the smartphone industry's profits by owning more of the high-end market. And it makes far more money from iOS than Google does with Android.
Apple posted sales of about $36 billion in the March quarter from iPhones and iPads. Alphabet, Google's parent company, reported sales of nearly $3.1 billion for the same quarter from its "other revenues" category, which includes its hardware products and the Google Play store.
But Google is not primarily a hardware company. It's an advertising company. And Android does position Google for more mobile ad revenue.
"Apple is trying to sell you phones or tablets," says Nguyen. Google, by comparison, just "wants your attention."