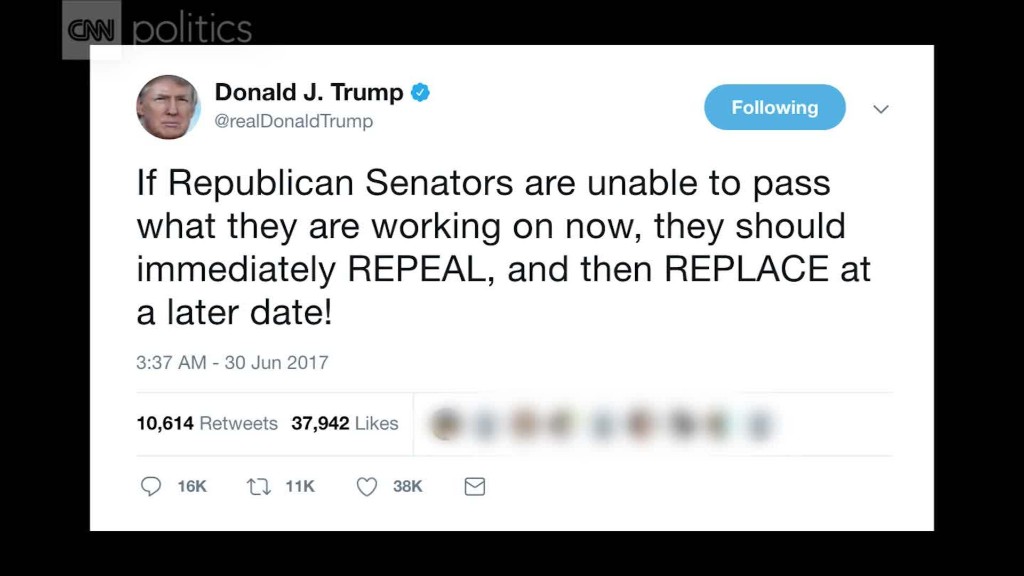 Republican senators are skittish enough that their health care bill would leave 22 million people more without health insurance by 2026, compared to Obamacare.
They likely won't be too keen on President Trump's suggestion to just repeal Obamacare immediately and replace it later if they can't get enough support to pass their bill.
That move would probably leave 18 million more people without coverage in the first year after its enactment and 32 million more by 2026, according to a Congressional Budget Office report that looked at an earlier GOP bill to repeal Obamacare.
It would also cause premiums on individual market policies to increase by up to 25% the first year and to nearly double by 2026.
All this would happen mainly because the individual mandate -- which requires nearly all Americans to get coverage or pay a penalty -- would be repealed. But some insurers would also likely pull out of the market, the CBO said. The remaining carriers would likely raise rates dramatically because the remaining enrollees would tend to be older and sicker.
Related: 22 million fewer Americans insured under Senate GOP bill
This is one reason why Republican lawmakers in both the House and the Senate moved away from a straight repeal of Obamacare without a replacement bill. That left insurers, consumers and other Republican members in a tizzy. Only 19% of Americans supported repealing Obamacare first and replacing later, according to a Kaiser Family Foundation poll released in March.
That hasn't stopped some conservative GOP members from pushing for a full repeal. Both Senators Ben Sasse of Nebraska and Rand Paul of Kentucky have recently broached the topic with Trump, likely leading to his tweet Friday morning.
While senators are expected to ignore Trump's suggestion, it does inject more uncertainty into the future of Obamacare and the individual market. And that's the last thing insurers need.
Already, many are raising rates or even dropping out of the individual market completely for 2018. Some 36 counties in Nevada, Ohio and Indiana are at risk of having no carrier on their exchanges next year, according to Kaiser.
Related: Obamacare in 2018: Many will pay the price of Washington's uncertainty
Their main concerns: the mandate that everyone have insurance and the cost-sharing subsidies for lower-income Americans.
Insurers are brushing off the president's comments, saying they are moving forward with the efforts in Congress.
"We're focused on making recommendations to improve the [Senate bill], and on ensuring a stable 2018," said Kristine Grow, a spokeswoman for America's Health Insurance Plans, an industry trade group.