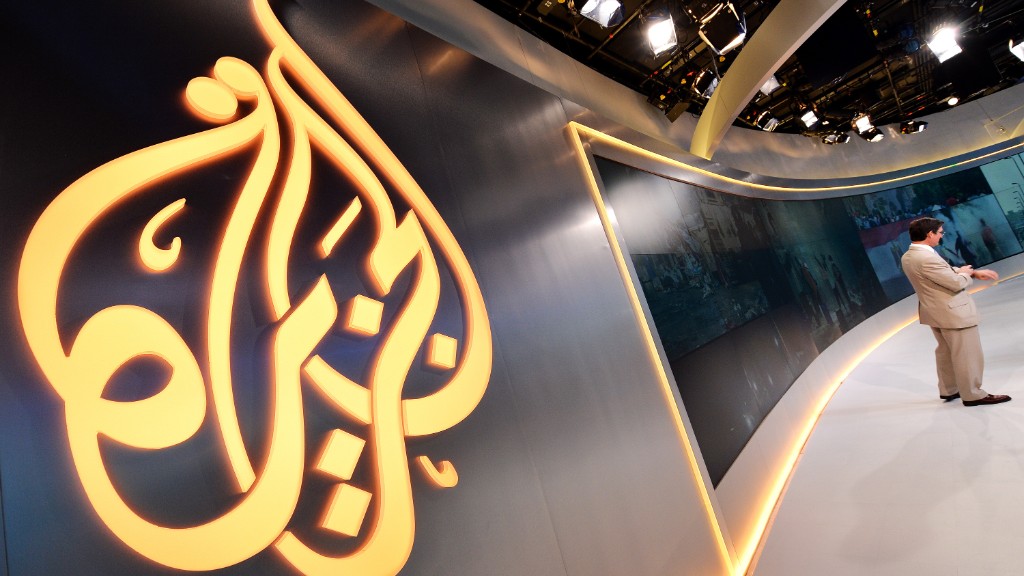 Al Jazeera is fighting back against demands that the government of Qatar should close down the media network.
Saudi Arabia, the United Arab Emirates, Bahrain and Egypt have called for Qatar to shut Al Jazeera. It's one of 13 things they say Qatar must do before they'll restore diplomatic and economic ties.
The Doha-based network released a video Monday showing its corespondents and anchors pleading for media freedom, as a new deadline for Qatar to meet the demands looms.
"To those who demand that Al Jazeera be shut down and that people's right to the truth be suppressed, we too have demands. We demand journalists be able to do their jobs free from intimidation and threat," the network's staff say in the video.
The journalists also insist that they should not be "treated as criminals" and that "diversity of thought and opinion be cherished, not feared."
The Arab countries cut ties with Qatar on June 5, accusing the Gulf state of supporting terrorism and destabilizing the region. Qatar, which shares its only land border with Saudi Arabia, has rejected the accusations, calling them "unjustified" and "baseless."
Al Jazeera: From global media player to bargaining chip
Qatar built Al Jazeera into a global brand. But the network has made enemies from Riyadh to Cairo with its criticism of Arab governments and coverage of deposed Egyptian president Mohamed Morsy.
Saudi Arabia and the UAE have accused Al Jazeera of acting as the mouthpiece for the Muslim Brotherhood, a group they have listed as a terrorist organization. Qatar denies this.
UAE Minister of State for Foreign Affairs Anwar Mohammed Gargash told CNN on Sunday that any future agreement with Qatar must be monitored by U.S. and European states to ensure Al Jazeera and others did not incite terrorism or extremism, and that terror groups were not aided politically by or from Qatar.
The United Nations weighed in on the issue on Friday, calling the demand to close the network "an unacceptable attack on the right to freedom."
"Whether or not you watch it, like it, or agree with its editorial standpoints, Al Jazeera's Arabic and English channels are legitimate, and have many millions of viewers," said Rupert Colville, the spokesperson for the UN's High Commissioner for Human Rights.
Speaking to reporters on Friday, Colville said that shutting down the network would "open a Pandora's Box of powerful individual states or groups of states seriously undermining the right to freedom of expression and opinion in other states, as well as in their own."
The Committee to Protect Journalists has also voiced concerns. It has written an open letter to the leaders of the countries ordering the closure, saying the demands show "clear contempt for the principle of press freedom."
Reporters without Borders and Human Rights Watch joined the calls for the demand to be dropped.
"Governments don't have the right to close down media outlets and criminalize speech to shut out criticism they find uncomfortable," said Sarah Leah Whitson, Middle East director at Human Rights Watch.