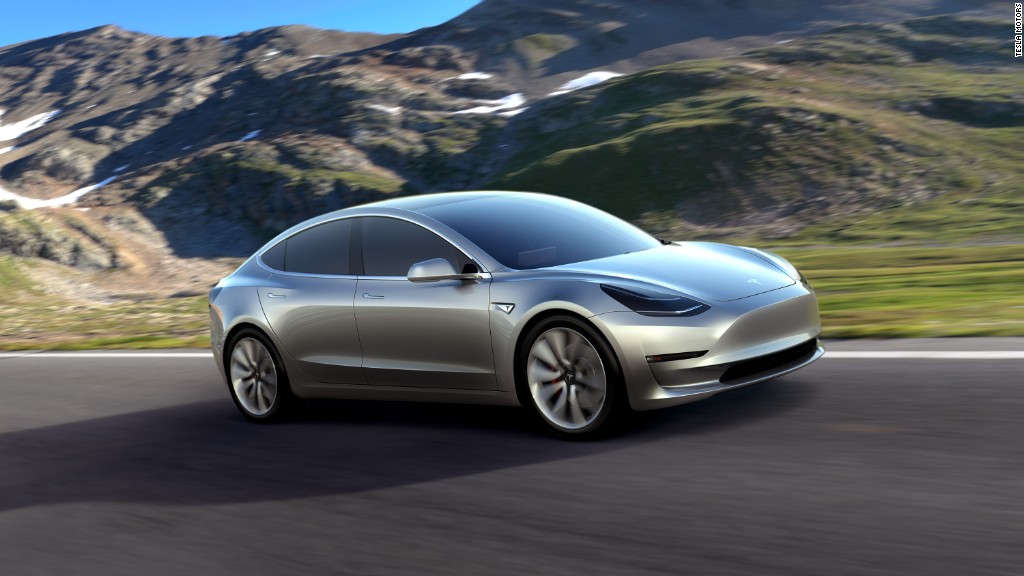 Tesla's brief reign as the most valuable U.S. automaker has come to an end, at least for now.
Tesla (TSLA) shares, which moved ahead of General Motors market value in April, have been on a bit of a slide recently, losing 5.6% in trading Thursday, on top of a 7% drop in Wednesday trading.
The slide in shares cut $3 billion off of its market value on Thursday alone, bringing the value of all its shares down to $50.7 billion. GM (GM) shares also lost ground, but only slightly, dropping its market value by only by $211 million to $52.6 billion.
Tesla stock is still up 45% so far this year, but it's value has slid 20% since hitting an all-time high on June 26.
This is an especially important time in the company's history as it prepares for the first deliveries of its Model 3, its first mass market car that is just now starting production. It also faces the challenge of producing enough of the large lithium batteries needed to power the cars.
Tesla's latest problems started when it warned Monday after the close of trading that it had issues with a "severe" shortfall of battery packs made on new production lines. That battery shortage had caused it to come in at the low end of its second quarter sales guidance.
While it said the problem had been fixed by the end of June, the announcement, and a cut in the profit forecast and share target price by Goldman Sachs on Wednesday, spooked investors.
Related: Here's the future of driving
Tesla has only a small fraction of the sales of established automakers such as GM and Ford Motor (F), which Tesla passed in market value earlier in April. Tesla still leads Ford by $7 billion in market value, and has nearly three times the value of Fiat Chrysler (FCAU).
Even CEO Elon Musk told the newspaper The Guardian in May that Tesla's "market cap is higher than we have any right to deserve." But his comments did little to cool investor interest, as the stock gained $13 billion in value from then until hitting an all-time high market value of $63.6 billion in late June.
Tesla declined Thursday to comment on the recent slide in stock price, saying that it does not typically comment on its stock.
Related: Why gas-powered cars aren't going away
While Tesla has never had a net profit for a single year in its brief history, investors have been betting heavily that it will be a leader as the industry turns more to electric cars in the future, both to meet tougher environmental regulations as well as to provide the juice needed to power self-driving car technology.
All the major automakers have announced plans to develop their own electric and self-driving cars.
Volvo, a long established Swedish automaker now owned by Chinese automaker Geely (GELYF), announced this week it intends to stop making cars powered only by gasoline by 2020, although many of those future cars would be a hybrid of gas and electric powered.
France also unveiled new regulations which will get rid of cars powered only by gasoline or diesel fuel by 2040, although it will also allow hybrids to meet the new rules.