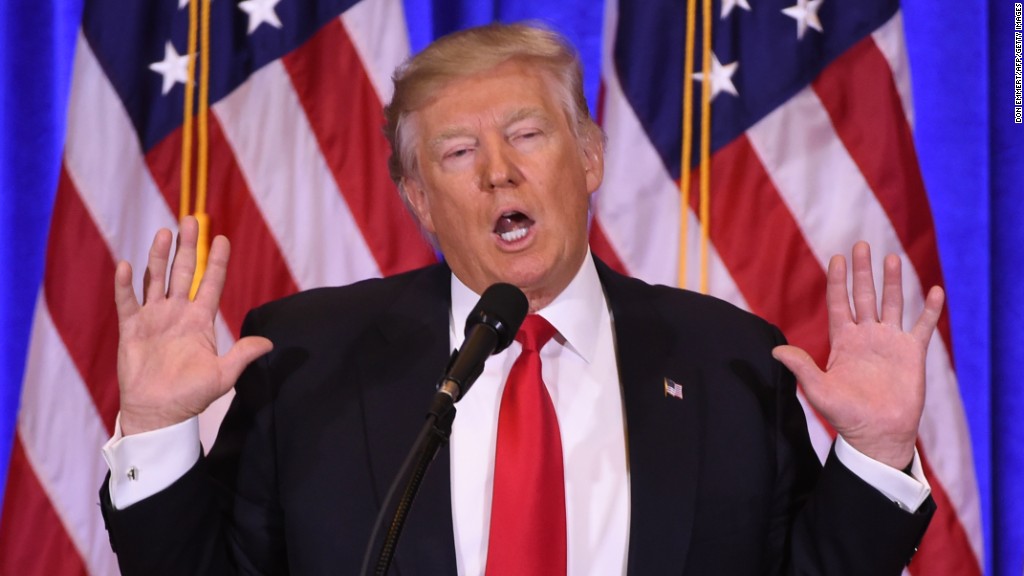 The share of Americans who lack health insurance is on the rise, reversing years of declines since Obamacare was enacted.
Some 11.7% of Americans were uninsured in the second quarter of 2017, up from a record low of 10.9% at the end of 2016, according to the Gallup-Sharecare Well-Being Index, released Monday. That's an increase of about 2 million people, said Dan Witters, the index's research director.
The uninsured rate has steadily drifted downward since the Obamacare exchanges opened and Medicaid expansion kicked in at the start of 2014. It had peaked at 18% in the third quarter of 2013.
Several factors could be driving the uptick, Gallup said. Premiums rose substantially in 2017 for those who don't qualify for federal subsidies, and many consumers had fewer choices on the exchanges because insurers bailed out of Obamacare this year.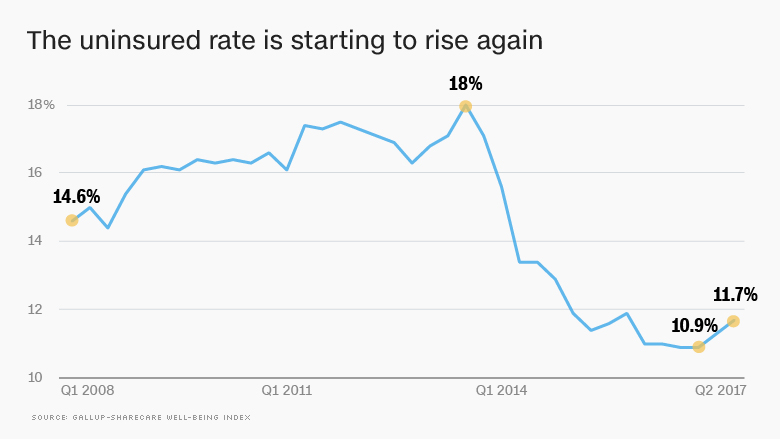 Uncertainty in Washington, D.C. surrounding Obamacare's future may also be prompting Americans to drop coverage, especially if they question whether the penalty for not having insurance will be enforced under the Trump administration.
"There is enough uncertainty to make people wander away," said Witters.
Related: Senate health care bill would mean big coverage losses in these states
Some 20 million people gained coverage under Obamacare, driving the uninsured rate to record lows last year, according to government data.
The Senate is currently debating a bill to repeal and replace Obamacare, with senators deeply divided over cuts to Medicaid, reductions to federal subsidies to help people pay for care and other provisions. The House passed its version in May. The Congressional Budget Office found that at least 22 million fewer people would be covered by 2026, as compared to current law, under the bills working their way through Congress.
The increase in the uninsured has been concentrated among young adults, ages 26 to 34, Gallup found. Their rate has jumped 1.5 percentage points since the end of last year. They may be most sensitive to rising premiums on coverage they may not use that much. Instead, they may prefer to pay the penalty.
This group had been among the largest beneficiaries of Obamacare since they were the group most likely to be eligible for subsidies. Their uninsured rate had fallen nearly 10 percentage points between the end of 2013 and 2016.
This demographic is also key to the health of the individual market since their premiums help offset the higher costs of those in their 50s and early 60s, who typically need more care. One of Obamacare's shortcomings is that it didn't attract as many younger enrollees as hoped.
Related: 32 million people would lose coverage if Obamacare is repealed
The Gallup report also found that fewer people are buying their own policies this year. The share who pay for their own plan -- many of which are bought on the exchanges -- fell 0.7 percentage points since the end of 2016.
It had risen nearly 4 percentage points between 2013 and last year.