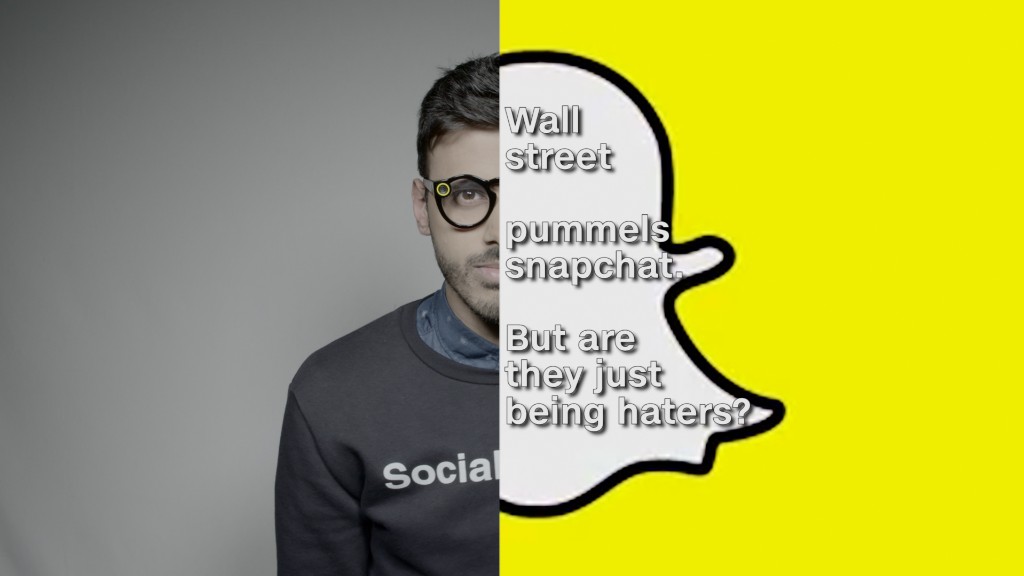 Snapchat is probably not the next Facebook.
The company generated enormous hype when it went public in March. But it continues to bleed red ink. User growth is slowing, an alarming sign for a social media platform that's relatively young. And Facebook itself keeps introducing me-too products.
Stock in Snapchat's parent company, Snap Inc. (SNAP), has fallen below the initial public offering price of $17. It dipped 8% more on Tuesday, to about $15.65, after Morgan Stanley downgraded the stock.
That's a worrisome sign: Morgan Stanley was an underwriter on the IPO. Companies can usually at least count on their bankers for support.
Snapchat's biggest problem may be how easy it is for Facebook to copy its most popular features and roll them out on the core Facebook platform, as well as other Facebook properties, like Instagram, WhatsApp and Messenger.
By contrast, when Facebook went public in 2012, its competitors were a fading MySpace and the all but forgotten Friendster. And Facebook was already making money.
The biggest worry investors had about Facebook was a lack of an apparent strategy to make money on mobile as more people used Facebook on their phones.
Those fears melted when Facebook shifted to a viable smartphone app. It has posted solid gains in mobile users and ad sales ever since.
Related: Wall Street finally meets Snapchat's $5 billion man
Snap is going up against Facebook (FB) in its prime -- a juggernaut worth $445 billion that's expected to generate revenue of nearly $40 billion this year.
Any concerns Wall Street may have had about whether Mark Zuckerberg could be an effective CEO of a public company have faded away.
The same can't be said for Snap's Evan Spiegel yet. Spiegel also doesn't have a seasoned Silicon Valley exec like Zuckerberg does in Sheryl Sandberg to show him the ropes.
And he may need some help to get Snap back on track. The company reported in May that daily active user growth rose just 5% in its first quarter from the fourth quarter.
This came as Snap appeared to be a long way from making money: It lost more than $2 billion in its first quarter as a public company.
There has been a lot of hype about so-called unicorns -- companies with at least a $1 billion private valuation going public. But Wall Street clearly wants more than just users and revenue. Earnings matter, too.
Look at how poorly the meal kit service Blue Apron (APRN) has fared since its own IPO. It plunged again Tuesday and is now nearly 25% below its offering price.
Investors also seem worried that Snap hasn't been very innovative, making it easier for Facebook to steal users by introducing similar services. New areas that Snap is forging into -- like maps -- are already integral parts of rival products.
Snap's push to market itself as a hardware company with camera-enabled Spectacles sunglasses -- as opposed to just a social media site, reliant on advertising and media partnerships -- may not be panning out either.
Aegis Capital analyst Victor Anthony wrote in a report Monday that demand for Spectacles may already be fading.
Anthony said he surveyed a group of millennial Snapchat users about Spectacles and found that "none had purchased the glasses or know of anyone who did."
He thinks that could be a sign "the hype around the Spectacles has faded and it could suffer the same fate as Google Glass" -- the much-maligned virtual reality headset. "Dorky" is a word that was used often to describe Glass.
Snap may turn out to be a lot more like Twitter (TWTR) than Facebook: a niche service with a large group of loyal users. But Snap -- like Twitter -- lacks the scale that Facebook has.
And that's why investors and advertisers may continue to remain lukewarm about Snap.