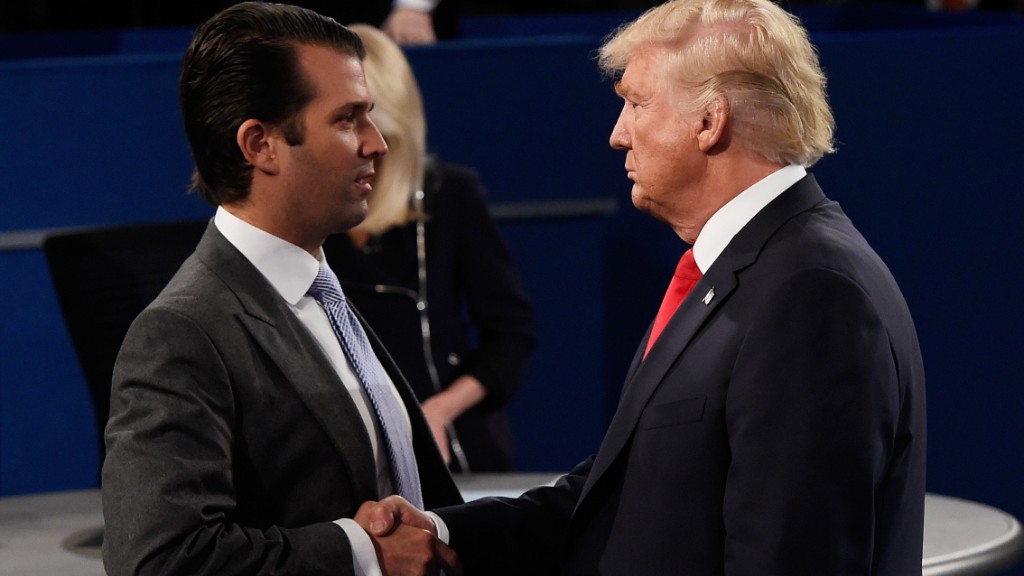 Donald Trump Jr. moved the markets.
Within a half-hour after President Trump's eldest son released an email chain on his meeting with a "Russian government attorney," the Dow dropped about 150 points.
The knee-jerk reaction was noticeable, but modest. It represented a decline of just 0.7%. That's hardly a freakout by Wall Street's standards.
It was also brief. The market quickly recovered nearly all its losses.
"Jr.'s email release at the very least got the markets concerned that the policy agenda might get pushed out a bit," said Art Hogan, chief market strategist at Wunderlich Securities.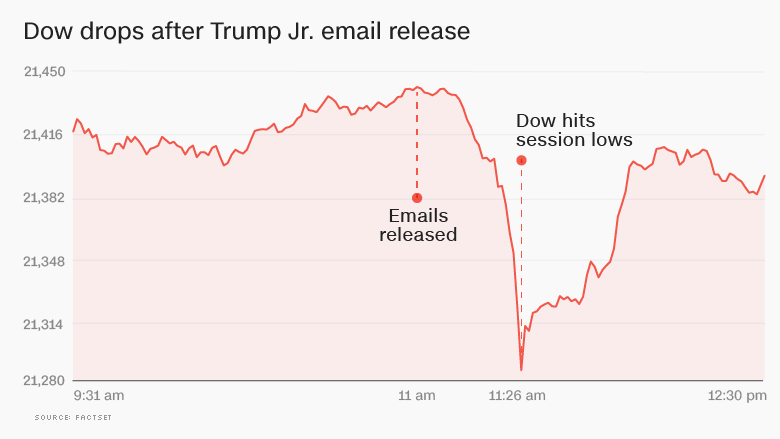 Stocks have rallied dramatically since Trump was elected, driven by hopes for dramatic tax cuts, deregulation and infrastructure spending. But Trump has had little legislative success -- and the repeated controversies over Russia's meddling in the election haven't helped.
Trump Jr. released a chain of emails showing that last summer he agreed to meet with a "Russian government attorney" who supposedly had "very high level and sensitive information" that would "incriminate" Hillary Clinton.
The emails were released at 11 a.m., just before The New York Times published a story about them. By 11:27, the Dow had fallen to 21,285, a decline of 152 points from when the emails were put out. By noon, the Dow had rebounded back to 21,405.
Who said markets are fickle?
Related: Stocks had a great first half despite D.C. drama
The Trump Jr. emails also caused a modest negative reaction in other markets. Gold prices rose 0.5% before retreating a bit, signaling a note of caution but not outright panic. CNNMoney's Fear & Greed Index of market sentiment also flipped into "fear" mode, compared with "neutral" on Monday.
The White House was asked about the brief market retreat during Tuesday's press briefing. Sarah Huckabee Sanders, the deputy White House press secretary, said Trump remains "focused on doing everything he can to strengthen the economy."
The response on Wall Street underscores how much investors are paying attention to the political turmoil in Washington.
Market veterans said it would be wise to tune out the "House of Cards"-like drama and focus instead on the fundamentals: earnings and the economy. Thankfully, both look relatively strong these days, helping to keep the Trump rally alive and kicking.
"No matter what is tweeted out, if companies are reporting strong earnings, that overwhelmingly matters more than any message coming out of Washington," said Andres Garcia-Amaya, global market strategist at Zoe Financial, an independent wealth management firm.