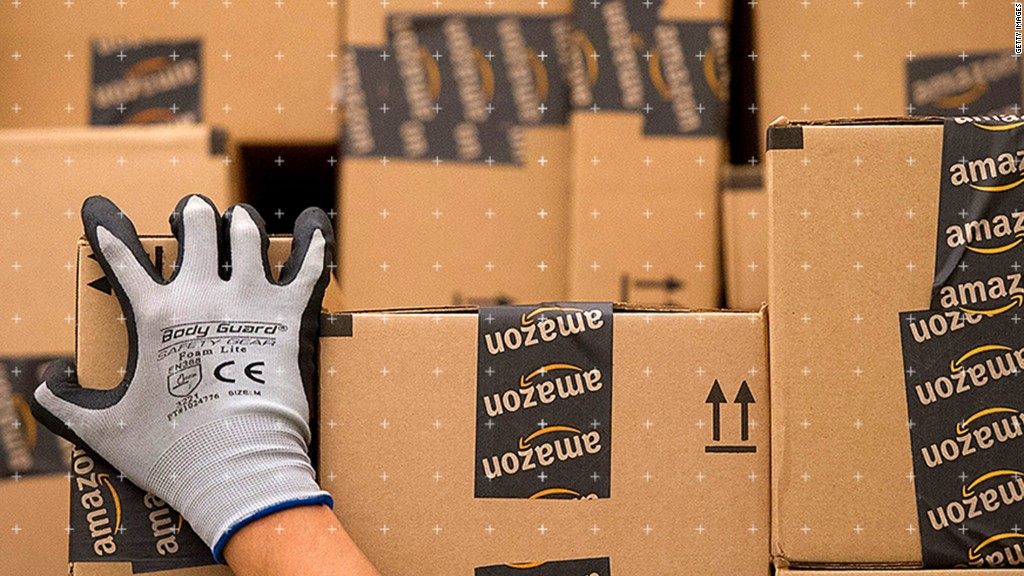 Amazon kicked off its third annual Prime Day on Monday night, touting a heavily-discounted product every five minutes.
But be warned: Not every "deal" is a deal.
For 30 hours, the company is slashing prices on more than 100,000 products from Alexa-enabled smart speakers to drones and TVs. The move is a part of a larger effort to entice shoppers to sign up for a Prime membership.
The Cyber Monday-like shopping event "has changed into something that's less about the business of selling things and more about the business of selling Amazon," said Stephen Baker, an analyst at market research firm NPD Group.
With so many items to sift through, you'll need some patience to figure out what's actually worth buying. (We don't consider a 20% discount on a tissue box cover any kind of a deal).
Here's what to consider before you shop Prime Day.
Amazon-branded devices
You likely won't find a better deal on the Echo smart speaker line this year.
For example, the Echo Dot -- a smaller version of Amazon's smart speaker -- is $35, down from $50. Meanwhile, the classic Amazon Echo smart speaker is half off at $90.
Brendan Witcher, principal analyst at Forrester, said these items are a good entry point for those interested in smart home tech.
"This is a good opportunity to get into that space with something that's been in market for long enough to have proven itself," Witcher said.
But the Amazon Echo Show, the new touchscreen version of the Echo, isn't discounted -- unless you buy it with home security camera Arlo 1. The bundle typically costs $410, but is $75 off for Prime Day. (It has mixed reviews anyway).
Amazon's Fire 7 tablet is on sale for $30 -- traditionally $50 -- but it only comes with 8GB of storage. The line doesn't compare to the performance of an iPad but if you're looking for a cheap tablet -- perhaps to entertain a child -- this is an inexpensive option.
TVs
TVs were among the most purchased items on Prime Day last year. This year, shoppers can get 15% back on certain Samsung TVs and other items, but you'll need an Amazon Prime credit card for some of the biggest deals.
Amazon is also showcasing certain 4K TVs, such as a 55-inch Element 4K TV for $400.
While 4K displays are considered the next big thing for TVs -- featuring a resolution four times that of an HDTV -- the product category has its limits. As of now, not much 4K content is available on broadcast TV or through streaming services like Netflix. Unless customers keep their 4K TV for 10 years, it might not make sense to buy one right now.
Shoppers should also do research before buying a TV to make sure it suits their needs.
"There's an awful lot of choices among screen size and brands," Baker said. "Rushing to get something because you think it's a great deal probably isn't the right thing [to do]."
Other deals
Amazon is also offering savings of up to 50% on select video games, consoles and accessories, as well as up to 40% off PC gaming laptops, desktops and accessories. While it may be a good time to buy something you've been wanting to try at a discounted price, Benjamin Glaser -- an editor with DealNews -- told CNN Tech to hold off on big ticket items.
"You may want to wait to buy bigger products like home appliances and computers when more retailers offering sales, like on Labor Day or Black Friday" he said.
In response to Prime Day, competitors like eBay (EBAY) are offering price matching. A banner on that company's home page says, "Their Prime Deal Is Our EveryDay Deal."
Best Buy is also hosting its own "Big Deals Day" on Wednesday with discounts on electronics like TVs, laptops and cell phones.