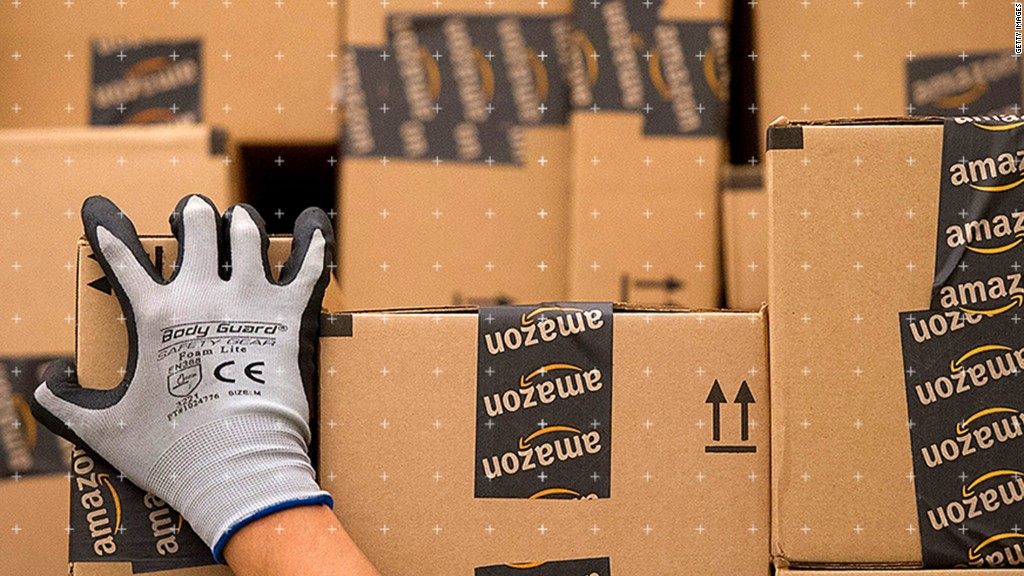 Amazon's Prime Day was the biggest sales day in company history.
The tech giant on Wednesday reported record sales for its third annual Prime Day, beating out its numbers for previous Black Friday and Cyber Monday shopping periods. In fact, Prime Day sales were higher than both shopping holidays combined in 2016.
Prime Day, which kicked off on Monday and offered 30 hours of deals, experienced a sales uptick of more than 60% compared to last year.
The company also added more Prime members in one day than ever before. Amazon required shoppers to be Prime members to participate in the sale.
While it didn't give specific figures, Amazon (AMZN) said "tens of millions" of Prime members bought something on Prime Day this year, up more than 50% than last year.
Related: Amazon Prime Day: What to know before you click 'buy'
The company also said this year's event was its biggest ever for Amazon devices. The most popular item sold was its smaller-sized Echo Dot smart speaker -- priced at $35, down from $50.
Amazon also saw record sales for its classic Echo smart speaker, Fire tablets and Kindle devices. The 55-inch Element 4K TV with Amazon Fire ($400) was also a hot item, selling out in less than four hours.
Other popular products included an InstantPot programmable pressure cooker, 23andMe DNA ancestory tests, Sony Playstation 4s, the Nintendo Switch, Alexa-enabled smart plugs, Whey protein powder and "Game of Thrones" seasons 1 through 6 on Blu-Ray.
Related: Amazon takes on Geek Squad with new service
Amazon launched Prime Day in July 2015 to celebrate its 20th birthday. Now, it's part of a larger effort to convince shoppers to sign up for a Prime membership (which has a $99 annual fee) and to sell Amazon's own products.
Prime Day "has changed into something that's less about the business of selling things and more about the business of selling Amazon," said Stephen Baker, an analyst at market research firm NPD Group.