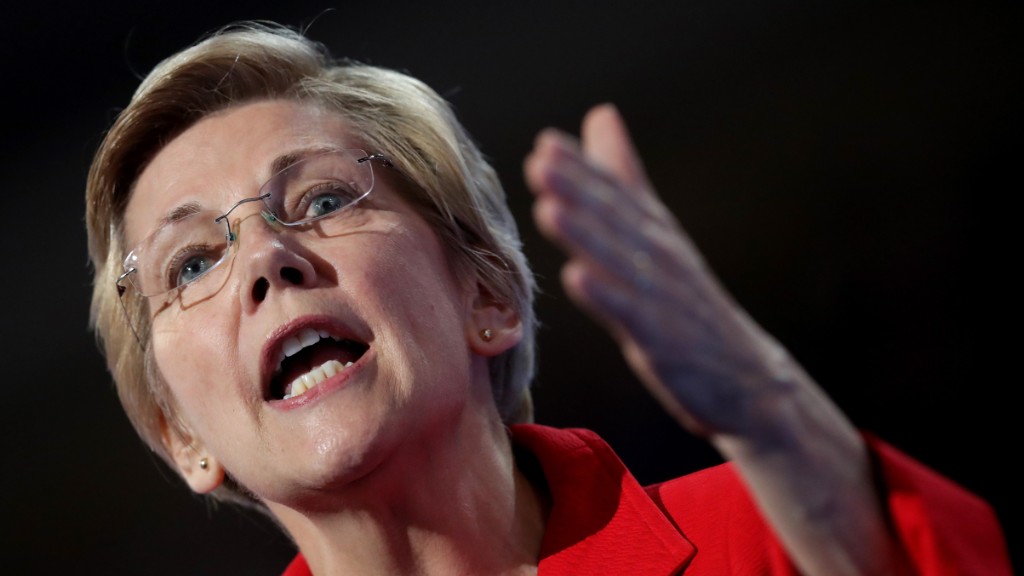 Senator Elizabeth Warren thinks the Wells Fargo board was asleep at the wheel during the fake-account disaster. Now she's pleading with Janet Yellen to remove most of the bank's board before more people get hurt.
Instead of simply slapping Wells Fargo (WFC) with more fines, Warren implored Yellen to use her power as the Federal Reserve chief to send a resounding message to Wall Street.
"Time after time, big banks cheat their customers and no actual human beings are held accountable," Warren, a Massachusetts Democrat, told Yellen during a Senate hearing on Thursday.
"Nothing's going to change at these big banks if that doesn't change," Warren said.
Warren wrote to Yellen last month, urging the Fed to take the unprecedented step of removing the big bank's directors. She pointed out that federal law empowers the Fed to remove directors if they engage in unsafe or unsound practices that cause a bank to lose money. Warren noted that bank boards are responsible for risk management -- and that was a key failure at Wells Fargo.
Yellen on Thursday said she wasn't prepared to discuss confidential regulatory matters in detail, but she did criticize Wells Fargo for "egregious and unacceptable behavior."
Wells Fargo admitted last fall that as many as 2 million unauthorized checking and credit card accounts were created to meet unrealistic sales goals. The bank fired 5,300 employees and was hit with $185 million in fines.
Yellen confirmed that the Fed, which didn't fine Wells Fargo for the scandal, has the legal authority to oust directors.
"I agree we do have the power, if it proves appropriate, to remove directors," Yellen said. "We are prepared to take enforcement actions if those prove to be appropriate."
Related: Warren wants the Wells Fargo board wiped out
However, Yellen said there needs to be a "thorough investigation to look at the full record and understand the root causes" of the problems at Wells Fargo.
Warren noted that the public record already shows that something went terribly wrong. Wells Fargo's own investigation, launched by the board, found that the bank suffered from inadequate risk management systems that should have caught the illegal activity earlier.
Institutional Shareholder Services, a shareholder advisory firm, urged Wells Fargo shareholders to vote out the board, arguing that it made the scandal worse by failing to provide enough oversight. Wells Fargo's directors were narrowly re-elected in April.
Warren wants the Fed to remove the 12 Wells Fargo directors who served between May 2011 and July 2015, the period covered in the fake account settlement with regulators. (Wells Fargo currently has a total of 15 directors.)
"If bank directors that preside over the firing of thousands of employees for creating millions of fake accounts can keep their jobs," Warren said, "then I think every bank director in this country knows that they are bulletproof."
Related: Wells Fargo victims get closer to payback in $142 million settlement
Wells Fargo said Thursday that its board and management team have taken many steps to "make things right with any customer affected by unacceptable sales practices."
Since the scandal, Wells Fargo has eliminated its unrealistic sales goals, installed a new chief executive and announced plans to claw back almost $200 million in pay from former top execs.
Despite the pressure from politicians, experts don't expect the Fed to take Warren's advice.
Isaac Boltansky, a policy analyst at Compass Point Research & Trading, argued in a recent report that it's "highly unlikely" the Fed will remove most of the Wells Fargo board.
"You have the power to change the culture on Wall Street," Warren told Yellen. "I know you care about this issue. I hope you will use that power."