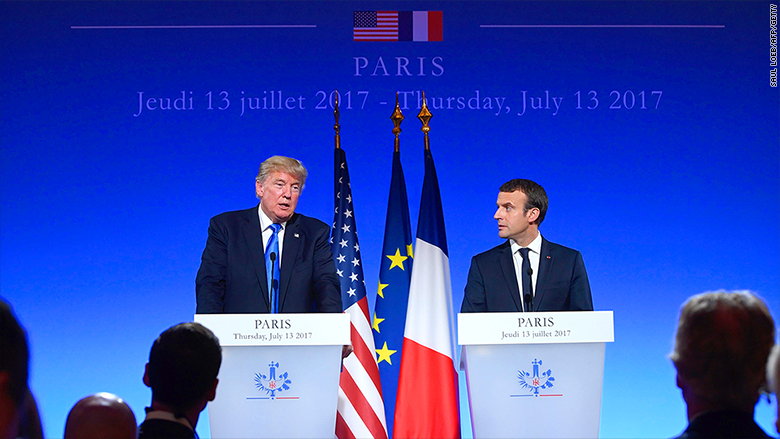 President Trump called on a non-American journalist during Thursday's joint press conference with the President of France, breaking with protocol and denying American journalists a rare opportunity to ask a question of their president.
After French President Emmanuel Macron called for a final question from an "American journalist," President Trump instead called on a man who identified himself as a journalist from "Phoenix TV of China."
Joint press conferences that U.S. presidents hold with foreign leaders traditionally include two questions from journalists of the host nation (in this case, France) and two questions from journalists of the visiting nation (in this case, the United States).
"Seems like a clear violation of protocol for this question not to go to an American journalist," Jonathan Lemire, a White House reporter for the Associated Press, tweeted.
Asked for comment about the President choosing to call on a non-American reporter, Deputy White House Press Secretary Sarah Huckabee Sanders told CNNMoney, "Like the members of the White House Press Corps, The President wants a free press and he can call on any reporter he chooses."
The White House Correspondents Association, which represents journalists covering the administration, has yet to comment on the incident. WHCA President Jeff Mason, a White House correspondent for Reuters, did not immediately respond to a request for comment.
Trump, who repeatedly tries to discredit the mainstream media in rallies and on Twitter, has gone almost five months without holding a solo news conference.
However, the president did spend more than an hour speaking with reporters off the record during his flight to Paris. The president later asked that some of his remarks during the conversation be put on the record.
The Chinese journalist asked questions of both presidents, first addressing Macron in French and then speaking to Trump in English. Of Trump, he asked, "You have just met with the Chinese president during the G20 Summit. How do you want to continue to work with China and what do you personally think about Mr. Xi Jinping?"
The first journalist Trump called on at the press conference was American, ABC News' Cecilia Vega, and the question asked was on the hot-button issue of the week, Donald Trump Jr.'s emails setting up a meeting with a Russian lawyer.