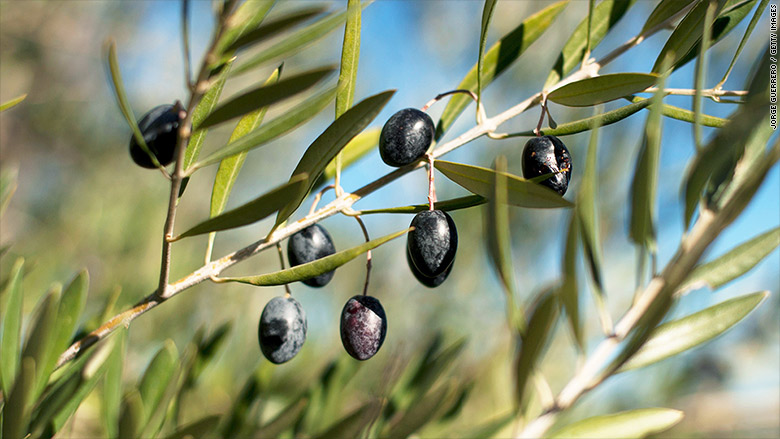 The Trump administration is taking its fight for American trade to the market for Spanish olives.
The U.S. Department of Commerce said Thursday that it's launching investigations into whether Spanish olive producers are violating fair trade laws.
Investigators are concerned that the foreign producers are "dumping" olives into the U.S. -- meaning Spanish olives are selling in the United States for less than they would sell for in Spain. That goes against laws that seek to protect American producers from being unfairly undercut by outside competition.
It's not a big market: About $70.9 million worth of Spanish olives were imported to the United States last year, according to the Commerce Department.
Officials are working to determine whether olive dumping is taking place, and whether "olive producers in Spain are receiving alleged unfair subsidies," the department said.
According to Commerce, the petitioner is the Coalition for Fair Trade in Ripe Olives, whose members are Bell-Carter Foods and Musco Family Olive Co.
Related: America's trade partners are less aggressive under Trump
Bell-Carter CEO Tim Carter said in a June press release that "dumped and subsidized Spanish ripe olives are severely impacting" his business.
He added that when the American olive industry was at its peak, there were 20 olive processors and 1,100 growers, but today there's only two processors and 890 growers.
Felix Musco, CEO of Musco Family Olive Co., has called the olive industry's decline "painful."
"Our ripe olive industry takes great pride in the industry it created, the high quality of its product, and the thousands of workers and families the industry supports. Without import relief, all of this is at risk," he said in a June statement.
If wrongdoing is found, and if the International Trade Commission determines that U.S. producers were harmed, the Commerce Department promised it "will act swiftly to halt any unfair trade practices," Commerce Secretary Wilbur Ross said in a statement.
Related: Steel stocks jump on Trump's tariff threat
Specifically, the U.S. government plans to impose taxes on Spanish olive imports "in the amount of dumping and/or unfair subsidization found to exist." Bell-Carter and Musco have suggested those tariffs should be between 78% and a whopping 223%.
The Commerce Department said it plans to have the first round of preliminary investigation results by later this year.
The move marks the 51st fair trade investigation that the administration has launched since President Trump took office in January, the Commerce Department said.
One of those probes seeks to uncover illegal steel trading. Trump doubled down Thursday on his threats to slap a hefty tariff on steel, citing "dumping" concerns.
As Trump steps up his tough actions to protect U.S. producers, some economists and business people are worried about possible retaliation from other countries.
A report earlier this month by the Centre for Economic Policy Research, which is based in London, suggested that America's biggest trade partners have taken far fewer protectionist measures against U.S. business so far this year.
--CNNMoney's Ivana Kottasová and Patrick Gillespie contributed to this report