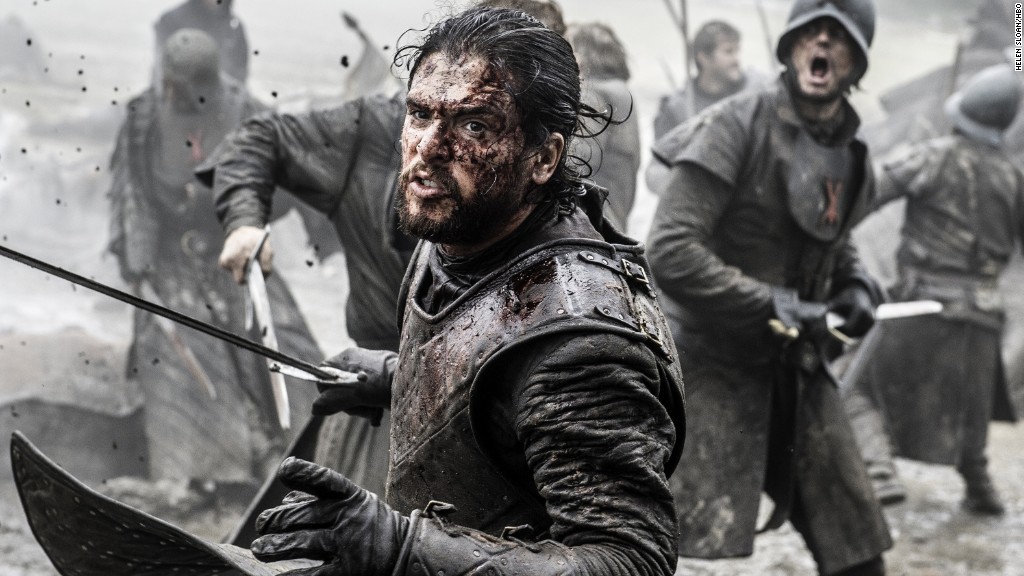 Last summer, millions watched as a hometown hero returned to reclaim victory in a winner-take-all battle as the leader of a group that for years knew nothing but heartbreaking loss.
No, I'm not talking about the King of the NBA East, LeBron James. I'm talking about the King of the North, Jon Snow, and his victory in the "Battle of the Bastards," the penultimate episode of last season's "Game of Thrones." But it's understandable that the two would get mixed up because "Thrones" — and the way it's consumed — has a lot in common with live sports.
The hit HBO drama, which kicks off its seventh season Sunday, is popular for many reasons but it helps that watching Snow play the game of thrones is very much like watching LeBron take on the Golden State Warriors.
The television industry is changing with more and more people choosing to forgo traditional viewing habits for on-demand and streaming options. Live sports is arguably the last dependable broadcast that requires viewers to sit down and watch as it happens to get the full experience (not to mention, all the ads). This is why networks shell out billions of dollars to leagues and why nine of the 10 top rated broadcasts last year were sports.
But then there's "Thrones." The show in no way commands the audience that sports does, but to HBO — which relies on a subscription model instead of an advertising one — that doesn't really matter. The culture around "Thrones" looks a lot like what we see around sporting events.
NFL fans tune in to see who will win the Vince Lombardi trophy at the end of the season. For "Thrones," it's to see who will win the Iron Throne. The series pits your favorite houses (Stark, Targaryen, etc.) against other houses. Fans wear their favorite house's colors and recite its motto ("Winter Is Coming," "Fire and Blood").
The sports-like experience creates a communal event that is rare for today's TV world. If you don't tune in, you'll feel left out.
"'Game of Thrones' is the last water cooler show," Chris Ryan, executive editor at The Ringer, told CNN, referring to the old phenomenon of people discussing a TV show around the water cooler at work.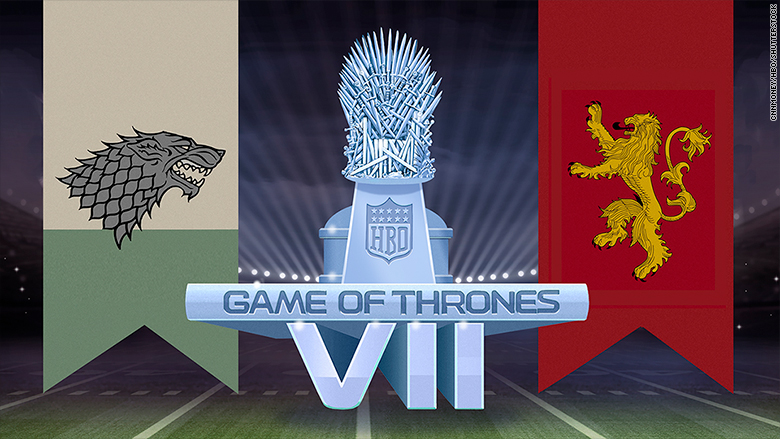 Related: New 'Game of Thrones' series in development at HBO
Ryan, along with his colleague Andy Greenwald, hosts "Talk the Thrones," a talk show on Twitter where the hosts and their guests recap the latest episode right after it airs (HBO is an investor in The Ringer). Think of it like "SportsCenter" but for "Game of Thrones."
"You have to watch 'Game of Thrones' live, because otherwise you can't exist as a modern person in the world," Greenwald said. "Someone on Twitter is going to ruin it for you and tell you exactly who died."
Some sports bars, like New York City's Professor Thom's, even open its doors for viewing parties where hundreds of people show up hours in advance to pack themselves into the lower Manhattan bar. Like a sporting event, there's cheering, nachos, and drinks like "The Westerosa," but instead of the Red Sox's red and white, patrons don the Lannister's red and gold.
"I feel certain shows really lend themselves to group watching environments," Peter Levin, owner of Professor Thom's, told CNN. "The enthusiasm and the outpouring from the fans is very similar from 'Game of Thrones' to a sporting event... It's a really eerily similar environment."
Now, sure, you could watch "Thrones" anytime, but according to HBO, three-fourths of all Twitter activity around the show occurs when it airs and the day after, so that means social media will immediately be dark and full of spoilers.
Related: 'Game of Thrones:' The perfect pay-TV warrior?
"Thrones" isn't the only show like this. Fans of ABC's "The Bachelor" root for their favorite contestant on the show and on show-themed fantasy leagues, while AMC's "The Walking Dead" has its own post-show chat with "Talking Dead."
However, "Thrones" became one of the most obsessed-over series on TV while winning a different type of trophy — the Emmy for best dramatic series two years running.
(HBO, like CNN, is owned by Time Warner (TWX).)