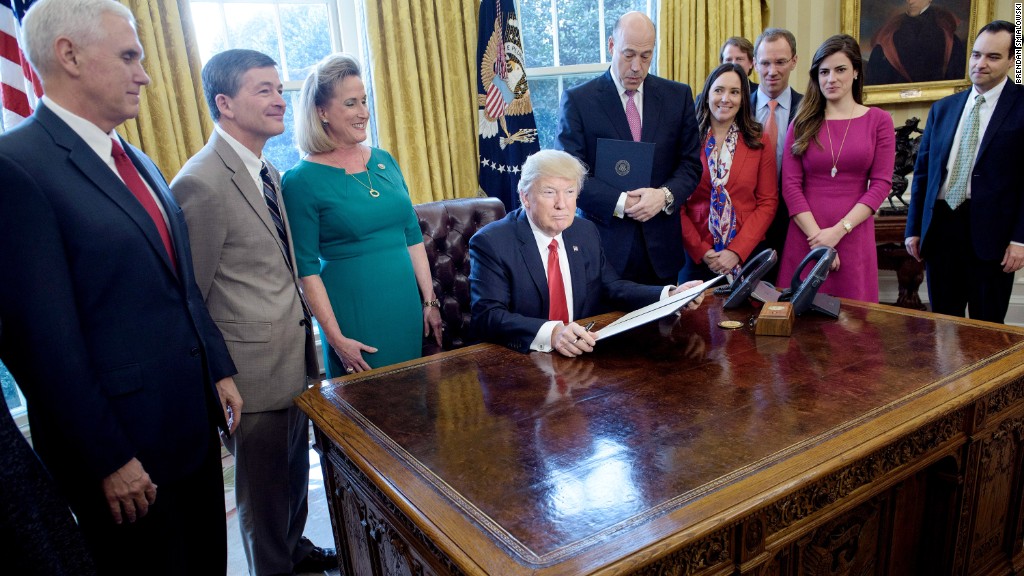 They're the most senior bankers to face charges in Britain over crimes allegedly committed during the financial crisis.
And now they have a trial date.
Former Barclays CEO John Varley and three top lieutenants will go on trial in January 2019, more than a decade after they orchestrated controversial cash injections from Qatar that saved the bank during the global financial crisis.
The start date for the criminal trial was set Monday in Southwark Crown Court in London.
Lawyers representing Varley declined to comment. Barclays (BCS), which faces related charges, also had no comment.
Varley and the bank's former head of investment banking in the Middle East, Roger Jenkins, each face two counts of conspiracy to commit fraud by false representation and one count of unlawful financial assistance.
A lawyer for Jenkins said that his client intends to "vigorously defend against the charges."
The maximum penalty for a criminal fraud charge in the U.K. is 10 years in jail. Unlawful financial assistance carries a maximum of two years.
Two other former Barclays executives are facing one count of conspiracy to commit fraud each.
Charges were filed in the case last month by the U.K.'s Serious Fraud Office. It's the first time the SFO, which investigates white collar crimes, has charged a bank or its executives over actions taken during the financial crisis.
Related: British banks have stopped selling Qatari cash
Barclays has long been dogged over its handling of the Qatar investments, which helped it avoid a taxpayer bailout as the global financial system crumbled. Accepting support from the British government would likely have meant increased oversight and scrutiny over executive pay.
The cash injections came from Qatar's sovereign wealth fund and a group of investors in the country.
Shortly after the 2008 investments were made, Barclays made a $3 billion loan facility available to Qatar, according to the SFO.
In 2013, the U.K.'s Financial Conduct Authority proposed fining Barclays £50 million over issues related to its disclosure of £322 million in "advisory services" payments to Qatari investors in 2008.
The regulator put its case on hold, however, pending the outcome of the SFO's criminal investigation.
The timeline for the Barclays case is not unusual. In other complicated criminal cases brought by the SFO, upwards of two years have passed between initial charges being filed and the start of a trial.
Big banks have paid tens of billions in penalties over the sales of toxic mortgages and other crimes that contributed to the financial crisis. But few top executives have been charged on either side of the Atlantic.
"These are the kinds of cases that people come to the Justice Department to make," former U.S. Attorney General Eric Holder said of the lack of Wall Street prosecutions in 2015. "The inability to make them, at least to this point, has not been as a result of a lack of effort."
-- Charles Riley contributed reporting.