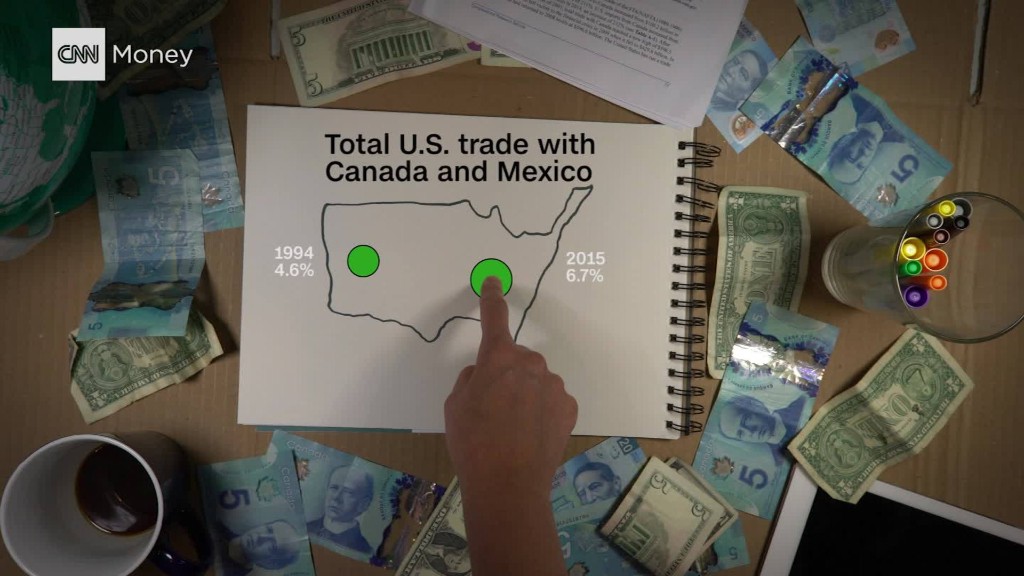 President Trump hates America's trade deals. His team on Monday finally outlined what it thinks a better deal would look like.
Trump's U.S. trade representative, Robert Lighthizer, published a list of goals for the upcoming renegotiation of NAFTA, the free trade agreement among Canada, Mexico and the United States.
Top of the list: Cut the U.S. trade deficit with Mexico.
The U.S. trade deficit with Mexico was $63 billion last year, and it has grown considerably since NAFTA went into effect in 1994. The U.S. didn't have a deficit with Canada last year.
Trump's team believes the trade deficit with Mexico has contributed to a dire scene in U.S. manufacturing towns.
"Since the deal came into force in 1994, trade deficits have exploded, thousands of factories have closed, and millions of Americans have found themselves stranded," the report said.
Trump made NAFTA his No. 1 trade target during his campaign for the White House, calling it "the worst trade deal maybe ever signed anywhere, but certainly ever signed in this country."
Related: Trump seeks to renegotiate trade deal with South Korea
Still, about 14 million U.S. jobs depend on trade with Canada and Mexico, according to the U.S. Chamber of Commerce. More than $1 billion in commerce crosses the southern and northern borders of the United States every day.
The objectives of the NAFTA renegotiation, written in broad language, raised eyebrows among trade experts.
"I regard this document as a potential iron fist in a velvet glove," says Gary Hufbauer, a senior fellow at the Peterson Institute for International Economics.
Hufbauer points out that the Trump administration wants to improve access for U.S. exports through "reciprocal and balanced trade," words that could be interpreted as opening the doors for tariffs and quotas.
Related: Japan and European Union ink new trade deal
Another objective states the U.S. should be able "to enforce rigorously its trade laws," including the use of certain types of tariffs. That goal, titled "Trade remedies," adds to the perception that Trump is seeking a protectionist policy, analysts say.
Right now, products from Mexico, Canada and the U.S. cross each others' borders tax free. Any potential tariffs must go through the World Trade Organization or a special NAFTA dispute settlement panel.
Trump's team is calling for the end of the NAFTA panel, which could allow it to apply tariffs more easily.
"It's saying, 'there's not going to be any special treatment for you, Canada and Mexico,'" said Hufbauer.
Other parts of the NAFTA renegotiation document echo the Trans-Pacific Partnership, the free trade deal Trump also widely criticized and withdrew from in January.
Related: Mexico and China talk up potential trade deal
The report calls for higher labor standards across all three countries. Higher labor standards in Mexico would make Mexican workers more expensive -- and less attractive -- to U.S. firms. It also calls on better environmental laws and stronger protections for intellectual property rights. Those were all key parts of TPP.
"They are close enough to...TPP objectives that the administration could still just cut and paste from the TPP text," says Phil Levy, a senior fellow at the Chicago Council on Global Affairs.
One key objective could be a boon for Amazon (AMZN) and other e-commerce firms. If Mexican shoppers go online and buy more than $50 of U.S. goods, they have to pay Mexico's value-added tax. That discourages some shoppers from using American platforms like eBay (EBAY). Trump's team suggests raising that threshold to $800 across all three countries. The move would also apply to shoppers going across the borders.
"This, if accepted, would really magnify trade over the internet and shopping across the border," says Hufbauer.
As for Trump's top goal -- reducing trade deficits -- experts aren't convinced the move would bring manufacturing back manufacturing jobs, as Trump has promised.
"Is that necessarily going to be a good thing and bring jobs back to America? I don't know, trade deficits don't mean lost jobs," said John Scannapieco, a trade lawyer at Baker Donelson.
Mexico and Canada's economic ministries acknowledged the U.S. objectives report in separate statements and welcomed the upcoming NAFTA talks.