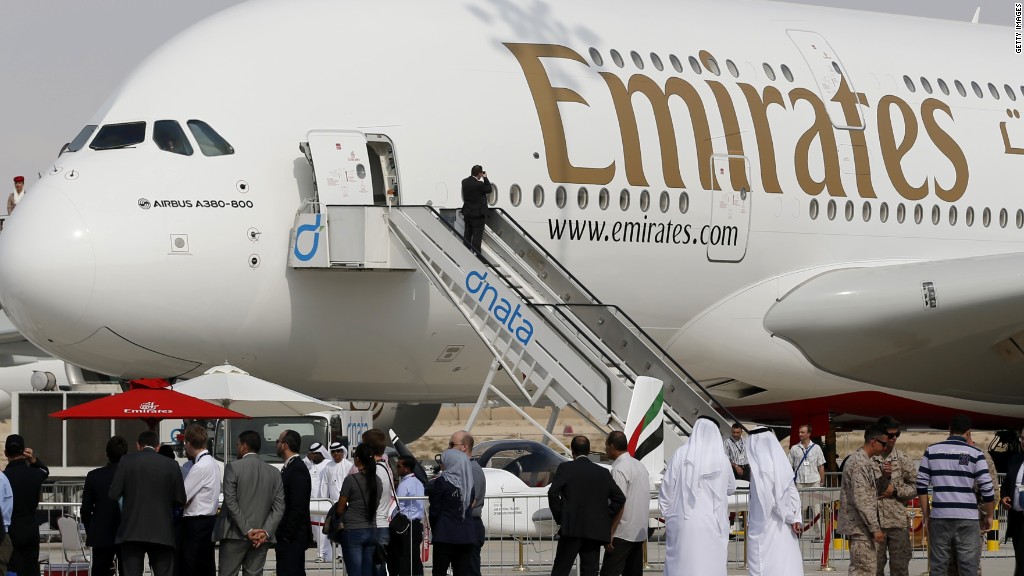 The next time you book an Emirates flight, you may end up on low-cost rival FlyDubai.
The two Dubai state-owned airlines have announced an "extensive partnership agreement" that stops short of a merger but will allow them to issue tickets for each other, coordinate schedules and launch new routes.
"Both airlines will continue to be managed independently, but will leverage each other's network to scale up their operations and accelerate growth," Emirates and FlyDubai said in a statement on Monday.
The partnership is due to start before the end of this year and the two airlines plan to align their "systems and operations" at Dubai International Airport, the world's busiest for international traffic.
Their combined global network is expected to serve 240 destinations with a fleet of 380 aircraft by 2022.
Related: Mideast airlines halt Qatar flights as Gulf crisis escalates
Marian Pistik, CEO at Aerotask, a global aviation consultancy firm, said it made sense for the airlines to work more closely together given the pressures they face and increasing duplication in their business.
"Over the past years FlyDubai has gradually encroached on Emirates' market, both in terms of serving overlapping routes and upgrading its product by moving away from the strict low cost model," Pistik said.
Both airlines are having to cope with falling earnings.
Emirates profit slumped 82% in the year ending March 31. It blamed weaker demand for travel and "destabilizing events" including President Trump's policies such as a travel ban on citizens from six Muslim-majority countries and an electronics ban, which has since been lifted.
Related: Qatar Airways still wants American Airlines despite rebuffs
FlyDubai also saw its profit drop 69% in 2016 and cited a "challenging socioeconomic environment."
"The partnership will strengthen the position of both airlines and allow them to optimize use of their respective fleets with a greater ability to adjust aircraft capacity size according to route demand," said John Strickland, aviation industry consultant at JLS Consulting.