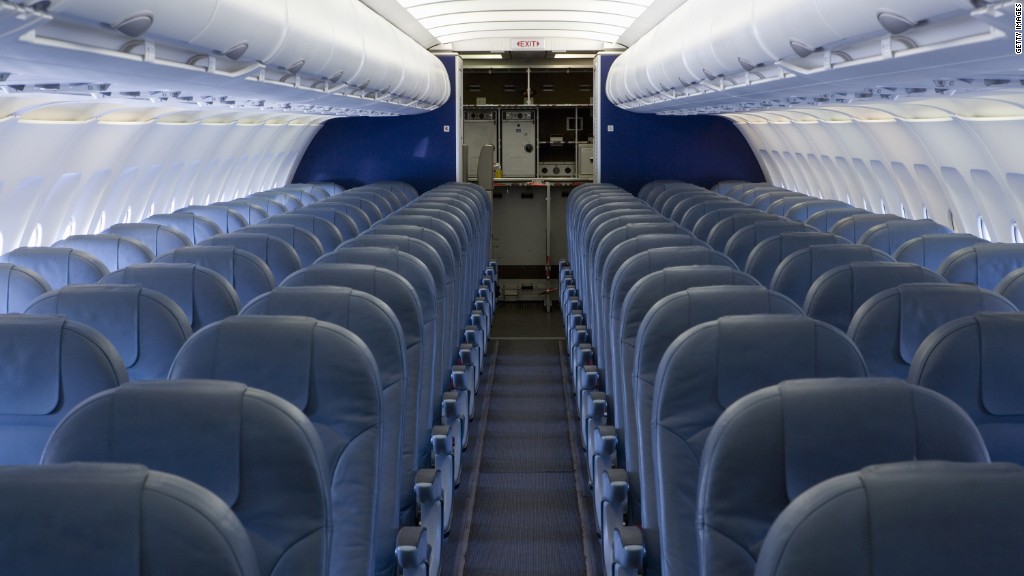 Ultra-low cost carrier Frontier Airlines is doubling in size.
The expansion, announced Tuesday, will add 21 new cities and 85 new routes to the airline's network. By the summer of 2018, Frontier will operate 314 non-stop flights. That's double what it flies today.
"These new flights will allow us to serve even more of America and make flying a truly affordable option," said chief executive Barry Biffle in a statement.
Sunny locales like Tampa, Miami, Orlando, Fort Myers, Fla., and Cancun, Mexico will all get expanded service and its base in Denver will get 19 new destinations.
With its expansion, the airline says it will serve 90% of the population in the continental U.S.
Related: America's least favorite airline (hint: it's not United)
Over the last decade, the carrier has been transformed from a bankrupt legacy carrier into a rapidly expanding, ultra-low cost airline under new management.
The Denver-based airline filed for an IPO in March and is eager to show its growth potential to investors.
The number of passengers flown by Frontier grew by more than 15% last year and its planes were more full than any carrier, according to the Bureau of Transportation Statistics.
Its aggressive expansion is aimed at established carriers like Southwest Airlines (LUV) and United Airlines (UAL). For example, Frontier's new routes will make it the airline with the second most destinations from cities like Orlando, behind Southwest.
The expansion, however, largely steers clear of territory dominated by ultra-low cost rival Spirit Airlines, which has a similar no-frills business model.
Frontier's growth will also require a lot of new airplanes. The airline has 55 more single-aisle aircraft on order from Airbus, (EADSY)according to the manufacturer's most recent figures.
Related: It's a golden age for affordable flying. No, really.
U.S. carriers have returned to competitive growth after a decade of consolidation and restructuring. Low-cost airlines like Spirit and Frontier, who offer tickets that don't include assigned seating, checked baggage or even carry-ons, in some cases, have brought new low-fare competition in cities across the country.
That has forced the biggest carriers to introduce so-called 'basic economy' fares that similarly strip out the once-included extras.
While American and Delta show increases in the amount of revenue they get from each passenger, in part because of higher fares, carriers like Frontier are a major force pushing in the other direction.
But those low fares haven't meant customer satisfaction. Frontier ranked second from the bottom in customer satisfaction behind Spirit.