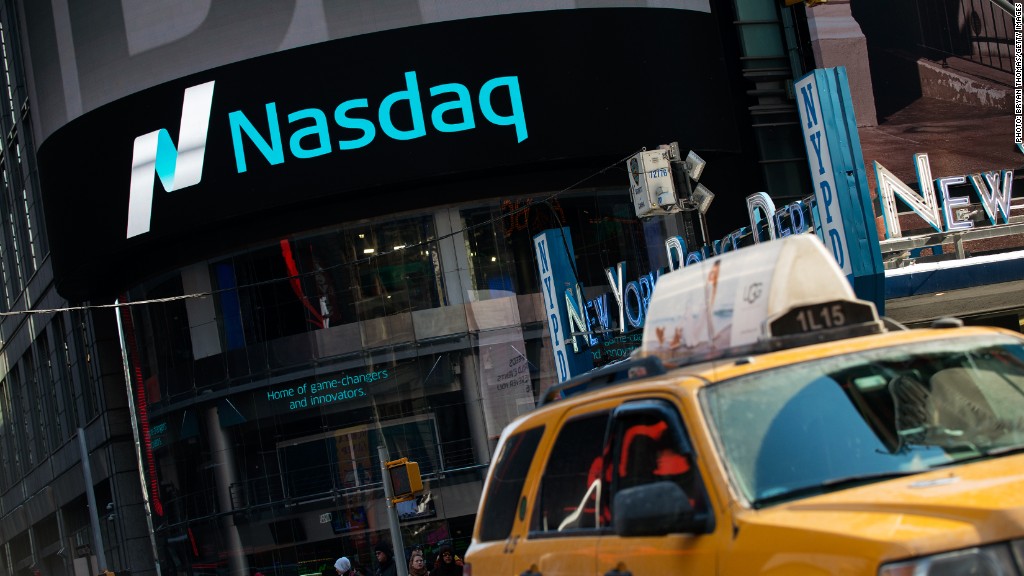 Not long ago, President Trump was warning of a "big, fat, ugly bubble" in the stock market. Now that he's in charge, Trump has quickly become the market's cheerleader-in-chief.
He's bragged about the stock market in six tweets this month alone.
"Stock Market hit another all-time high yesterday -- despite the Russian hoax story!" Trump said in a July 15 tweet that was followed by another market tweet nine minutes later. After the Nasdaq hit a record this week, he retweeted a Fox News graphic showing how much stocks have soared.
Market veterans say it's uncommon to have the president weigh in on the market so often. It's also risky to take such ownership because every president over the past 70 years has eventually encountered a stock market storm.
"It's very rare to have the president make comments like that," said Sam Stovall, chief investment strategist at CFRA Research, who has been covering the market for the past three decades.
"President Trump is the president of many firsts. The first to be tweeting significantly and the first one to really be touting the stock market," he said.
Trump actively rooted for the market to go higher after the Dow hit the 20,000 milestone in January. "Now we have to go up, up, up," Trump told ABC News at the time.
Trump likely sees the stock market surge -- the Dow has skyrocketed more than 3,200 points since the election -- as a vote of confidence in his policies. And the Trump agenda of tax cuts, deregulation and infrastructure spending was a major driver for the post-election rally on Wall Street.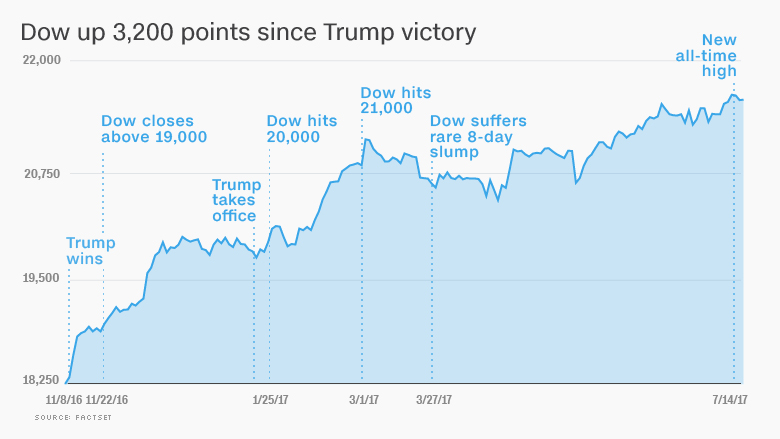 Related: Nasdaq zooms to record as Netflix soars
But the current upswing on Wall Street can't last forever. And Trump's track record of cheering the infamously fickle market will make it tougher for him to avoid criticism when stocks plunge, as they do from time to time.
"It is unusual. To talk about where the market will go is something I would not have advised anyone I worked for," said Jeffrey Shafer, who worked as an economic adviser to President Carter and as a Treasury Department official under President Clinton.
History shows that presidents typically encounter at least one market plunge during their time in office.
The S&P 500 suffered a correction (between 10% and 19.9% decline) or a bear market (more than 20% decline) under every U.S. president since World War II, according to CFRA Research.
Even though the stock market boomed under President Obama, the S&P 500 nearly plunged into a bear market in 2011 after the U.S. credit rating was downgraded. The market suffered two other corrections during Obama's tenure.
So far, the market has had very few scary moments in the Trump era. The S&P 500 hasn't even suffered a pullback of 5% or more -- yet.
"If it goes down, he'll just shut up," Shafer said.
Not surprisingly, Trump avoided tweeting about the market during any of the rare selloffs on Wall Street since he took office, such as on May 17, when the Dow plunged 373 points amid concerns about the firing of FBI Director James Comey.
Trump has defended his Twitter habit as a legitimate way of speaking directly to the American people.
His predecessor didn't shy away from talking about the rising stock market, mentioning it during several State of the Union addresses.
"Two years after the worst recession most of us have ever known, the stock market has come roaring back," Obama said in his 2011 speech.
But the difference is that Obama, who inherited a stock market in chaos, tended to mention the market in the context of longer-term gains, not the day-to-day gyrations.
Related: Renegotiating NAFTA -- in 15 easy steps
By contrast, Trump has even fired off tweets about specific sectors of the market. For instance, last month he slammed the "fake news" media for failing to cover a nonexistent boom in energy stocks.
Treasury Secretary Steven Mnuchin also broke with tradition by commenting on the market. In May, Mnuchin bragged about how his plans to rip up the rules on Wall Street lifted bank stocks.
"You should all thank me for your bank stocks doing better," Mnuchin said at the time.
Don't expect Trump officials to apologize when and if stocks reverse course.