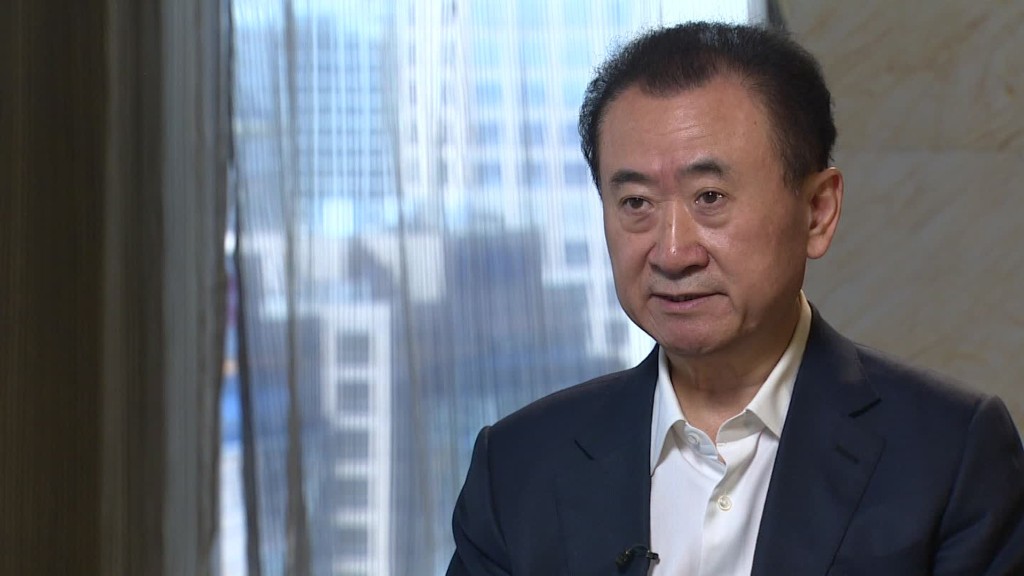 Chinese billionaire Wang Jianlin is fighting back against talk that his sprawling business empire is in trouble.
Wang's Dalian Wanda Group is one of China's biggest conglomerates, with several international acquisitions under its belt. Less than a year ago, Wang was promising to become the world leader in real estate, tourism, entertainment and sports.
Now he's on the defensive. Last week Dalian Wanda sold several theme parks and dozens of hotels for $9.3 billion, marking the end of Wang's dream to defeat Disney (DIS) in China. The billionaire said the deal would reduce his company's debt burden.
It followed several reports that Beijing regulators were investigating some of Wanda's overseas deals for breaching investment rules, and that they had warned state banks not to lend to the company.
Wanda has not responded to CNNMoney's requests for comment on these reports, and the Chinese government has declined to comment.
But Wang used a speech in Beijing on Wednesday to defend the heart of his real estate business, Wanda Commercial Properties.
"Many people are concerned about the liabilities of Wanda Commercial. However, while most of them care about it out of real concern, a few spread rumors and attempt to make trouble," he said.
Related: China's richest man gives up on plans to beat Disney
Wanda Commercial had decided to pay off most of its bank loans, Wang said, adding it has cash of more than $25 billion and for-sale properties on its books worth $19 billion.
"It is projected that, in terms of rent, Wanda Commercial will enjoy an average annual growth rate of approximately 20% over the coming five years. Is Wanda Commercial running a good business? You can make your own judgment," Wang added.
But uncertainty about the conglomerate has spooked investors in other Wanda companies. Shares in Wanda Film Holdings were suspended earlier this month due to "major events" and haven't traded since.
And after its shares plunged 10% this week, American movie theater chain AMC Entertainment, (AMC) which is controlled by Wanda, issued a statement saying it does not depend on financing from its parent company.
"Dalian Wanda has never been a source of acquisition funding for AMC," the company said. AMC has also "never received committed financing from any bank headquartered in mainland China for any purpose, including for acquisitions."
Wanda's global expansion had stalled earlier this year. In March, a $1 billion deal to buy Dick Clark Productions was terminated after Wanda "failed to honor its contractual obligations," the production company's owner Eldridge Industries said.
Related: China's richest man still wants to buy a Hollywood studio
Wang's remarks came at an event to announce an abrupt reworking of the deal to offload Wanda's theme parks and 76 hotels to Sunac Holdings, one of China's top real estate firms.
Under the new terms, Wanda is selling the hotel portfolio (now 77 in total) to R&F Properties for $2.9 billion. Sunac will still buy the theme parks and has already made a down payment, the companies said.
Wanda said the "object and total amount of the transaction are basically the same" as the original deal.
But the hasty new agreement has raised more questions about Wanda's finances.
Related: Billionaire: Chinese real estates is the 'biggest bubble in history'
In the original agreement, Wanda Commercial was going to lend Sunac billions of dollars to help it finance the purchase, according to a public filing with the Hong Kong stock exchange.
Under the new structure, Sunac no longer needs the loan, so Wanda will receive more cash from the deal.
"From a cash flow perspective it's a bit better for Dalian Wanda," said Franco Leung, vice president and senior credit officer at Moody's in Hong Kong.
Moody's has a negative outlook on Wanda Commercial's credit rating, which it downgraded earlier this year. The negative outlook means the agency could further lower the company's rating in the medium term.
"The company is still having relatively high debt leverage, and that's why we have a negative ratings outlook," said Leung.
Wang has seen his fortune shrink amid the turmoil.
The billionaire was China's richest man, according to the most recent annual rankings, with an estimated net worth of around $30 billion. Based on current estimates, he's falling behind tech tycoons Jack Ma of Alibaba (BABA) and "Pony" Ma Huateng of Tencent (TCEHY).