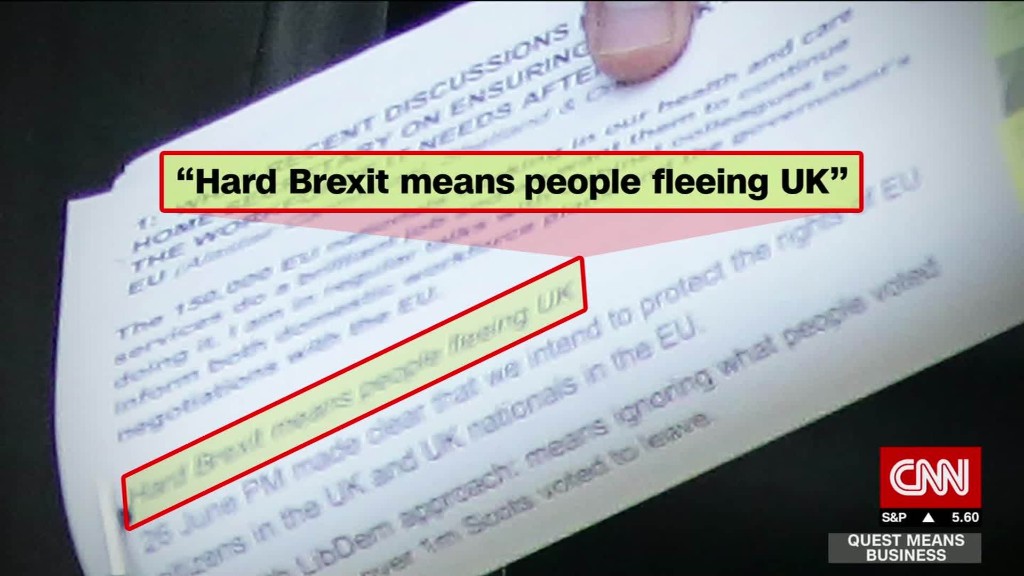 Britain needs to figure out its Brexit plan. Quickly.
The second round of Brexit talks concluded Thursday with a demand from the European Union that Britain clarify its position on key issues.
Chief EU negotiator Michel Barnier said more details were needed on how Britain hoped to settle its financial obligations to the bloc and deal with the border between Northern Ireland (part of the U.K.) and the Republic of Ireland, an EU member state.
Barnier also warned of a "fundamental divergence" on the question of how to secure the rights of millions of citizens who have settled in Britain or Europe.
The EU has made clear that significant progress must be made on all three issues before talks begin on Britain's top concern: The future of its trading relationship with its biggest export market.
The forthright assessment from Barnier is likely to fuel worries that the British government is still deeply divided over how to approach the divorce talks.
David Davis, who is leading negotiations for Britain, struck a much more optimistic tone, saying that he was encouraged by the progress made.
Related: Top watchdogs sound alarm on Brexit risks
But his Conservative Party is still licking its wounds following a devastating election in June.
Prime Minister Theresa May lost her parliamentary majority, throwing her hardline EU exit strategy into doubt.
May has promised to take Britain completely out of the bloc's common trading area and customs union, and slash the number of people coming from the EU. She even threatened to walk away from Europe without paying a hefty divorce bill or striking a new trade deal.
The stunning election result has weakened her position. Many lawmakers and businesses want to retain closer ties with Europe, and they are heaping pressure on the prime minister.
In a sign of how much has changed since the vote, May was scheduled to meet with top CEOs on Thursday.
Britain will leave the EU in March 2019. But business groups have been pressing for a gradual transition that would allow them to adjust to life outside the bloc.
Unilever (UL) CEO Paul Polman, who met with the prime minister on Thursday, said that a lengthy transition was "becoming more realistic now."
A government spokesperson said that May reiterated her goal for a smooth, orderly exit with a "period of implementation in order to avoid any cliff-edges" during the meeting with business leaders.
Related: London's economy is starting to 'wobble'
Economic data is also beginning to lend weight to the argument for a different approach.
Consumers, hammered by rising prices and stagnant wages, have snapped their wallets shut in recent months. Political turmoil has caused businesses to put investments on hold. The U.K. was Europe's slowest growing economy in the first quarter of 2017.
Making progress on the three issues highlighted by Barnier remains the first task, however.
The EU hasn't put an official figure on the exit bill, but some estimates run as high as €100 billion ($112 billion). Member of May's cabinet have scoffed at that figure.
The rights of citizens is even more complicated. Roughly 3 million people from other EU countries live in the U.K., while around 1.2 million Brits reside elsewhere in the EU.
Both sides said they want to avoid a "hard border" between the Republic of Ireland and Northern Ireland.
Free movement across the border was a key part of the Good Friday Agreement, the 1998 accord that brought peace to Northern Ireland after decades of sectarian conflict.