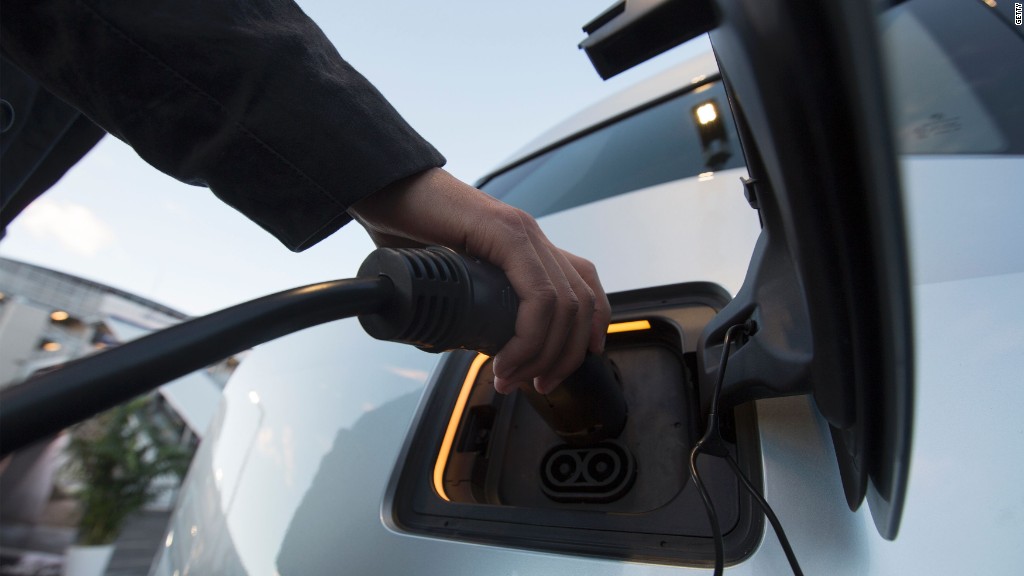 Storm clouds are gathering again over Germany's biggest industry.
Antitrust officials confirmed Saturday that they are investigating claims that the country's major carmakers may have been operating a cartel since the 1990s, colluding on everything from vehicle development and engines, to suppliers and diesel emissions systems.
"The European Commission and the Bundeskartellamt [German cartel office] have received information on this matter, which is currently being assessed by the commission," the European Commission said in a statement.
"It is premature at this stage to speculate further."
The automotive industry accounts for about 20% of total industry revenue in Germany, and employs about 800,000 people in the country.
The commission is the top antitrust agency in the European Union, responsible for working with national authorities to ensure that business plays fair in the European market, which spans 500 million people.
It has the power to fine companies billions of euros and force them to change the way they do business.
News of the probe was broken by German news magazine Der Spiegel on Friday. It reported that hundreds of executives from Volkswagen (VLKAY) (and its subsidiaries Audi and Porsche); Mercedes-Benz owner Daimler (DDAIF); and BMW (BMWYY) had participated in 60 industry working groups.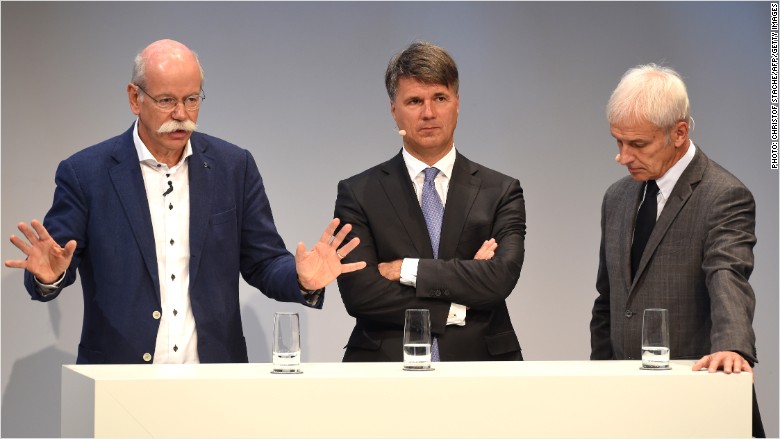 The motive for the meetings, the magazine reported, was to suspend competition. It cited a letter it said Volkswagen had sent to German antitrust officials last summer in which the world's biggest carmaker admitted to possible anti-competitive behavior.
Related: France wants to ditch gas, diesel-powered cars
Volkswagen declined to comment on Friday. CEO Matthias Mueller was quoted by a German newspaper on Saturday saying the company would not comment on "speculation and conjecture." Daimler also has not commented.
In a statement Sunday, BMW said its diesel emissions system differed significantly from others in the market, and none of its vehicles were manipulated to pass tests.
"We compete to provide the best exhaust treatment system," it said.
But a spokesperson for the Munich-based carmaker declined to comment on the broader cartel allegations arising from the Spiegel article.
Shares in all three companies slumped on Friday when the report was first published, before steadying slightly to close between 2% and 4% lower.
The car industry is still struggling to repair the damage to its reputation caused by Volkswagen's admission in 2015 that it cheated diesel emissions tests. Millions of its diesel cars pumped much more nitrogen oxides into the atmosphere than the manufacturer claimed.
That scandal has already cost the company billions in euros in fines and settlements, and the shock waves continue.
Related: GM is latest automaker accused of diesel emissions cheating
Daimler on Tuesday announced a voluntary recall of more than 3 million Mercedes vehicles in Europe amid mounting questions over its diesel engines. It is offering European owners a service upgrade to reduce emissions.
At the same time, it said it had created a new line of diesel engines with "exemplary emissions" that would be introduced rapidly across the company's entire range.
And on Friday, Audi said it would retrofit 850,000 diesel cars to improve their emissions in "real driving conditions."
BMW said on Sunday it was offering a voluntary software upgrade for least 350,000 diesel cars to incorporate "knowledge gained in the field over the last years to realize further improvements in emissions."
Top executives have been invited to meet German government officials on August 2 for a "diesel summit," local media have reported, in a bid to find ways to prevent towns and cities banning their vehicles.
-- CNN's Atika Shubert contributed to this article.