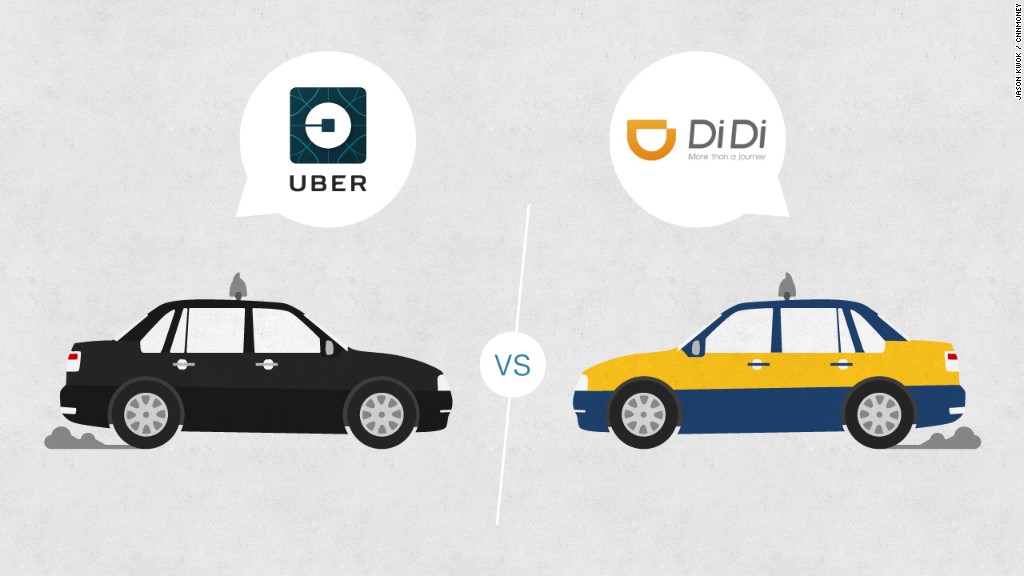 Uber's global competition just got fiercer.
Didi Chuxing, the Chinese ride-hailing behemoth that pushed Uber out of China, is further bankrolling its Southeast Asia competitor, Grab.
On Monday, Grab said it raised a fresh $2 billion from SoftBank, a Japan-based conglomerate, and Didi, which bought Uber's China business last August. That deal was reportedly valued at $7 billion.
Grab -- which operates car, motorbike, and carpooling services -- spans 65 cities across seven countries, including Singapore, Indonesia, Philippines, Malaysia, Thailand, Vietnam and Myanmar. It also has a cashless payments option called GrabPay Credits, which launched in late 2016.
Related: Uber gives up the fight in Russia
Didi and Softbank have previously participated in multi-million dollar investment rounds for Grab. Both companies are also active investors in other transportation startups, including Uber's Indian competitor, Ola.
Grab said it anticipates raising an additional $500 million as part of this new round. The move would make it the largest single financing round in Southeast Asia ever, Grab said.
Uber continues to struggle with local international competition. In addition to selling its Chinese assets, Uber ceded its operations earlier this month to rival Yandex in Russia and neighboring countries. It shut down its service in Denmark in April, too.
As a result of the China deal in 2016, Uber received a nearly 18% stake in Didi and became its largest shareholder. Didi became a minority stake in Uber. Didi, now valued at $50 billion, is the second most highly-valued private company behind Uber, valued at about $68 billion.
Uber continues to face a series of PR crises. Its CEO and cofounder Travis Kalanick resigned in late June following a high-profile investigation into sexism and sexual harassment at the firm. It's also being sued over stolen intellectual property by Google's self-driving car division, Waymo.