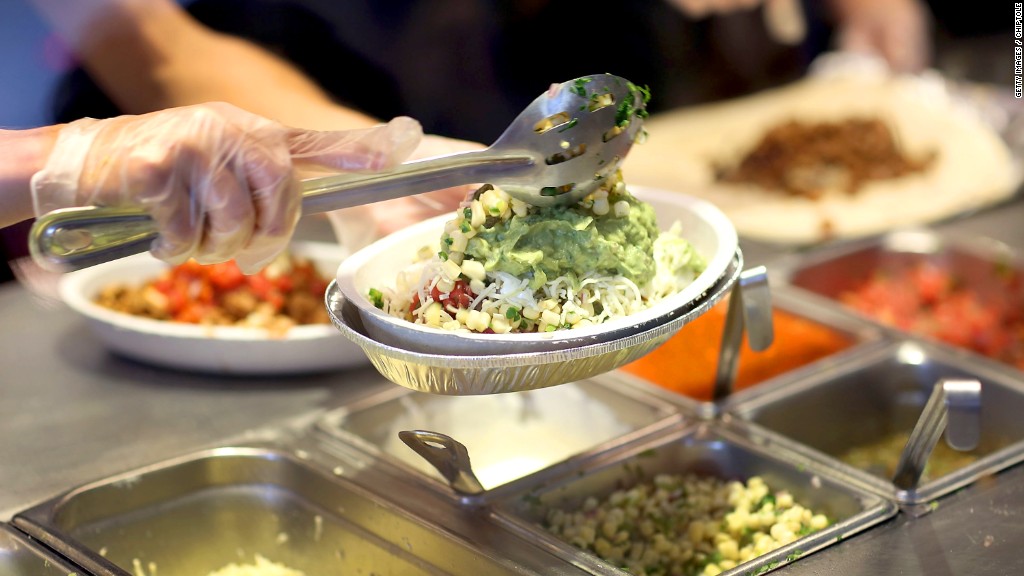 Chipotle's rebound plan includes a lot of melted cheese.
An executive at the burrito chain told investors during a call on Wednesday that Chipotle (CMG) could introduce queso, the popular melted cheese dip, at hundreds of restaurants in United States this fall. The company hopes the savory new menu addition will help it regain customers after ongoing food safety controversies.
"We'll be rolling out queso to more than 350 restaurants across markets within Central and Southern California and Colorado beginning on August 1," Mark Crumpacker, Chipotle's chief marketing officer, said. The chain will see how customers respond, and decide from there whether to roll it out nationally.
Crumpacker said Chipotle is already testing the new dish at a restaurant in New York City's Greenwich Village area.
The fast-casual chain has been grappling to rebuild customer trust and improve sales as it continues to struggle with food safety issues.
Related: Chipotle says sick employee responsible for latest outbreak
Multiple outbreaks of E. coli and norovirus plagued the company in 2015, sickening hundreds of people across the country. The company worked hard to gain back customers, even shutting down stores nationwide for a few hours to revamp its hygiene efforts and retrain employees.
Then, earlier this month, Chipotle temporarily shut down a store in Virginia after more illness reports emerged. The company blamed the outbreak on an employee who came to work while sick, against company policy.
During the investor call on Wednesday, Chipotle's chief financial officer, John Hartung, assured investors the company is working hard to "change the narrative and encourage our guests" to keep coming back.
Queso is one cornerstone of that effort, Chipotle says.
Related: Chipotle reopens Virginia restaurant where people got sick
For the uninitiated, queso is Spanish for "cheese," but it commonly refers to a melted cheese dish popularized in America by Tex-Mex cuisine. The warm cheese is typically blended with chile, peppers or other seasonings.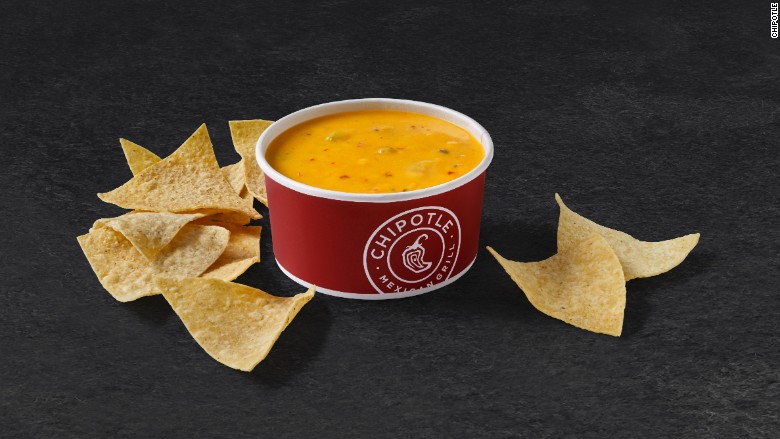 Queso's flavor and consistency can vary and its taste is distinct from its distant cousin, nacho cheese, a standard side dish at ballparks, arenas and movie theaters.
Hurtung said he hopes the "marketing and buzz" around the new product will keep guests coming back -- even as the company considers more price hikes.
"While we would like to execute the price increase on the next tier of market sometime in the fall, the exact timing will depend on the timing of a possible queso rollout and consumer sentiment and visit habits," Hurtung said.