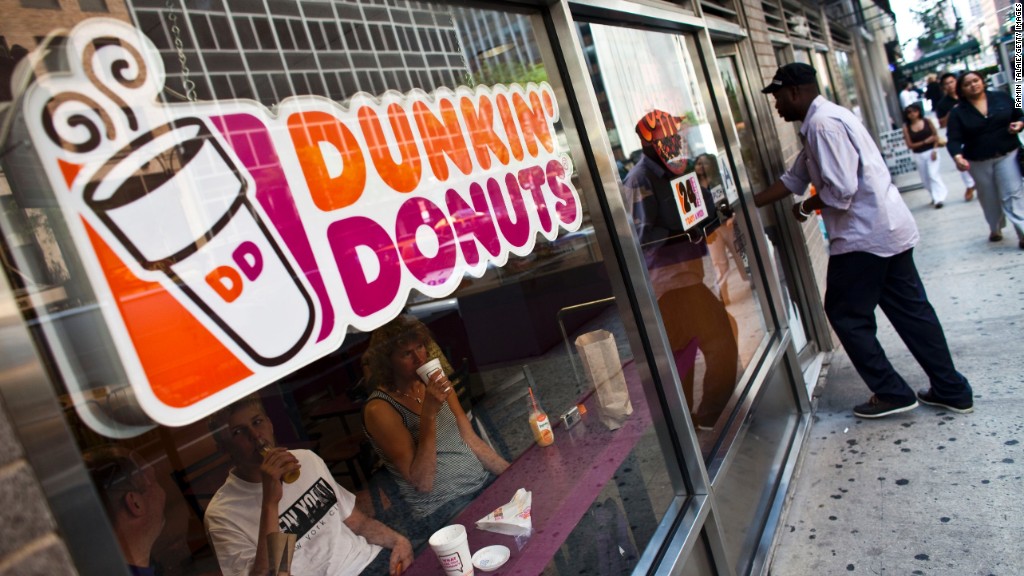 America may run on Dunkin', but Dunkin' Donuts is slowing its expansion plans to a light jog.
The chain said Thursday it will only open 380 to 450 locations this year instead of the 585 it had planned. That's about a third fewer. Most of the paring will be overseas, but Dunkin' is also scrapping 50 planned locations in the United States.
Dunkin' Donuts blamed changing customer demands. Responding to feedback, the company will slim down the menu at some locations, remodel stores, bring in new equipment and sell more food in supermarkets and other non-Dunkin' locations.
The chain maintained its forecast for modest sales growth this year, but it didn't exactly paint a rosy picture for the future.
Baskin-Robbins, the company's ice cream business, said sales fell because customers bought less ice cream and fewer milkshakes. Dunkin' had expected Baskin-Robbins to grow slightly in 2017. Now it forecasts that sales will fall.
The company said not to worry.
"We still expect to finish the year as one of the fastest growing brands in the U.S. restaurant industry," said Kate Jaspoon, Dunkin's chief financial officer, in a prepared statement.
Dunkin' Brands (DNKN) stock fell slightly in premarket trading.