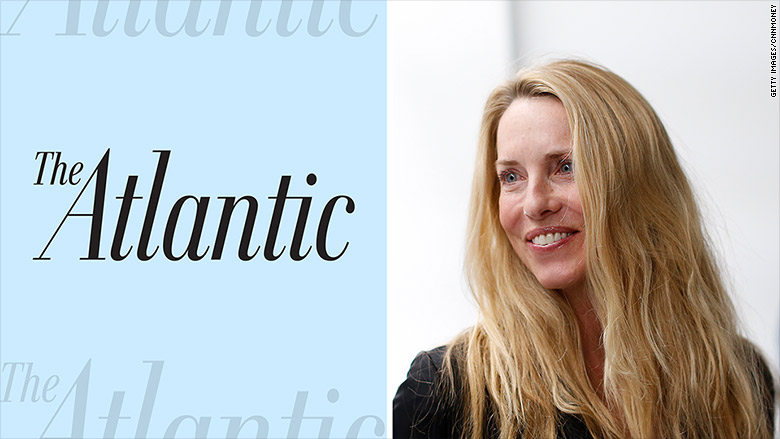 An organization founded by Laurene Powell Jobs, the widow of Apple founder Steve Jobs, will assume a majority stake in The Atlantic, the magazine's parent company announced Friday morning.
David Bradley, the chairman and owner of Atlantic Media, informed staff that he has sold a majority stake in the magazine to Powell Jobs' Emerson Collective.
The news was first reported by the New York Times.
"Against the odds, The Atlantic is prospering," Bradley said in a memo to the company's staff. "While I will stay at the helm some years, the most consequential decision of my career now is behind me: Who next will take stewardship of this 160-year-old national treasure? To me, the answer, in the form of Laurene, feels incomparably right."
The company said the "acquisition includes its flagship magazine, digital properties, live events business, and consulting services," but Bradley will retain a minority stake and continue running the magazine "for at least three to five years," according to the official announcement.
Bradley is also retaining ownership of other Atlantic Media properties National Journal, Government Executive Media Group and Quartz. Jeffrey Goldberg, the editor-in-chief of The Atlantic, will remain in his current role, as will other senior leaders and managers.
Emerson Collective and Powell Jobs will assume control of a magazine with a long and storied history. The Atlantic was founded in 1857 by a group of New England intellectuals that included Ralph Waldo Emerson -- for whom Powell Jobs' company is named.
Emerson Collective will also be taking over a publication that has built a successful digital operation. The magazine said earlier this month that its website, TheAtlantic.com, had enjoyed a 36% audience growth in the first half of the year.
In his memo on Friday, Bradley said that "The Atlantic is completing its most-successful decade in 100 years."
"In relevance, readership and even commerce, it is as if The Atlantic had entered, to take from Churchill, "the broad, sunlit uplands" of publishing," he said. "That it could happen now ... well, you know the odds."