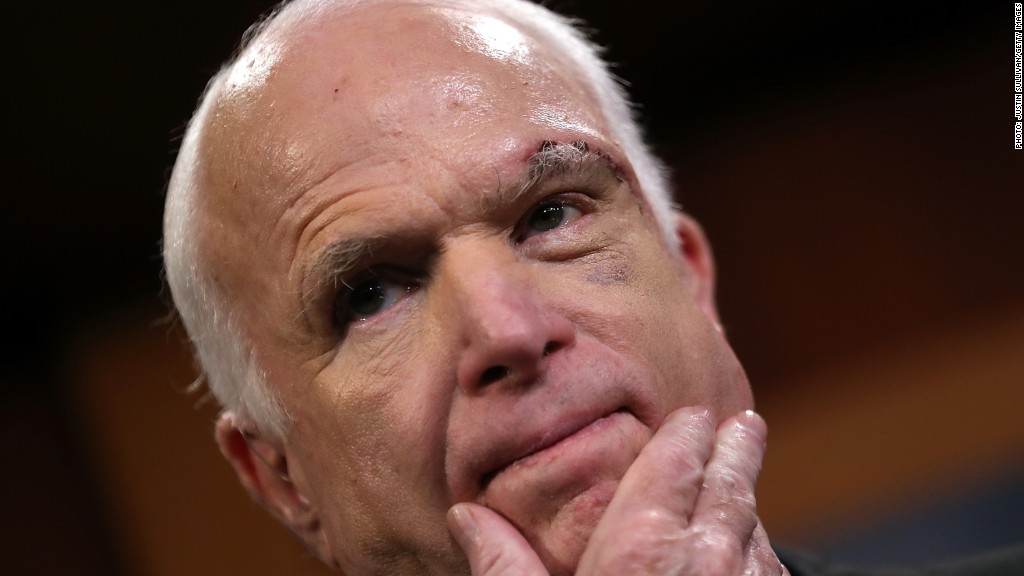 Now what?
The Republicans' years-long desire to repeal Obamacare has collapsed, but that doesn't mean all is well with the health reform law.
There are signs that the individual marketplace is stabilizing, but it remains fragile in many states. And the sudden halt to the repeal and replace effort early Friday morning added more uncertainty into Obamacare's future.
With the deadline to set 2018 rates fewer than three weeks away, insurers were hoping Congress and the White House would address their most pressing needs, including the continued funding of a critical set of subsidies and other funds to cover high-cost enrollees.
"Important improvements are needed to ensure the individual market delivers lower costs and more choices," Marilyn Tavenner, CEO of America's Health Insurance Plans, wrote to Senate leaders this week. "The status quo is not sustainable."
President Trump, however, injected more drama into the situation on Saturday, tweeting that he will cut off the cost-sharing subsidies if Congress doesn't pass a health care bill quickly. The subsidies reduce deductibles and out-of-pocket costs for lower-income enrollees.
Related: Trump's mixed messages on Obamacare subsidies could prompt insurers to flee
Insurers have had to deal with this threat since Trump took office in January. The administration is now paying the subsidies on a monthly basis, leaving the industry worried that he could end them at any time.
Already, some carriers have requested large rate hikes for next year to cover them in case Trump decides to stop paying the cost-sharing reduction subsidies. In Nevada, for instance, insurers have asked to increase rates by 38%, on average for 2018. Meanwhile in Colorado, Cigna wants an average hike of 41% next year.
Other carriers no longer wanted to deal with the volatility and decided to walk away from the individual market. Anthem, Aetna, Humana and other insurers have reduced their footprint or have exited completely. Nearly 25,000 people in 38 counties are at risk of having no options on the exchanges in 2018 unless another carrier steps in, according to the Kaiser Family Foundation. If this actually comes to pass, it will be the first time in the nearly four years since Obamacare launched.
Related: GOP Obamacare repeal bill fails in dramatic late-night vote
Anthem, which has already announced it will withdraw from three of its 14 states next year, said Wednesday it needs more predictability, particularly on the subsidies. The insurer, one of the largest on the exchanges, has 1.5 million enrollees in Obamacare plans.
"If we aren't able to gain certainty on some of these items quickly, we do expect that we will need to revise our rate filings to further narrow our level of participation," CEO Joseph Swedish said in an earnings call.
Insurers have until September 27 to make a final decision about their participation next year. State regulators had hoped the repeal effort would have funded the cost-sharing reduction subsidies in the short run, giving carriers some peace of mind. But now, with Trump rooting for Obamacare to implode and conservative lawmakers reluctant to prop it up, more may decide to withdraw.
"If we don't see any rapid action to reconsider at least the CSR appropriations, we're going to see a large number of insurers reconsidering their participation decision," said Julie Mix McPeak, president-elect of the National Association of Insurance Commissioners. "Relying on the administration -- that has only agreed to pay the CSRs on a month-to-month basis, even through 2017. They haven't agreed to anything for 2018 -- that is what is most concerning for us as regulators."
Insurers say they are committed to working with Congress and the Trump administration to stabilize the individual market. Some Republican lawmakers say they are open to reaching across the aisle to find solutions, at least in the short term.
Related: Cryptic calls, lip-reading and a thumbs-down: Behind McCain's dramatic vote
Arizona Senator John McCain, whose opposition to the repeal bill helped doom it early Friday, exhorted his colleagues to seek a bipartisan fix. Senator Lamar Alexander of Tennessee, who chairs the health committee, said he would hold hearings over the next few weeks on shoring up the individual market.
The big wild card, however, remains Trump and his administration. The president has repeatedly said Obamacare is dead, and that it's the Democrats' fault. But he and his officials have done things to hasten that outcome.
Hours after his inauguration, Trump signed an executive order seeking to ease the financial burden that the law placed on Americans, insurers and others. More recently, he and his officials have showcased the health reform law's "victims," saying Americans must be rescued.
"Since day one of the Trump Administration, the team at HHS has taken numerous steps to provide relief to Americans who are reeling from the status quo, and this effort will continue," said Health Secretary Tom Price after the Senate failed to pass a repeal bill.
Related: Will Obamacare really fail?
In addition to refusing to commit to paying the cost-sharing subsidies, the administration has left insurers wondering whether it will enforce the individual mandate. The provision, which requires nearly all Americans to have insurance or pay a penalty, is key to getting coveted young and healthy consumers to buy policies.
Also, insurers are concerned that the Trump administration will undermine open enrollment this fall. It has already cut the sign-up period in half and ended contracts with two marketing firms that promote participation. These moves come after it abruptly pulled ads at the end of the last season, just days after the president took office.
About half a million fewer people signed up for coverage on the exchanges for 2017 compared to the year before -- the first drop since Obamacare began.