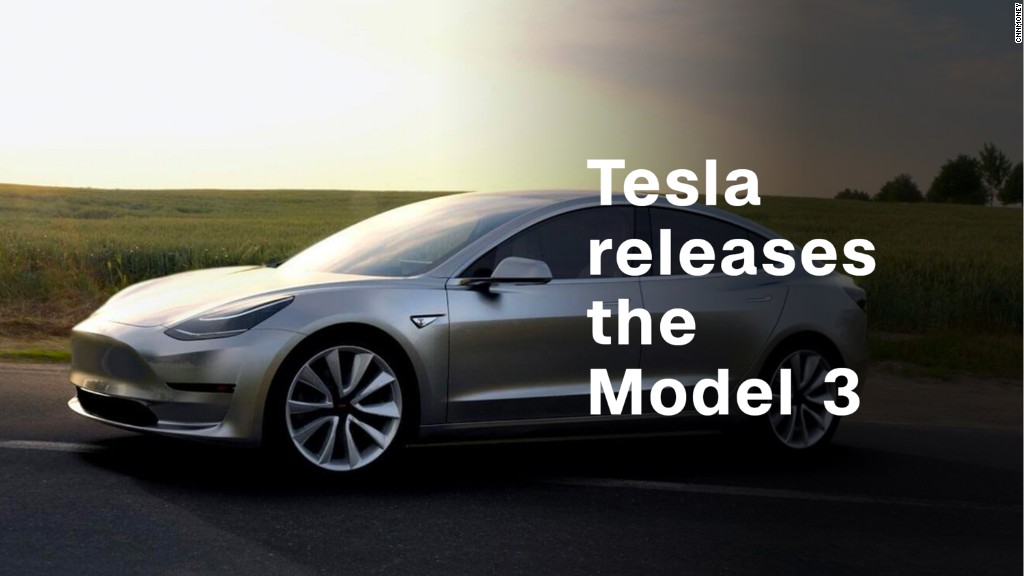 Tesla's Model 3, which hit roadways this weekend, is the company's first attempt to deliver an affordable electric car to the masses.
The Model 3 starts at $35,000 -- much cheaper than Tesla's previous offerings, which approached or could exceed $100,000.
But prepare to blow past its advertised price tag if you want the car's most eye-catching features.
Want a color other than black? Add another $1,000. What about the 19-inch sports wheels? That's $1,500 extra.
Other Model 3 add-ons are even pricier. The Tesla name might conjure images of self-driving futuristic cars for a lot of fans. But if you want your Model 3 to include those features, you'll have to fork over even more cash.
The car's "Enhanced Autopilot," which allows the Model 3 to automatically keep pace with traffic, change lanes and self-park, is an extra $5,000. A car equipped with "full self-driving capability" is another $3,000 on top of that.
Related: Why the Tesla Model 3 is a really big deal
(Note that the self-driving software isn't ready yet. But cars equipped with the feature can use it when it is released.)
The battery that comes with the base model will let you drive 220 miles when charged. If you want to travel longer distances, that will also cost extra: A $9,000 battery upgrade gives the car a 310-mile range.
All 30 of the first Model 3s delivered Friday came with that upgrade.
Critics this weekend gushed about their experience driving Tesla's new car. But some were driving souped-up vehicles that far exceeded the base price.
Motor Trend's testing director, Kim Reynolds, got to take a Model 3 owned by Franz von Holzhausen, Tesla's lead car designer, for a spin on the open road Saturday. (Most test drivers were confined to a Tesla-sanctioned course.)
"Have I ever driven a more startling small sedan? I haven't," Reynolds wrote.
Related: Tesla reclaims top Consumer Reports rating
But he pointed out that the cherry red sedan was significantly more pricey than the base Model 3 price. Reynolds estimated it cost $59,500 before tax incentives.
Von Holzhausen had opted for a "premium package." The $5,000 upgrade equipped his car with higher-grade materials, a panoramic sunroof, an upgraded sound system, heated seats and cordless phone charging, according to Renyolds.
That car also had the $1,500 19-inch sports wheels instead of the standard 18-inch. And of course, the red paint job cost another $1,000.
Mashable's Lance Ulanoff praised the car as "how all cars should feel." He drove a $44,000 version that came with the 310-mile range battery and could go from 0 to 60 miles-per-hour in 5.1 seconds.
The cheapest Model 3 still comes with several snazzy features, according to Tesla's spec sheet.
All drivers get a 15-inch touch screen display instead of the clustered dash board gauges that are standard on other cars.
Related: Tesla delivers its first 30 Model 3s in historic moment
The budget version also comes with a navigation system, voice-activated controls, LTE and wi-fi connection, keyless entry, rear-view cameras and emergency braking. They also have a top speed of 130 miles per hour.
Some Model 3 buyers will get to take advantage of a U.S. government incentive credit that knocked $7,500 off the total cost.
But that credit is only good on the first 200,000 vehicles Tesla sells. That means not everyone who orders a Model 3 will enjoy a rebate -- more than half a million people have already reserved the car.
Tesla plans to produce several thousand more Model 3s this year. But customers pre-ordering the car today will have to wait until late 2018 to receive their vehicle.
--CNNMoney's Matt McFarland contributed to this story.