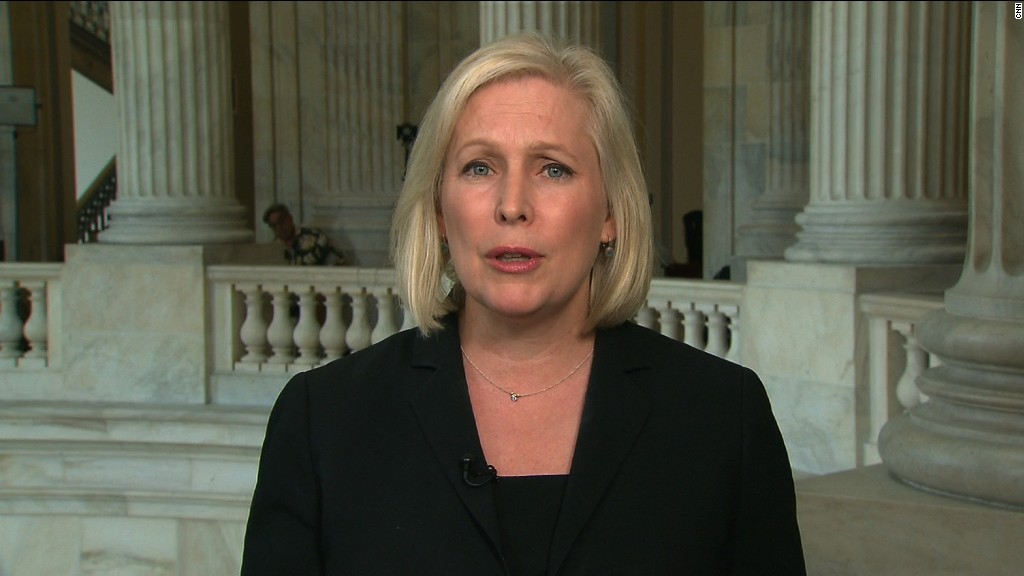 The American public overwhelmingly supports policies that guarantee workers paid leave if they have a child, get sick or need to care for a family member.
Yet the United States is the only developed nation that lacks a paid family leave mandate.
Senator Kirsten Gillibrand is hoping to change that.
Gillibrand, a Democrat from New York who has served since 2009, has introduced a universal paid family leave law bill every year for the last five years.
Her bill promises up to 12 weeks of paid time off for any worker -- male or female -- that has a new child, including newly fostered or adopted children. It also applies to people who have a "serious" medical condition or a family member suffering with one.
"They want to be there for their loved ones," Gillibrand told CNN's Poppy Harlow in an interview. "And if you don't have any sick days, and you don't have any vacation days, sometimes you just can't. You have to choose between putting food on the table and providing for that loved one."
Related: Paid parental leave may be one of the few ideas that transcends politics
Here's how Gillibrand's plan would work: While the workers are off the job, they would be guaranteed at least 66% of their regular earnings or up to $4,000 per month.
The measure would cover everyone with a job -- from part-time fast food workers to cashiers at mom-and-pop shops.
Gillibrand proposes paying for the plan through tax contributions from employers and workers. Both would be required to pay what equals to two cents per $10 earned.
That tax money would go into a government-managed fund. Then, when a worker is on family leave, he or she will draw paychecks from it.
About 14% of American workers currently have access to paid family leave of any kind, according to the National Compensation Survey.
And only five states -- California, New York, New Jersey, Rhode Island and Washington -- and the District of Columbia have paid leave policies on their books.
Gillibrand says her plan is feasible and good for the economy. Without a national paid family leave program, she points out, companies are more likely to lose skilled workers who may have to quit in order to take the time off they need after a family emergency or child birth.
Her office estimates that the lack of widespread leave policies costs the American economy nearly $21 billion a year. Over a lifetime, women lose $324,000 in wages and retirement benefits and men lose $284,000.
Related: Big boost for Ivanka's paid parental leave plan
Gillibrand said she is confident she will find a Republican backer for her bill.
"I have already met with several Republicans, and I am optimistic that I will get a Republican lead," Gillibrand said. She said Republican Senators Susan Collins and Lisa Murkowski are potential allies.
"They're awesome women and I'm hoping that I'll work with both," Gillibrand said.
Family leave has been taken up by politicians across the aisle recently -- including President Trump.
His daughter and White House adviser, Ivanka Trump, has floated a policy that would guarantee six weeks of pay capped at $600 per week for new parents. It would be funded through state unemployment insurance.
Senator Marco Rubio has proposed offering companies tax breaks if they include paid time off for new parents in their benefits.
"The tax credit or tax deduction is great for businesses who are already offering" paid leave, Gillibrand said, but the policy doesn't necessarily expand the benefit to all workers.
Related: YouTube CEO says Trump should make paid parental leave a reality
Gillibrand wants paid family leave to reach everyone -- particularly low income Americans and working women. And she insists the law should include leave to care for sick family.
"You care just as much to be with your mother when she's dying of cancer than you care about being with your spouse when she gets injured, or you care about your new infant," she said.
Gillibrand is more confident than ever she can get lawmakers on board.
"When you ask, would you spend $2 a week so that you could be with a newborn? So that you could be with your mother if she's diagnosed with breast cancer? So that you could [take time off] if you get injured at work?" she said. "I think people say, 'Yes.'"