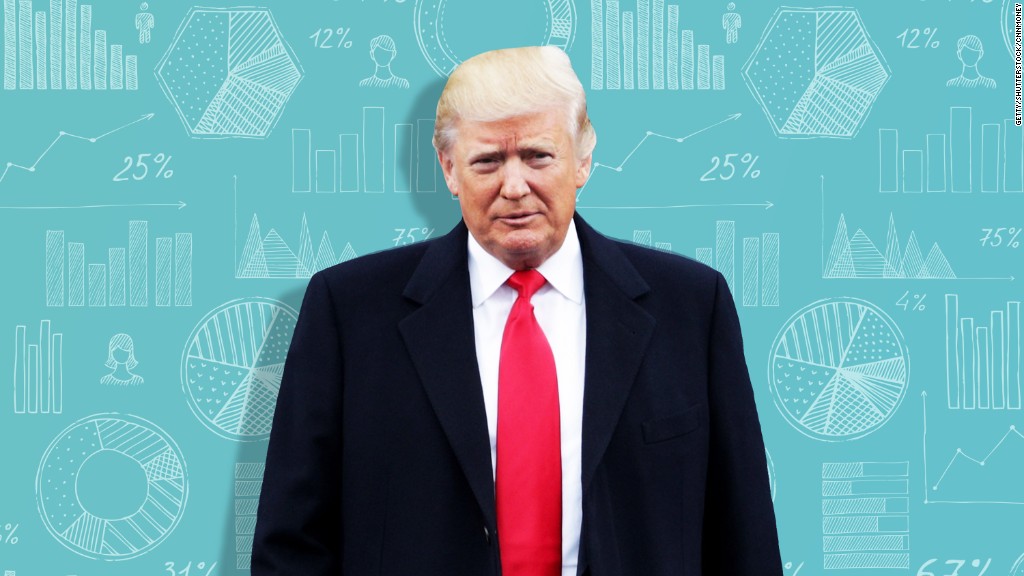 The stock market is at a record high, and President Trump says it's a sign Americans have confidence in his leadership and economic policies.
But the bond market is singing a different tune. Yields on long-term U.S. Treasuries are down from their peaks earlier this year.
Why does this matter? It could mean that at least some investors don't believe Trump will be able to boost the overall economy and job market into much higher gear.
Typically, bond rates climb when growth is improving and inflation is picking up.
Inflation often gets a bad rap. But when the prices of goods and services are rising steadily, it's a good thing. It shows that consumers and businesses are confident in the economy.
The Federal Reserve has raised short-term interest rates lately, too. And that should lead to an increase in long-term rates. The bond market usually follows the Fed's lead.
Here's where things get interesting. The yield on the 10-year Treasury, which spiked after Trump beat Hillary Clinton in November and went as high as 2.62% in March, has since fallen to about 2.2%.
That may not sound like that steep a drop. But it could mean that the drama in Washington is cutting into the bond market's expectations for future growth. Stimulus hopes should lead to higher rates, not lower.
Related: Battle lines in tax reform fight
And if fixed-income investors truly believed Trump and Congress could help bring about an American economic renaissance, rates would probably be much higher than they are.
During the boom years of Bill Clinton's presidency, the 10-Year Treasury rate was routinely above 6%. Yields remained above 4% during much of George W. Bush's two terms once the economy recovered after 9/11.
To be sure, the recent slide in bond yields is not necessarily a sign investors are worried about an economic slowdown or, even worse, a recession.
But unless Trump can deliver on his lofty promises to reform the tax code and loosen Wall Street regulations, the bond market may continue to bet on more gridlock and sluggish growth for the foreseeable future.