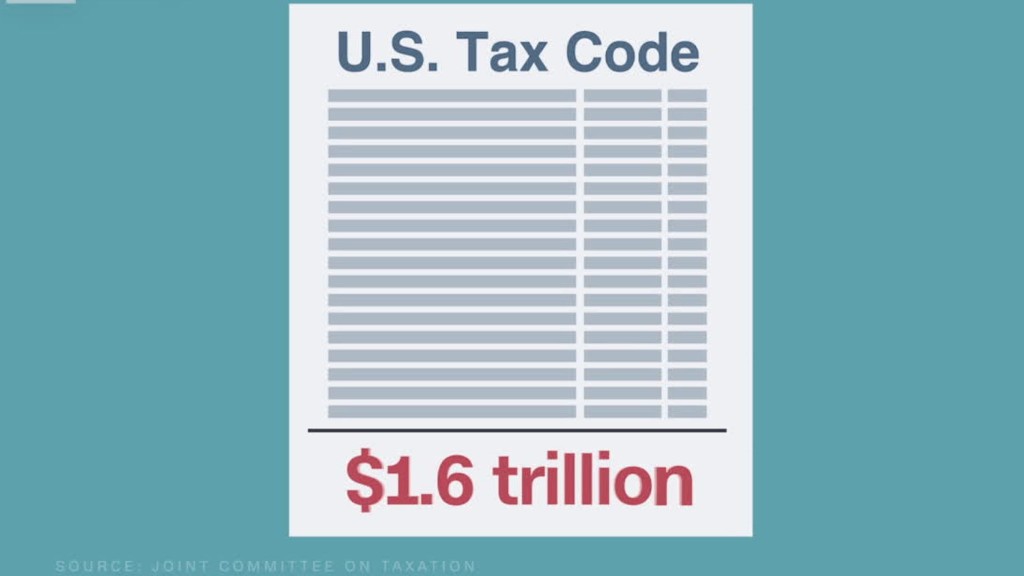 President Trump regularly points to the strong stock market as proof that his economic policies are working. But what about the dramatically weaker U.S. dollar?
The greenback has been shut out of the summer party on Wall Street. Just as the Dow cruised above 22,000 on Wednesday, the dollar tumbled to a 15-month low against its rival currencies.
That's not all bad: The weaker dollar has helped power stocks to record highs, and it helps American companies make money overseas.
But the conflicting messages from the currency and stock markets are dramatic, especially considering that the dollar initially spiked after Trump's victory. His promises of big tax cuts, infrastructure spending and deregulation sent it to a 14-year high in January.
Investors believed at the time that Trump, along with a Republican-controlled Congress, would finally unleash the sluggish U.S. economy and force the Federal Reserve to raise interest rates more aggressively.
But Trump's legislative failures, combined with rejuvenated economic growth in Europe, have dealt a powerful blow to the almighty dollar. The U.S. dollar index, which measures the American currency against its rivals, has plunged 10% since peaking Jan. 3. The dollar is in its first five-month losing streak since 2011.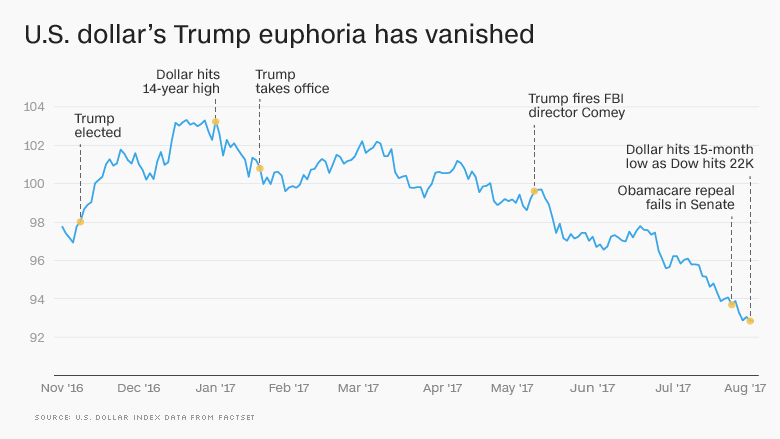 While the stock market has been driven to record highs by strong corporate earnings, the currency market seems fed up with Trump's stumbles.
The "White House soap opera" has fueled the dollar's decline, according to Kit Juckes, a macro strategist at Societe Generale.
"Confidence in the U.S. administration's ability to deliver growth-boosting fiscal policies is at rock bottom," Juckes wrote in a report this week.
Related: The stock market hasn't been this calm since 1996
Lukman Otunuga, a research analyst at FXTM, similarly blamed the "battered dollar" on "political drama in Washington." He wrote in a report that the turmoil is raising doubts about Trump's ability to keep his economic promises.
It's not all about the United States, though. The dollar index is heavily weighted toward the euro, which has been rallying. The economic rebound in Europe and easing worries about the breakup of the eurozone lifted the euro to a two-and-a-half-year high against the dollar on Wednesday.
Even as Trump repeatedly brags about the stock market -- he tweeted about Dow 22,000 before it even happened -- he has said little about the dollar's slide. But he has dropped hints suggesting he isn't losing sleep over what the currency market thinks about him.
"I like a dollar that's not too strong," Trump recently told The Wall Street Journal, according to a leaked transcript posted this week by Politico.
"Frankly, other than the fact that it sounds good, bad things happen with a strong dollar," Trump told the Journal.
Related: What big fat bubble? Trump cheers Dow 22,000
Of course, it's not black and white. There are positive and negative consequences of a weaker dollar.
The U.S. can compete better overseas: Earlier this year, the dollar was so high that it threatened to dent corporate profits. When the dollar is strong, products that are priced in dollars and sold overseas are more expensive for foreign customers. A strong dollar also hurts when foreign profits are converted back to the U.S. currency at a lower value.
Trump knows that a too-strong dollar would hurt his efforts to rejuvenate U.S. factories by boosting exports.
Dow stocks love it: Most members of the 30-stock Dow make a big chunk of their money overseas. That means they should enjoy fatter profits thanks to the weaker dollar. The Dow's three best-performing stocks this year -- Boeing (BA), Apple (AAPL) and Visa (V) -- rely on the United States for less than 55% of their total revenue.
This helps explain why the Dow is up three times as much as the Russell 2000, which is home to smaller companies that are more U.S.-focused.
What about that trip to Europe? On the other hand, you might be bummed if you booked a flight to Paris in January hoping to take advantage of the strong dollar. Americans traveling overseas will get less when they convert their dollars. One euro now costs $1.19. That's a big difference from January, when it only cost $1.03.
Sticker shock for big importers: Likewise, companies that ship supplies in from overseas will have to pay more than a year ago. The dollar may still be strong overall, but the shift could hurt those companies' profits.
Signal of sluggish growth: As a candidate, Trump promised to speed up the U.S. economy to 4% annual growth. The weaker dollar signals that investors don't believe he's going to deliver on that promise any time soon.