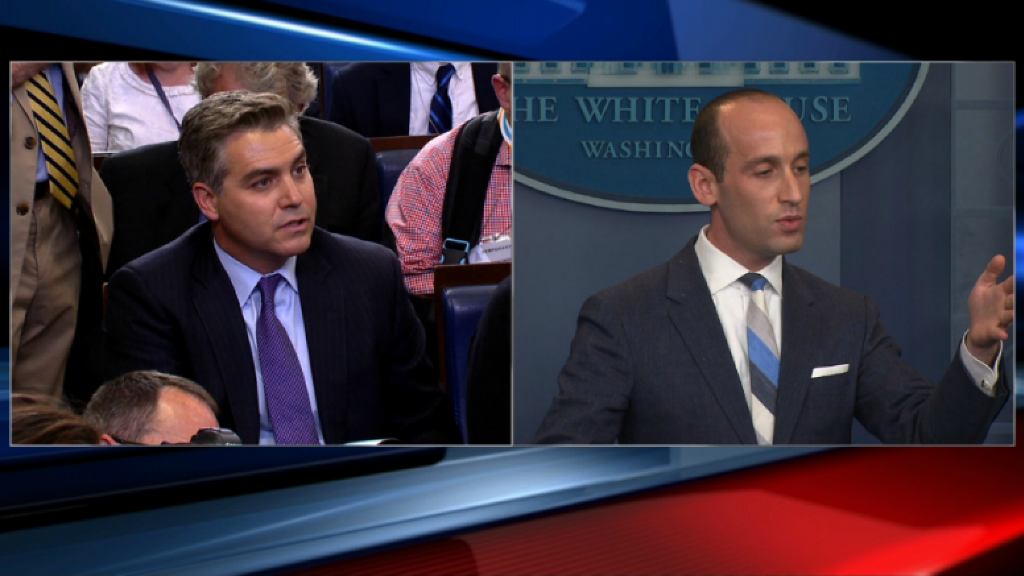 President Trump is backing a legal immigration plan that could reduce the very thing the U.S. job market needs more of: Workers.
Trump endorsed a proposal this week to adopt an immigration system in which those seeking to come to the U.S. must have some degree of English fluency or advanced job skills, among other qualifications.
The ultimate aim is to curb immigration and put Americans at the top of the job application pile, according to the architects of the bill, Republican Senators Tom Cotton and David Perdue.
Related: How America's immigrant workforce is changing
But economists say the proposal risks hurting economic growth, which is already paltry. Fewer workers, whether they're American or foreign, means less growth -- unless everyone becomes a lot more productive very quickly, economists say.
"If we were to cut back dramatically on immigration, that would pose a risk to long-term economic growth," says Luke Tilley, chief economist at Wilmington Trust. "Because of our slowing population growth in the U.S. and [falling] labor force participation, we have relied on immigration for quite some time."
One of the U.S. economy's big challenges is that Baby Boomers are retiring and there aren't enough young American workers to replace them.
Currently, about 44 million Americans say they're not looking for work because they are retired, according to Atlanta Federal Reserve research. That's up 36% from 2000. Over that same time, the labor force has only grown 12%.
Foreigners in the U.S. are also more likely to be working than Americans. Among foreign-born U.S. workers ages 25 to 54 years old -- "prime age" workers -- the participation rate is 73.4%. For Americans in the same age bracket that rate is 62.4%, according to Labor Department data.
There were 27 million foreign-born workers in the U.S. last year, according to the most recent official figures. Foreign-born workers are up by nearly 5 million since 2007, the data shows.
Related: Low-skilled immigration is petering out
During prepared remarks on Wednesday announcing the immigration proposal, Senator Cotton said the current system "is "obsolete" and unfair for Americans, especially blue-collar workers who work with their hands -- or feet -- such as those in agriculture and manufacturing.
Cotton says only one in 15 immigrants comes to the U.S. because of their advanced skills, citing Homeland Security data.
However, workers coming to the U.S. to do low-skill, labor-intensive jobs are in short supply.
For example, farmers in central coastal California last year lost $13 million in gross revenues in strawberries, leafy greens and other crops due to worker shortages, according to the Grower-Shipper Association of Santa Barbara and San Luis Obispo Counties. The association says it's the fifth straight year farmers in the region have struggled to find enough workers.
"Our members have consistently seen increases in the losses of gross revenue due to the ongoing labor shortage," says Claire Wineman, president of the association.
Farmers, restaurant owners and a litany of service industries depend heavily on cheap, legal workers. Cutting back that foreign labor supply could make it hard for some to stay in business, according to experts.
At the same time, American employers routinely say they are struggling to find skilled workers. Some argue that many American workers who are either unemployed or gave up looking for work don't have the education or training required. One solution could be bring in foreign workers to plug the skills gap.
The Republican-crafted plan does intend to use a grading system for foreign workers that would prioritize those who have skills that are in short supply in the U.S.
But experts say measuring skills isn't as easy as giving an A or an F on a test.
"Moving to a more skilled-based system is a good idea, but we will desperately need immigrants of all skill levels in the future," Mark Zandi, chief economist at Moody's Analytics, told Politico. "It is hard to imagine a policy that would do more damage to long-term economic growth."