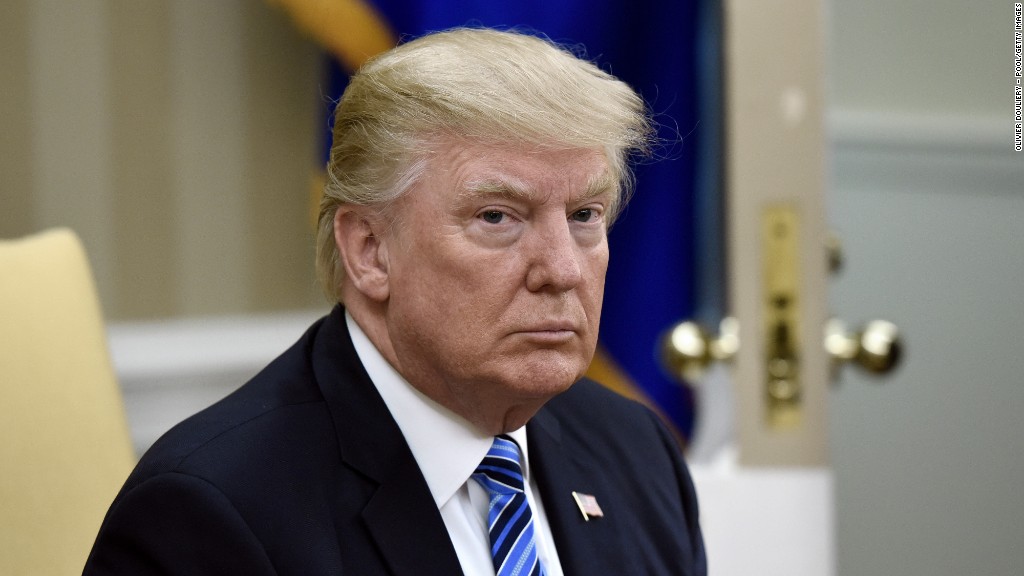 Donald who?
Big business was obsessed with President Trump after he won the election. Now he hardly comes up.
At least that's the impression you'd get listening to the quarterly conference calls where CEOs talk about corporate earnings and whatever else is on their minds.
According to an analysis of the transcripts by FactSet Research, Trump and his administration were mentioned only 44 times by executives of the 374 companies in the S&P 500 that held their second quarter conference calls through August 2.
During the first few weeks of 2017, there were 181 references to the president out of 371 calls by S&P 500 companies.
Companies weren't nearly as chatty about President Barack Obama after he was elected.
During the first few weeks of 2009, Obama and his administration were mentioned 88 times on earnings calls. That dropped to 57 by the second quarter, according to FactSet. Of course, there was a financial crisis going on back then.
Why are companies no longer talking much about Trump?
He proposed reforming the tax code, repealing Obamacare and deregulating Wall Street. But business leaders no longer seem convinced that meaningful economic policy changes are coming from Washington anytime soon.
The executives who did mention Trump during their most recent calls expressed worry that their businesses and the economy might suffer if nothing gets done.
"Investor psyche remains fragile," Morgan Stanley (MS) chief financial officer Jonathan Pruzan said on a call in July.
"The same questions that lingered around timing and achievability of the administration's policy initiatives at the end of the first quarter remain unresolved," Pruzan added.
John Wren, CEO of advertising giant Omnicom (OMC), said during his company's earnings call last month that, because of "gridlock," the Trump administration hasn't been able to accomplish even "the simple things that they said they were going to focus on."
Related: These 6 charts show how the Trump economy is really doing
And Pierre Nanterme, CEO of the consulting firm Accenture (ACN), said that companies, which expected big reforms "reasonably rapidly" that would "unleash more growth," are now just waiting.
Nonetheless, most S&P 500 companies are brushing off concerns about gridlock.
FactSet estimates that earnings growth for the second quarter will exceed 10%. What's more, 72% of the S&P companies that have reported their latest results posted profits that topped Wall Street forecasts.
That's what's driving the record rally in stocks. So even though some companies doubt what Trump can accomplish, they may be content with gridlock. After all, they've lived through this before. It's the proverbial devil they know.