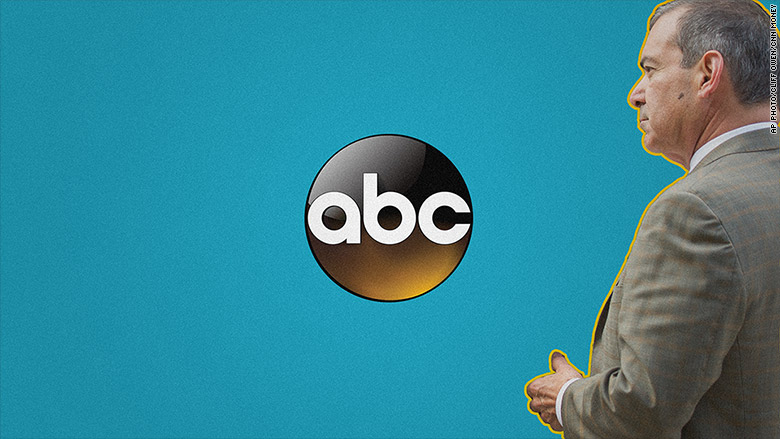 ABC News made an historically large payout to settle a defamation lawsuit earlier this summer, according to a new financial release from the network's parent company Disney and an attorney for the plaintiff.
In a footnote on the company's quarterly earnings report on Tuesday, Disney said it paid $177 million that was "incurred in connection with the settlement of litigation," at least some of which was related to a years-long legal dispute with South Dakota-based meat processor Beef Products Inc.
Disney has not specified exactly what it spent the $177 million on -- some of it may represent money that went to legal costs and other related items, as well as other legal disputes -- but a lawyer for BPI told CNNMoney that its settlement was worth even more than $177 million.
Spokespeople for both ABC News and Disney did not respond to a request for comment.
Even just $177 million would likely represent roughly a year's worth of advertising revenue for ABC's evening news program, a significant sum for the network and a sign of how damaging defamation suits can be for media outlets after the Hulk Hogan case sent Gawker into bankruptcy.
Leonard Niehoff, a law professor at the University of Michigan who specializes in First Amendment cases, said that Disney's settlement could embolden others to bring more suits against media companies.
"Defamation litigation brings with it real risks. Jurors are not always sympathetic with the media. And even the most fair-minded of jurors may struggle to apply complex First Amendment principles to the facts of the case," Niehoff told CNN in an email.
"Large settlements are worrisome because they may lead some plaintiffs and lawyers to think of media entities as easy get-rich-quick targets," he added. "This is wrong, because the legal protections are strong and most media entities are hesitant to settle. But we often see an uptick in cases after big verdicts or settlements, even if those cases do not have merit."
BPI sued ABC for more than $1 billion over 2012 news reports on the company's use of lean, finely textured beef product. The on-air reports led by ABC correspondent Jim Avila noted that some critics had referred to the product as "pink slime," and that BPI did not label the ingredient when it was included in its beef.
ABC made it clear in the reports that the so-called "pink slime" was not unsafe to eat, but BPI claimed that the coverage put a significant dent in its bottom line.
The two sides reached a settlement in June, three weeks into a defamation trial held on BPI's home turf of Elk Point, South Dakota. ABC insisted that it still stood by its reporting, but there was little doubt who emerged the victor in the dispute.
Local news reports described a celebratory reaction from members of the BPI party when the settlement was announced inside the courtroom. Dan Webb, an attorney for BPI, said at the time he was "extraordinarily pleased" with the settlement, although the terms were unknown.
In fact, the exact terms of the agreement still remain a mystery. The $177 million listed in Disney's earnings report is not the total settlement. That figure refers only to the amount that the company will pay; the rest will presumably be covered by insurance.
But according to Webb, $177 million would still rank as the biggest amount ever paid in a media defamation case in the United States.
"Based on all the research we've done, that alone would make it the largest," Webb said in a phone interview. "As I said at the time, we got an extraordinarily favorable settlement."