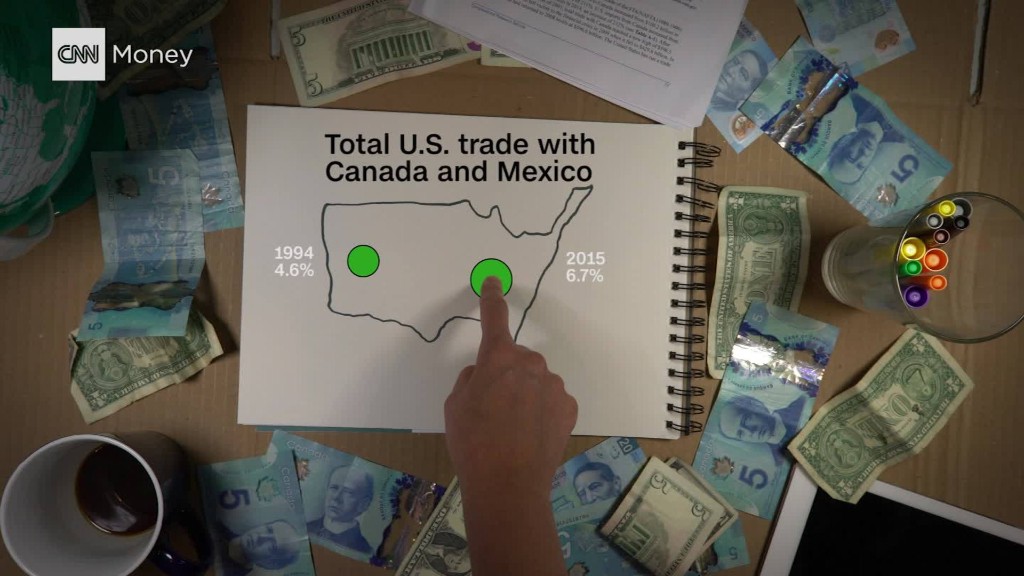 1. NAFTA talks begin: The first round of talks to renegotiate the North American Free Trade Agreement are set to begin on Wednesday and last through Sunday, August 20.
President Trump promised to change the terms of the trade pact between the United States, Canada and Mexico during his campaign. He blamed NAFTA for moving manufacturing jobs to Mexico and has called it "the worst trade deal maybe ever signed anywhere." But nonpartisan congressional research found in 2015 that NAFTA did not lead to mass job loss.
The administration wants a deal that will lower the U.S trade deficit with Mexico, tighten labor laws and raise the value-added tax threshold for e-commerce purchases made in Mexico.
About 14 million U.S. jobs depend on trade with Canada and Mexico, and over $1 billion of commerce crosses the northern and southern U.S. borders each day.
2. Retail earnings continue: It's another big week for retail. Home Depot (HD) will report its second quarter earnings on Tuesday. Target (TGT) reports on Wednesday, and Walmart (WMT) and Gap (GPS) both report on Thursday.
Walmart delivered good news for investors when it released its first-quarter earnings in May. The retailer's profit exceeded expectations, its same-store sales rose and most importantly, its digital sales shot up by 63% compared to last year.
Target raised its profit forecast last month after sales improved. The announcement helped boost retail stocks, which have been hurting as consumers continue to lose interest in brick and mortar stores.
3. July retail sales report: The Census Bureau will release its estimate for July retail sales on Tuesday.
It's been a slow summer so far. Retail sales dropped 0.2% from May to June, marking the second consecutive decline and the third one this year. Americans are spending less at gas stations, grocery stores, department stores, restaurants and bars.
If consumer spending stays low, it'll be hard for Trump to deliver on his promise to get U.S. growth up to 3%.
4. August consumer sentiment: On Friday, the University of Michigan will release preliminary data for consumer confidence in August. The closely monitored monthly survey gives a good sense of whether American consumers are willing to spend money.
In January, when Trump was inaugurated, consumer confidence reached 98.5 -- the highest level in more than a decade. Confidence soared on hopes that Trump would cut taxes, reduce regulations and spend on infrastructure. Those plans have stalled, and consumer confidence fell to 93.4 in July.
5. Coming this week:
Tuesday -- Home Depot earnings
Wednesday -- NAFTA talks begin; Target earnings; Cisco (CSCO) earnings
Thursday -- Walmart earnings; Gap earnings
Friday -- Consumer confidence preliminary data for August