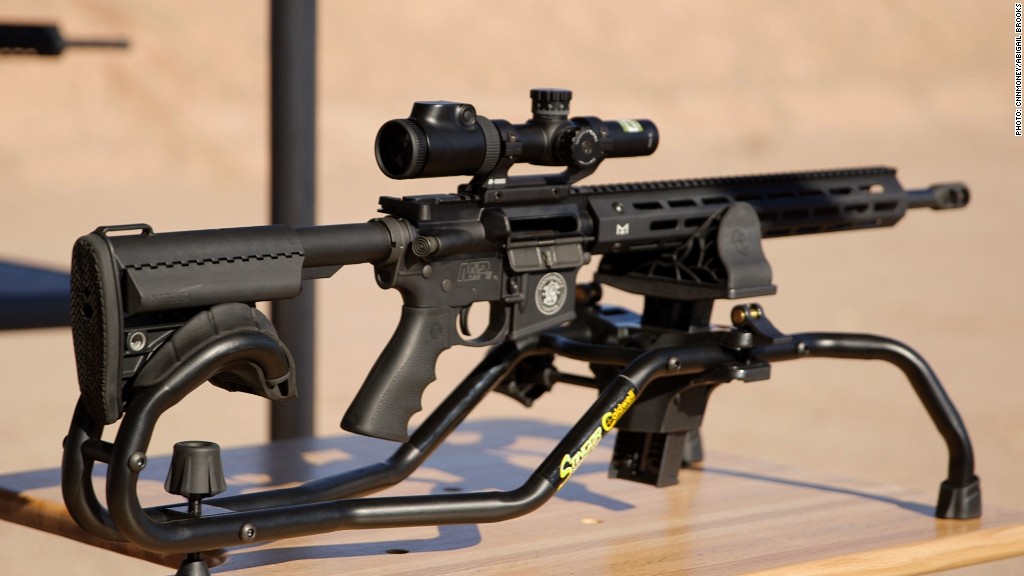 Dick's Sporting Goods' stock plunged Tuesday after the retailer missed expectations and lowered its earnings forecast.
The stock price plummeted 18% after a quarter-to-quarter gain still fell short of expectations. It's the worst day of trading in company history and executives painted a bleak picture going forward.
"It's going to be painful for a while," said Dick's Chief Executive Officer Edward Stack.
He lowered Dick's earnings guidance by 17% for the year because of a slump in hunting sales and sporting apparel.
"The hunting business was very soft, and [same-store] sales declined double digits," said Chief Finance Officer Lee Belitsky in an earnings call, noting that the decline was "worse than expected."
The hunting category includes not only camouflage clothes, deer blinds, trail cameras, duck decoys and tree stands, but also guns. The company sells rifles, shotguns and black-powder guns typically used for hunting, including "small frame" rifles for kids.
Demand for hunting gear has been trending down. Dick's plunge follows anemic earnings earlier this month from Cabela's (CAB), a retailer of guns and other hunting products, and Sturm Ruger (RGR), a gun manufacturer. The Federal Bureau of Investigation reported a plunge in background checks for gun purchases in July.
He said that too much supply has led to "promotional pricing" in the hunting industry to try and get rid of the "inventory overhang."
"[Pricing] has become what I would call irrational. The supply chain has to be cleaned out," he said.
Dick's does not break out gun sales individually, but sales have experienced an industry-wide decline since the election of President Trump, even though he's a Republican endorsed by the National Rifle Association.
Retailers and customers had stocked up on guns and ammunition expecting Democrat and gun control advocate Hillary Clinton to win, but sales have spiraled downward ever since Trump's victory.
Related: Trump is hurting gun sales
Dick's also sells shoes and apparel for a wide variety of sports, from baseball to soccer to biking to kayaking.
But the market for sporting goods is suffering, too. Sales are down 4.9% through July of this year for the government category including sporting goods, hobby, book and music stores, according to the U.S. Department of Commerce.