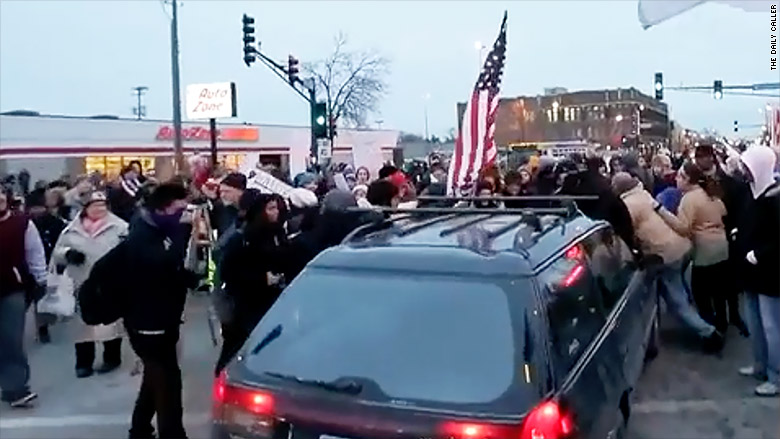 Months before a man allegedly turned his vehicle into a weapon and plowed through a group of protesters in Charlottesville, Virginia, an article that made the rounds in conservative media encouraged readers to do something similar.
Originally published by The Daily Caller and later syndicated or aggregated by several other websites, including Fox Nation, an offshoot of Fox News' website, it carried an unsubtle headline: "Here's A Reel Of Cars Plowing Through Protesters Trying To Block The Road." Embedded in the article was a minute-and-a-half long video showing one vehicle after another driving through demonstrations. The footage was set to a cover of Ludacris' "Move Bitch."
The article was published in January, but it drew renewed attention on Tuesday following this weekend's deadly incident in Charlottesville. As the outrage grew on Twitter, Fox News took action, deleting the version Fox Nation had published.
"The item was inappropriate and we've taken it down. We regret posting it in January," Noah Kotch, the editor-in-chief of Fox News Digital, said in a statement provided to CNNMoney.
Within hours, the Daily Caller had deleted the original post. That version had been published by Mike Raust, who was then a video editor at The Daily Caller.
Related: Bannon vs. Murdoch, Breitbart vs. WSJ: The proxy war over Trump
"Here's a compilation of liberal protesters getting pushed out of the way by cars and trucks. Study the technique; it may prove useful in the next four years," Raust wrote. "None of these clips are new, but that doesn't mean they're not still fresh."
The Daily Caller's editor-in-chief declined to comment.
Fox was far from the only outlet to pick up Raust's post. Smaller conservative sites like Right Wing News and Conservative Post also published the video, and with glee.
There's precedent for this type of rhetoric in conservative media. In fact, Raust isn't even the first one at his outlet to endorse driving over protesters.
Related: What if the pro-Trump media abandons Trump?
When thousands of demonstrators gathered Washington, D.C. in March to protest the Dakota Access pipeline, Daily Caller editor Katie Frates said on Twitter, "I wonder how many #NativeNationsRise #NoDAPL protesters I could run over before I got arrested #getouttamyway"
Glenn Reynolds, a conservative columnist and the proprietor of the blog Instapundit, was briefly suspended by Twitter last year for his own tweet encouraging drivers to run over protesters in North Carolina.
Lawmakers in several states have proposed laws this year intended to ease the liability for drivers who hit protesters. A bill in North Dakota's state legislature, introduced in response to the Dakota Access pipeline unrest in the state, would have made it legal to accidentally run over protesters in the road.
The measure failed to pass in February.