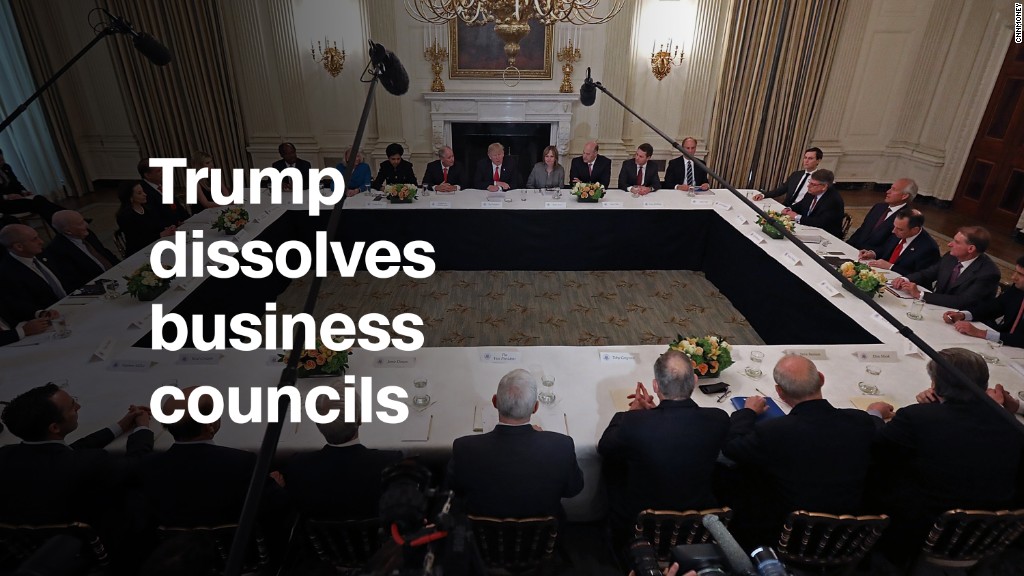 Tim Cook has denounced President Trump's remarks on the deadly violence in Charlottesville.
In an email to employees Wednesday night, Cook plainly said, "I disagree with the president and others who believe that there is a moral equivalence between white supremacists and Nazis, and those who oppose them by standing up for human rights."
"Equating the two runs counter to our ideals as Americans."
Cook also announced that Apple (AAPL) would go a step further, donating $1 million to both the nonprofits Southern Poverty Law Center and Anti-Defamation League.
Additionally, the company will also match gifts that Apple employees give to select human rights organizations and will give iTunes users a way to donate directly to the Southern Poverty Law Center.
Another tech firm abandons the Daily Stormer.
The neo-Nazi website is now more vulnerable to hackers after Cloudflare announced it would no longer protect its site from crippling denial of service attacks.
Cloudflare CEO Matthew Prince explained his decision in a blog post Wednesday, saying that those at the Daily Stormer had falsely "made the claim that we were secretly supporters of their ideology."
"We've taken measures to ensure that they cannot sign up for Cloudflare's services ever again," wrote Prince.
Google and GoDaddy had also cut ties with the Daily Stormer this week. The site temporarily scored a Russian domain that was also later suspended.
Looks like HBO was hacked again.
Several of the HBO's Twitter and Facebook accounts appeared to have been breached overnight when posts showed up attributed to anonymous hacking group OurMine.
Some of the posts were taken down shortly afterward. It's unclear whether the incident has anything to do with the recent leaks of HBO's "Game of Thrones" episodes.
HBO has told NBC News it's "investigating."
Nope, still no Powerball winners.
No one got lucky Wednesday night -- propelling the Powerball jackpot to $510 million.
That'd be the 8th largest U.S. lottery prize of all time, according to CNNMoney's Jackie Wattles.
But don't get your hopes up too high -- the odds of picking six winning numbers are about one in 292 million.
The next Powerball drawing is on Saturday.
Tip of the Day
Are you really ready to retire? Ask yourself these five questions to make sure you're financially -- and socially -- prepared.