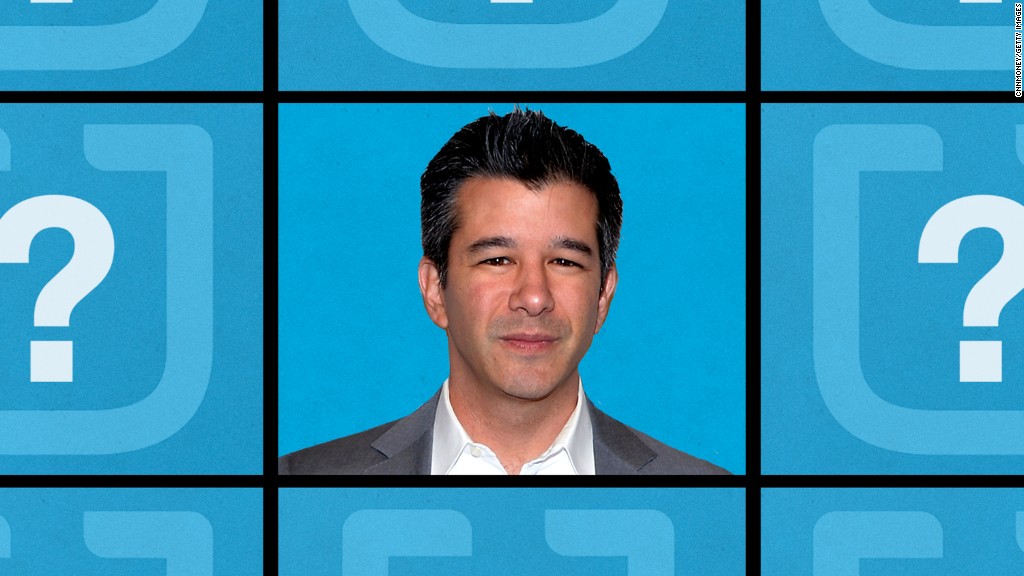 Uber cofounder Travis Kalanick is lashing back at Benchmark, the early Uber investor suing him for fraud.
Benchmark filed a suit against Kalanick last week, alleging that he withheld important information about Uber's mismanagement prior to the board's June 2016 decision to give Kalanick authority to create three new board seats. Kalanick filed a response in Delaware's Court of Chancery on Thursday, saying Benchmark's lawsuit is "part of its public and personal attack" on him.
Kalanick had stepped aside from his CEO duties in June after investors, including Benchmark, urged him to resign following a slew of crises at the company. The company remains without a CEO, though a search is ongoing.
Related: Uber suspended in Philippines
Kalanick says Benchmark's claims of being hoodwinked were "articulated for the first time in its complaint of last week," according to the filing obtained by CNN Tech. "Indeed, in the 14 months since the challenged amendments were signed, Benchmark never suggested that the amendments were 'fraudulently induced' or in any way unenforceable, although all of the events on which it bases its claim of fraud were well known to Benchmark," the filing reads.
Benchmark alleged information was withheld about the following: Pervasive gender discrimination and sexual harassment that prompted an investigation by former Attorney General Eric Holder; the alleged theft of medical records belonging to an Uber passenger who was raped in India; and self-driving car startup Otto, which was acquired by Uber and is at the center of an ongoing lawsuit with Alphabet's Waymo.
Kalanick challenges Benchmark's claims, citing that they're based only on "information and belief," and "citations to unverified media reports and allegations in other lawsuits."
Moreover, Kalanick alleges that Benchmark secretly planned ousting him from the company at "the most shameful of times" -- after Kalanick's mother died in a freak boating accident in late May. Benchmark principals allegedly "ambushed" Kalanick a week and a half after his mother's funeral with a draft resignation letter, giving him just hours to sign it, "or else Benchmark would start a public campaign against him."
Related: Uber agrees to 20 years of privacy audits
Benchmark requested a preliminary injunction against Kalanick, which would prevent him from participating in any board decisions or meetings. Kalanick says that an arbitrator, rather than a court, should settle the dispute. He argues that an injunction is unnecessary as Benchmark is challenging the authority of just one director out of eight on the board. "There is no uncertainty about the board's ability to manage the company." The filing alleges that the six board members not involved in the litigation issued a statement that they were "disappointed" in Benchmark's suit against Kalanick.
According to Benchmark's complaint, it owns 13% of Uber, which is valued at $68 billion. Kalanick owns 10% of the company.
When asked for comment, a Benchmark spokesperson referred to a statement about the original filing: "Resorting to litigation was an extremely difficult step for Benchmark. But the Holder report cannot be ignored. Failing to act now would mean endorsing behavior that is utterly unacceptable in any company, let alone a company of Uber's size and importance."