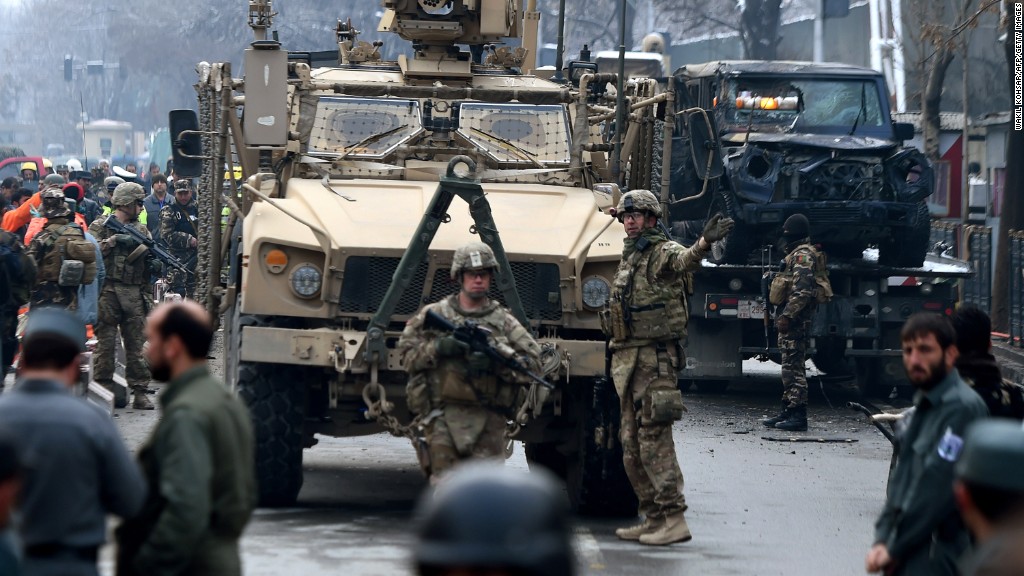 President Trump's first prime time address averaged 28 million viewers across the United States, according to the ratings company Nielsen.
The ratings for the address were underwhelming by both President Trump's own standards and comparisons to past presidents.
Nielsen measured the audience across the right network and cable channels that carried it live, and found 27.8 million total viewers in 20.9 million households.
The 9 p.m. ET speech was on the subject of the Afghan war, a 16-year-long effort that has suffered from a lack of public awareness and interest.
So the relatively low ratings may, to some degree, reflect the country's pessimism about the war effort.
The other obvious factor is Trump's unpopularity, as measured by a wide range of public opinion polls. Many Americans say they do not trust what he says.
Related: Subscribe to the Reliable Sources newsletter
With all that in mind, here's how Monday night's preliminary ratings stack up to other events.
Trump's address to a joint session of Congress in February averaged 48 million viewers.
But that is an annual event with days of news coverage ahead of time.
Trump's address about Afghanistan was announced just one day ahead of time, and the White House did little to encourage lead-up coverage by major news outlets.
The Trump White House held a prime time unveiling of Supreme Court nominee Neil Gorsuch in February, and that event averaged 33 million viewers.
Barack Obama's farewell address to the American people in January, also in prime time, averaged 34 million viewers.
In 2009, Obama delivered his own prime time address about Afghanistan. That speech averaged 40.8 million viewers via TV.
Presidents occasionally request airtime from the major networks to reach a mass audience for major announcements.
As the former star of "The Apprentice," Trump pays close attention to ratings, especially when the numbers involve him.
Maggie Haberman of The New York Times tweeted beforehand, "If people don't tune in/the ratings are not strong for his first prime time address, it will compound a sense of frustration he already has."
Nielsen's ratings do not count out-of-home television viewing or live streams on the web.
But live streaming is still just a minor factor for news events like a presidential address to the nation. The vast majority of Americans watch on TV at home.