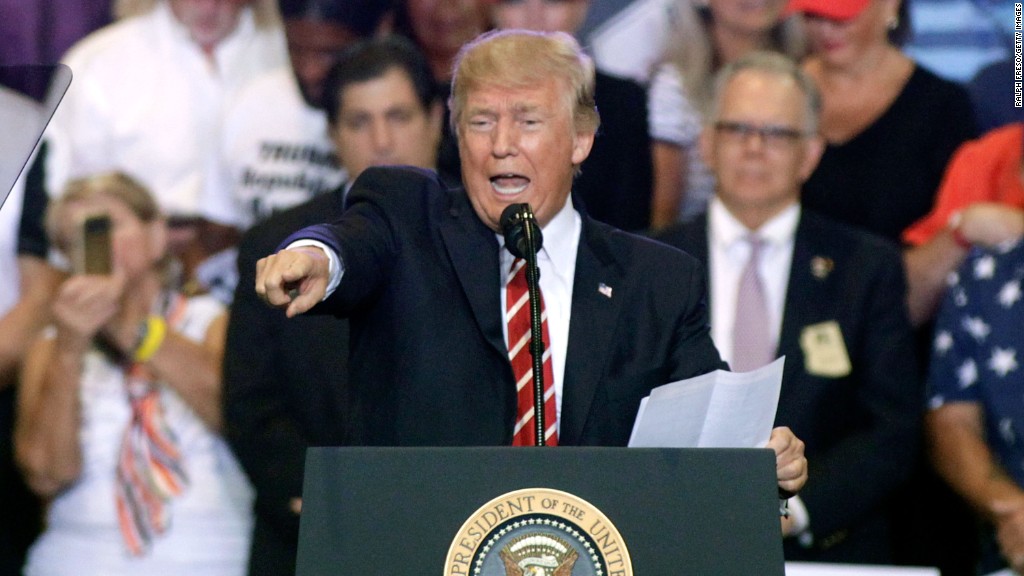 Think President Trump couldn't ratchet up his attacks on the news media any more than he already has?
Think again.
At a rally in Phoenix on Tuesday, the President called journalists "liars" and "sick people" who are fomenting "division" in the country and "trying to take away our history and our heritage." And he repeatedly portrayed the news media as an enemy of the American people, recalling his claims to that effect from February.
"I really think they don't like our country. I really believe that," Trump said.
Afterward, several prominent members of the media said the President's anti-press rhetoric was downright dangerous, because it could lead individuals to try to harm journalists.
While the President complaints about "fake news" on an almost daily basis, Tuesday seemed especially severe.
ABC's Cecilia Vega, who was at the rally, said on "GMA" that "this was incitement, plain and simple."
Vega, who has covered many of Trump's rallies, showed video of rallygoers scolding the press corps while saying "this one felt different."
"It really feels like a matter of time, frankly, before someone gets hurt," she said.
The President encouraged his audience to boo and chant anti-media slogans, knowing the rally was being broadcast live on cable television.
At one point he said of the press, "You would think they want to make our country great again. And I honestly believe they don't."
The Society of Professional Journalists, an advocacy and education group, was compelled to respond: "Despite what President Trump says, journalists love the USA. We go to work each day to inform people about OUR country."
On Wednesday morning, Axios CEO Jim VandeHei, a veteran of the Washington Post and the Wall Street Journal, wrote a series of tweets to "family/friends who support Trump: what he said last night about reporters was despicable, extremely deceptive, dangerous."
In a tweetstorm, CNN's Sara Murray said her experience is that "most of the people at these rallies -- even ones booing -- treat it as a joke," but "there are some who treat Trump's 'fake news' diatribes seriously."
"They believe it when Trump lies about the cameras being turned off. They harass reporters and photographers," Murray wrote. "Trump knows what he's saying is false. People close to him know it puts journalists at risk just for doing their jobs. He does it anyway."
Indeed, media bashing was a major theme throughout the president's 77-minute speech.
Republican pollster Frank Luntz remarked during the rally: "Trump doesn't just criticize media more than he criticizes neo-Nazis -- he criticizes them more than radical Islamic terrorists."
Trump's anger about news coverage of his response to violence in Charlottesville, Virginia, was apparent from the start. He claimed his words about Charlottesville were "perfect" but the "damned dishonest" media didn't hear him.
Trump also got personal, calling ABC's chief anchor George Stephanopoulos "little George." And he described the Washington Post as a "lobbying tool for Amazon." (The Post is owned by Amazon (AMZN) CEO Jeff Bezos.)
Several of the president's statements about the press were incorrect.
Trump repeated past claims that journalists routinely make up sources and create stories out of whole cloth. He also said several times that the television cameras in the arena weren't showing his remarks live.
"The live red lights, they're turning those suckers off fast!" he said at one point, claiming that CNN was cutting away from his speech because he was being critical of the network.
CNN aired the speech in its entirety, including the chants of "CNN sucks" from rallygoers.
Trump also brought up Jeffrey Lord, the former CNN commentator who was outspoken in his support for the President. "They fired Jeffrey Lord. Poor Jeffrey," Trump lamented.
CNN severed ties with Lord after he tweeted a Nazi salute to a liberal activist. Lord said he was mocking the activist.
Fox News also carried the rally live. Trump praised Fox at length, and gave specific shout-outs to the show "Fox & Friends" and anchor Sean Hannity.
"How good is Hannity?" Trump asked as the crowd cheered.
Trump's fans, not surprisingly, savored his attacks against other media.
According to The New York Times, "members of the audience shouted epithets at reporters, some demanding that they stop tormenting the president with questions about his ties to Russia."
Eliza Collins, a reporter for USA Today, tweeted during the speech that "a man with a little boy on his shoulders is screaming 'rat!' at reporters in the press risers."
After Trump's speech ended, journalists outside the arena dodged rocks and tear gas while covering chaotic protests.
-- A version of this story first appeared in the "Reliable Sources" newsletter. Sign up here!