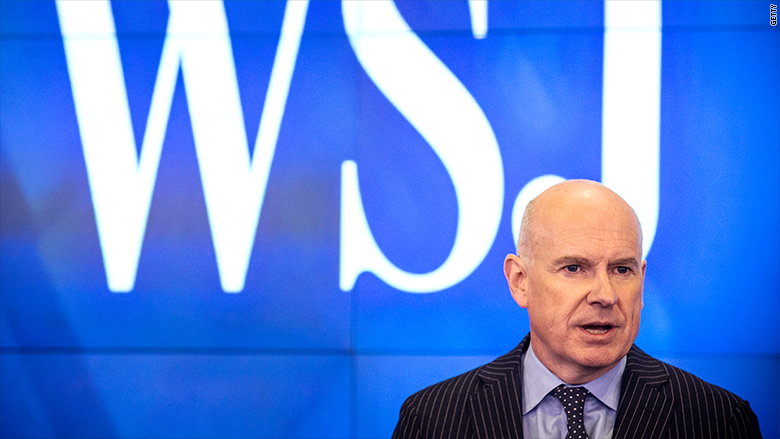 The Wall Street Journal's cautious treatment of President Trump has created internal strife at the storied paper and raised questions about its editor-in-chief, Gerard Baker, several Journal sources have told CNNMoney.
Baker's latest demonstration -- a series of late-night emails urging editors to soften the paper's coverage of Trump's Phoenix speech, even to the point of removing context -- left some Journal staffers frustrated and discouraged, those sources said.
"Sorry. This is commentary dressed up as reporting," Baker wrote of one draft of an article about the speech in emails obtained by The New York Times. "Could we please just stick to reporting what he said rather than packaging it in exegesis and selective criticism?"
The portions of the draft that were removed from the final article included context about how the president's speech differed from statements he had made the day before. One passage that was edited out called Trump's speech "an off-script return to campaign form" that "pivoted away from remarks a day earlier in which he solemnly called for unity."
A line that described the Charlottesville protests as "reshaping" Trump's presidency was also removed from the final article.
Both Baker and a Journal spokesperson did not respond to requests for comment regarding the emails.
Baker's cautious approach to Trump has been a source of frustration to many Journal staffers for some time now.
Earlier this month, Politico published a transcript of the Journal's most recent interview with Trump. The interview, which was led by Baker himself, cast the editor-in-chief as overly chummy with the president.
At the time, some staffers told CNNMoney they believed that Baker was going out of his way to be deferential to Trump in order to maintain access to the White House and proximity to power. Staffers also chafe at Baker's insistence on conducting the interviews with Trump himself, rather than letting the paper's journalists take the lead.
Related: Bannon vs. Murdoch, Breitbart vs. WSJ: The proxy war over Trump
Other sources who spoke with CNNMoney cautioned that such frustrations were overblown. They said the Journal has always prided itself on being cautious and judicious in its reporting, and touted the paper's aggressive ongoing coverage of Trump's business entanglements.
The Journal is owned by Rupert Murdoch, who also owns Fox News and has become very close to the president and his administration. Sources at both the White House and in Murdoch's orbit say the two men talk multiple times a week.
Baker has defended his paper's coverage of Trump before. In a town hall meeting with employees in February, he stressed the importance of being objective rather than oppositional, and said the notion that the Journal went easy on Trump was "fake news."
Baker has also sent memos to employees stressing the importance of "balance," a word some staffers have come to interpret as code for softer coverage.